Exelixis (NASDAQ:EXEL) is a speculative biotechnology company that engages in the discovery, development, and commercialization of small molecule drugs for the treatment of cancer, metabolic and cardiovascular disorders. Our short-term focus is on the cancer catalyst.
According to EXEL's website, its compounds primarily target multiple receptor tyrosine kinases simultaneously. Its product candidates include XL184, a Phase 3 clinical trial compound that inhibits MET, RET, and VEGFR2, which drive tumor growth and vascularization, as well as Phase 1b/2 clinical trials compounds, including XL147 that targets phosphoinositide-3 kinase (PI3K); and XL765, which targets PI3K and mTOR, kinases in the PI3K signaling pathway. The company also has various compounds in phase 1 clinical trials, including XL518, a small molecule inhibitor of the MEK; XL228, which targets insulin-like growth factor type 1 receptor, an RTK in a range of human tumors; XL139 that targets Hedgehog; XL413, a small molecule inhibitor of the serine-threonine kinase CDC7; and XL888, a synthetic inhibitor of HSP90, a chaperone protein that promotes the activity and stability of a range of regulatory proteins, including kinases.
In addition, its preclinical and clinical development stage products that are out-licensed to third parties for the development and commercialization include XL880, a phase 2 inhibitor of MET and VEGFR2; XL281, a phase 1 product that targets RAF, a cytoplasmic serine/threonine kinase; XL652 and XL041, a phase 1 product for liver X receptors, which modulate genes involved in regulation of lipid and cholesterol homeostasis; XL550, a non-steroidal mineralocorticoid receptor; and FXR Program that targets Farnesoid X Receptor, a bile acid receptor.

According to yahoo finance, as of the latest update on April 29th, EXEL has 15.88 million shares short, a sizable 16.9% short percentage of the float. Per its recent earnings release, yahoo shows EXEL with total cash of about $300 million and total debt just under $210 million. Speculative biotech companies, which are still trying to find a breakthrough drug to earn revenues, can almost never have enough cash yet EXEL has a safe amount for now. Our short-term catalysts take place over the next few weeks, therefore we will not have to be overly concerned with the fundamentals during this short time-frame.

EXEL has an important cancer drug in the pipeline, cabozantinib, with upcoming data from this drug being discussed at the American Society of Clinical Oncology (ASCO) annual meeting. The market is large, but most drugs don't make it to the market and I'm not here to sell you on my prediction of whether it will be approved or not. I do not care to make predictions as such in the market. Most predictions are wrong yet nobody keeps track to hold people to them. Make one correct prediction and you'll never hear the end of it. I simply watch events closely and react quickly/aggressively when the path shows clarity. It is not of concern to me whether CABO actually makes it to the market or not, my interest is minimizing risk and netting worthwhile profits in a disciplined manner from a stock that has significant upside. The point being, you must understand my personal style of trading/investing so you can take the most from this information here. I will not advocate nor disapprove of long-term holders in this speculative name who believe the company will be the next big thing, I simply chose not to gamble on those odds. If anything, I would lean toward wanting it to be approved as it will create more trading opportunities to profit from in a disciplined manner. So, keep that in mind that when I sell my position it may not mean I think the company is going to fail. This is a swing-trade opportunity with a time-frame of no more than a few weeks as I look to profit from the optimism around the company, not the actual results of the drugs.
From the recent earnings release:

"We have made substantial progress in advancing the cabozantinib development program in the first quarter of 2011, and are committed to realizing and expanding the cabozantinib opportunity in a pragmatic fashion," said Michael M. Morrissey, Ph.D., president and chief executive officer of Exelixis. "We believe the interim prostate cancer data presented at ASCO GU underscore the potential of cabozantinib to reduce soft tissue and metastatic bone lesions and improve pain and other disease-related symptoms in mCRPC patients. These data have generated a great deal of enthusiasm among oncologists and we believe that the cabozantinib data that will be presented at ASCO in June will further increase the interest in this novel compound. In addition, we expect to file our first NDA for cabozantinib in MTC by the end of 2011 pending a successful outcome of the EXAM trial."

EXEL has three CABO presentations during the June ASCO meeting in Chicago and an investor/analyst meeting at the conclusion of those three presentations on the night of June 6th. The first presentation for EXEL starts on Saturday, June 4th. Wednesday, May 18th, is when the abstracts for the presentations will be released to the public. These abstracts may be a short-term catalyst as the optimism starts to resume going into this ASCO meeting. These research abstracts are basically a summary of clinical data that will be presented at the meeting. The information is usually brief as the main data will be discussed during the presentation itself. ASCO will be posting the abstracts online this week. After this, we still have the catalyst of phase III results from the medullary thyroid cancer somewhere around midyear. The wild card catalyst is if EXEL receives a buyout offer between now and the ASCO meeting. The company is preparing for this to take place and entertaining offers as Goldman Sachs (NYSE:GS) services has been retained to handle this while EXEL management continues to focus on its own operations.

Technically speaking, EXEL is nearing oversold territory with an RSI of about 40. The majority of the accumulation has stayed in EXEL during this recent downtrend, a bullish sign. With the selling volume slowing down as we reach support levels, that is another sign that the sellers are weakening. However, we have recently cracked our trading range (see chart below), so we must not be shocked to see a trend to the next support level. That support is around the 100-day SMA and the February 18th, low between the $10.23 and 10.30 area. If EXEL trended to these levels well before the ASCO meeting without any serious negative news, I'd be an aggressive buyer with tight stop losses under that support. This effectively minimizes risk yet creates significant reward on any bounce or short-covering rally. I expect the optimism to resume shortly unless the market itself falls apart. I would be more concerned with the market itself falling and dragging EXEL down than for EXEL to have any negative news between now and ASCO.

The swing trade is to start accumulating in increments around the current levels of $11 and the ability to add aggressively near the 100-day SMA support if it is tested. I am keeping my pain tolerance (stop loss) not far below the February 18th, low in case the sellers gain momentum and push EXEL to unforeseen oversold levels. Another option is if the 100-day SMA is not tested, we can selectively add above resistance at $11.16, if it is broken on enthusiastic volume, which gives reason to believe resistance is safely turning into support (see intraday chart below). A safer way of adding here is to put that increment with its own stop loss just under that new support level, meaning you'd have more than one stop loss for various portions of your position. The ability to sell is a powerful tool that can not be overlooked.
As we trend near $12 and higher, that is a great area to start selectively peeling off this position and watching for further developments to determine if we press the trade or aggressively take profits. I will likely only hold into the ASCO meeting if the chart is not overbought. Otherwise, I'll take whatever profits I have and move on to the next swing trade. The optimism before this meeting should push EXEL toward profitable levels and that is the point of this trade for me. We also have options expiration this week, so expect a higher amount of volatility in this stock as well. Options expiration week can many times create such volatile moves that they do not make any sense, so ensure you don't over-analyze some of the action.
3-Month Chart - (click charts to enlarge)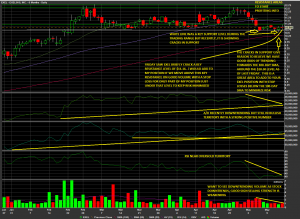 Intraday Chart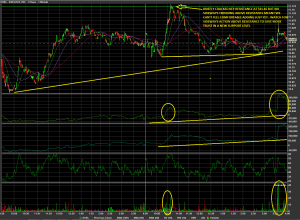 As always, do your own homework to see if you agree. Good luck out there.

Disclosure: I am long EXEL.