Over the years, many investment strategists have recommended dividend paying stocks. How do you know which dividend stock is good, better, best, bad or ugly? One way is to back test using historic pricing and dividends. Here is a five year back test for one of the longest running dividend stock picking systems. The Dogs of the Dow strategy is promoted as "A FREE investment resource devoted to selecting high dividend yield Dow stocks that have historically outperformed the Dow Jones Industrial Average (DJIA)."
Investopedia explains the Dogs of the Dow concept as:
An investing strategy that consists of buying the 10 DJIA stocks with the highest dividend yield at the beginning of the year. The portfolio should be adjusted at the beginning of each year to include the 10 highest yielding stocks. The strategy was formulated in 1972 and has proven to be successful. In fact, as Dog of the Dow investors readjust their portfolios each year, it places pressure on the stocks involved.
Looking back five plus years to December 2005 using data from Yahoo Finance reveals the following portfolio of ten Dogs of the Dow: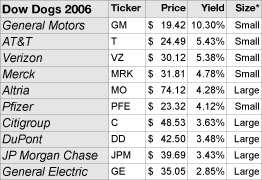 (*Size is defined by five stocks with the lowest closing price being the year's small Dogs of the Dow, and five with the highest closing price become the large dogs for the year.)
For ease of calculation, a $1000 investment per stock is an easily divisible stake. Some investors prefer to pick five stocks by choosing all small, or all large Dogs of the Dow.
Buy the numbers
Two key metrics determine the yields that rank the Dow dogs: (1) stock price; (2) annual dividend. Dividing the annual dividend by the price of the stock reveals the percentage yield by which each dog is ranked. Since there are only thirty stocks in the Dow Jones Industrial Index and they all now throw dividends, the dog follower is buying the lowest priced, highest yielding 1/3 of the index. A third variable of broker commission of $10 per trade is deducted from every transaction to reveal net income in the scenarios below.
Dogs at Play
For purposes of this back test, only the stocks falling off the list of top ten yields were sold and those coming on to the list as replacements were purchased in December 2007, 2008 & 2009. The back test concludes by selling the whole kennel of ten stocks as of December 31, 2010. This article describes the performance of the initial portfolio of ten stocks. A second article covers performance of seven stocks that came onto the Dogs of the Dow list in various Decembers since 2006.
Five of the ten Dow dog stocks listed with the highest dividend yields in January 2006 were still on the list in December 2010. The five drop outs include:
Citigroup (NYSE:C) became the biggest loser in the kennel and exited the Dow dogs list in 2008. Citi went on to slash its dividend to $.01 in 2008-9 and share price plummeted into single digits. Net loss, including brokerage fees of $10 per trade, was ($788.18) or (78.82%).
General Motors (NYSE:GM) was top dog in 2006 (last listed for 2008), but including broker fees of $10 per trade produced a net loss of ($681.47) or (68.15%).
General Electric (NYSE:GE), plunging out of the list due to its dividend reduction in February 2009, produced a net loss including $10 per trade broker fees of $476.17, or 47.62%.
Altria (NYSE:MO) was chased off the Dow 30 list in February 2008 after the company downsized by spinning off its Kraft (KFT) business unit in 2007, but before it spun off Philip Morris (NYSE:PM) March 30 2008. It actually returned a profit when the sale of PM shares are factored. (KFT shares went on to the Dow index in September 2008.) Net gain from MO & PM after brokerage fees of $10 per trade was $123.91, or 12.39%.
JPMorgan Chase (NYSE:JPM) also turned a profit based on a bounce back in price by the end of 2009. Net gain after brokerage fees of $10 per trade was $144.50, or 14.45%.
Five dogs still in play since January 2006 and sold in December 2010 are:
Pfizer (NYSE:PFE) struggled to stay healthy and profitable while its share price was chewed up in recent markets . Net loss including brokerage fees of $10 per trade was $58.27, or 5.83%.
Dupont (NYSE:DD) returned $190.08 in dividends plus $177.12 of price appreciation on 24 shares purchased in 2006. Deducting $20 of broker fees puts net gain at $347.20, or 34.72% returns.
Merck (NYSE:MRK) left the dog pound when its price jumped to the $60 range in December 2007, dropping yield into the 2.5% range and creating a nice profit taking opportunity. The 31 shares of MRK purchased for $31.81 in 2006 were sold at $58.11 going into 2008, producing a gain of $26.30 per share minus $20 in broker fees ($10 each for the sale and purchase), netting a $795.30 gain or 79.53%. Adding dividends of $194.56 over four years and additional share price appreciation of $186.12 between 12/08 and 12/10 and deducting the second $20 in brokers fees produces a winning net gain of $1155.98, or 57.8% as of December 2010 on $2k invested.
[A $889.54 lesson for those traders prone to buy and hold is taught by the fact that without the sale of MRK in 12/07 and repurchase in 12/08, the profit is only $100.32 in dividends plus $186.12 in price appreciation less $20 in broker fees for a net gain of $266.44, or 26.64% over those five years.]
Verizon (NYSE:VZ) returned $295.45 in dividends plus $201.14 price appreciation on 33 shares purchased in 2006. Deducting $20 of broker fees puts net gain at $476.59, or 47.66% return on investment.
AT&T (NYSE:T) brought in $314.60 in accumulated dividends plus $200.49 price appreciation on 41 shares purchased in 2006. Deducting $20 of broker fees puts net gain at $495.09, or 49.51% return on investment.
Thus, the starting ten Dogs of the Dow fetched a bare bones $722.65 net return, or a 6.57% return on an $11k investment over five years (1.314% per year ) plus $220 to the broker. Without dividends, or by not trading the late 2007 leap in Merck share price, this portfolio would have shown a loss.
click to enlarge