Here are the concluding back test results of a Dogs of the Dow investment plan that was started in December 2005 by buying 10 DJIA stocks with the highest dividend yield at the beginning of that year, then readjusting the portfolio of ten based on the top yields at the start of each new year (see previous article here).
Of course, the stock yields readjust every day so December 31 for a starting point as a standard practice is not mandatory. A portfolio chasing profits can begin on any day of the year, like a birthday.
Buy the numbers
Two key metrics determine the yields that rank the Dow dogs: (1) stock price; (2) annual dividend. Dividing the annual dividend by the price of the stock reveals the percentage yield by which each dog is ranked. Since there are only thirty stocks in the Dow Jones Industrial Index and they all now throw dividends, the dog follower is buying the lowest priced, highest yielding 1/3 of the index. A third variable of broker commission of $10 per trade is deducted from every transaction to reveal net income in the scenarios below.
Our back test began the in 2006, holding these ten top yielding Dogs of the Dow: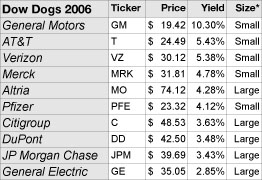 (*Size is defined by five stocks with the lowest closing price being the year's small Dogs of the Dow and five with the highest closing price become the large dogs for the year.)
See previous article for details on how an initial investment of $1k in each of the ten dogs of the Dow fetched a meager $722.65 net return, or a 6.57% return on an $11k investment over five years from 2006 through 2010 (1.314% per year) plus $220 to the broker.
The genius of the dog strategy is not buying and holding, but instead selling off low yielding stocks whose price has increased (or whose dividends have decreased) and trading up to higher yielding Dow stocks once each year. Seven replacement Dow dog stocks purchased after 2007 proved to perform better than the first ten. Of course, the positive performance may not have been so much due to individual stock strength, but the health and vitality of the bullish stock market since 2008.
1. Home Depot (NYSE:HD), yielding 3.34%, replaced MRK in the dog pound going into 2008. The 38 shares purchased at $26.51 were sold for $24.13 going into 2009, netting a ($110.44) loss after paying the broker $20 in commissions or (7.15%) when dividends of $38.90 are counted. HD stayed out of the kennel a year only to reappear going into 2010, yielding 3.11% to replace Alcoa. The 35 shares purchased at $28.93 threw off dividends of $31.49 and $216.65 in price appreciation through 2010, netting a gain of $228.14 or 22.81% after deducting broker fees. Two appearances of HD in the kennel netted $156.60, or a 7.83% return on $2000 invested.
Home Depot (HD) and Altria (NYSE:MO) exited the pack of ten at the end of 08 and were replaced by Merck (NYSE:MRK) and Kraft (KFT). See previous article for details of the critical sale and repurchase of MRK for a $889.54 lesson for stockholders prone to buy and hold.
2. Kraft (KFT) since 09 has thrown off $85.84 in dividends and another $187.06 in price gain; after deducting $20 in broker fees, the net gain is $252.90 or 25.29% over two years.
Also exiting the pound at the end of 08 were Citigroup (NYSE:C) and General Motors (NYSE:GM). Bounding into the pound instead were Bank of America (NYSE:BAC) and Alcoa (NYSE:AA).
3. Bank of America came into 09 promising a yield of 9.09%. The 71 shares purchased at $14.08 actually threw off dividends of $2.84 and $69.58 in price appreciation through 2009, netting a gain of $52.42, or 5.24% after deducting broker fees.
4. Alcoa leaped into 09 yielding 6.04%. The 89 shares purchased at $11.26 paid dividends of $23.14 and another $432.54 in price appreciation through 2009 netting a gain of $435.68, or 43.57% after deducting broker fees.
General Electric (NYSE:GE), Bank of America, and JP Morgan Chase (NYSE:JPM) left the list after 2009 to be replaced by the following three Dogs of the Dow going into 2010:
5. McDonald's (NYSE:MCD) walked into 2010 yielding 3.52%. The 16 shares purchased at $62.44 paid dividends of $36.16 and another $229.12 in price appreciation through 2010, netting a gain of $245.28 or 24.53% after deducting broker fees.
6. Boeing (NYSE:BA) crept into 2010 yielding 3.1%. The 18 shares purchased at $54.13 paid dividends of $30.24 and another $190.80 in price appreciation through 2010, netting a gain of $201.04 or 20.1% less broker fees.
7. Chevron (NYSE:CVX) scampered into 2010 yielding 3.53%. The 13 shares purchased at $76.99 paid dividends of $36.92 and another $185.38 in price appreciation through 2010, netting a gain of $202.30 or 20.23% after broker fees.
The chart below shows that from December 31, 2005 through December 31, 2010 $19,000 invested in seventeen dogs of the Dow returned a total of $2,268.87 in dividends and price appreciation after deducting $380.00 for broker fees for a 11.94% return on investment, or 2.388% per year through the pit of the great recession. The top gainer of the pack was Merck. The biggest loser was Citigroup.
click to enlarge