Ener1 (NASDAQ:HEV) lost 36% last week after reporting earnings that disappointed with the news of a massive $73.3M write-down of the company's investment in Norwegian electric vehicle company THINK. HEV management insisted this action should not be a surprise, given disclosures in an earlier 10-Q and earnings numbers from the fourth quarter. Nevertheless, HEV lost 27% on that day alone.
HEV is now down 64% from my last post on the company suggesting it was time to "ride Ener1 again." I sold the last trade in HEV into a one-day pop that got as high as 60% after HEV announced a strategic joint venture agreement with Chinese manufacturer Wanxiang. I decided to go for another round after that entire move in the stock was erased and then some. HEV has fallen ever since.
So what happened? HEV appears to be another classic tale of a company with a lot of market and technological promise that got caught by complicated financing deals gone bad. John Peterson does a good job summarizing the bleak prospects for HEV's attempts to untangle itself from THINK's bankruptcy and restructuring (see "Ener1 Q1 Earnings: Pain on the Installment Plan"). I rely on the company's conference call transcript and the earnings presentation for much of the rest of this post.
HEV is essentially relying on an unnamed investor to recapitalize THINK and alleviate HEV from any further financial damage. I have no way to judge the prospects for the success of this potential savior, but Peterson is clearly pessimistic. Analysts on the call quickly zeroed in on HEV's overall financial health. Of immediate concern is whether the company will be able to secure a loan from the Department of Energy (DOE). Management insists that all is well for qualifying for that loan.
HEV is sticking by its 2011 revenue guidance of $130-150M, which already excluded THINK. The company is also on track to achieve EBITDA positive by year-end. Margins are strong in its businesses in small pack (49% of revenues) and grid energy storage (GES is 41% of revenues), leading to overall gross margins of 23.7% this quarter versus 10.5% in last year's Q1.
Theodore O'Neill of Wunderlich Securities noted the unattractiveness of the automotive market, given that every battery-maker trying to sell into it loses lots of money. Chairman and CEO Charles Gassenheimer admitted that "… without some demand creation from governments, whether it be the DOE, whether it be China with $18,000 of credits, whether it be mainland Europe and other tax incentives. Without some government intervention, this business doesn't work in the near term."
He went on to explain how the economics of the electronic vehicle market could be made to work. O'Neill responded (sarcastically?), "[I]t sounds like 'take the price of the battery out of the equation, then the car will sell'."
Until the automotive market works out, Ener1 management feels its efforts to diversify that started last year are going to get the company to profitability.
Here is a summary of new and on-going initiatives and projects underway (as noted in the conference call):
Small-pack sales into the military market: lithium-ion batteries for unmanned aerial vehicles and packs for other military applications.
Small-pack sales for the medical equipment and device market.
A purchase order for a Fortune 500 company for medium-duty packs.
MOU (memorandum of understanding) with the Russian Federal Grid for a second project.
Working under contract on hybrid battery systems for medium-duty trucks.
GES supply agreement with the Russian Federal Grid Company that includes the world's first grid energy storage unit.
Battery pack systems for the Toro walk-behind greens mower.
U.S. grid energy storage projects with Portland General Electric and Duke Energy remain on track.
There remain other opportunities brewing in the vehicle market:
Partnership with Volvo (OTCPK:VOLVF) on the C30 vehicle.
Several ride-and-drive opportunities in North America.
Purchase agreement for 10 battery systems to power an all-electric transit bus for the city of Seoul – manufactured by Hankuk Fiber Company, which contracted Hyundai Heavy Industries (OTC:HYHZF) to manage the battery integration. This project is the first phase of Seoul's replacement program.
Project to produce battery systems for hybrid humvees, in collaboration with the US Army's TARDEC division. HEV has delivered the first of four systems, with the remaining three systems to be shipped by December, or by September.
Management insists liquidity is not an issue:
… [T]here [are] substantial and ample sources of liquidity that we continue to tap and draw on when we need to. Again, liquidity, with all the challenges we face on a daily and weekly monthly basis, liquidity is not the one that keeps us up at night. I would certainly reiterate that. I've said that on previous calls and I certainly would reiterate that on this call ....

On the capital market side, and clearly, given where our stock is, we're relatively confident we would do that in the private markets rather than the public markets. And again, the $50 million we're relatively confident is not a problem, given some of the backers we've had historically and certainly over the last 12 months in particular. So we feel pretty confident that we're in good shape on the [DOE] loan and we're in good shape on the liquidity and financial resources to fund our Company through EBITDA positive. And again, we're on the march to get there this year, which we feel is going to be well in advance of our competitors.
As with most speculative stocks, the opportunity with HEV is high potential reward married with high risk. I was fortunate to recognize high reward the first two rounds. This latest round has been all the downside of the risk. If HEV can manage its balance sheet through the current financial pains, I see tremendous upside again in the future. However, it will certainly not be easy with the overall stock market sitting at lofty and tenuous highs.
[Click to enlarge]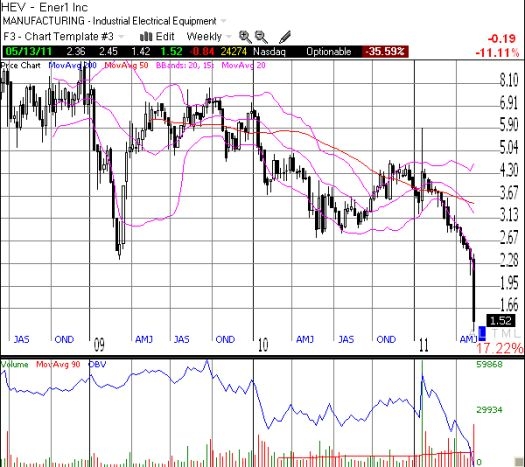 HEV is trading below the 2009 lows and is at its lowest point since going public in 2008. Chart created using TeleChart.
Disclosure: I am long HEV.