Investors should consider a new blue chip stock, Arcos Dorados Holdings (NYSE:ARCO), for their retirement portfolio. ARCO is the largest global McDonald's (NYSE:MCD) franchisee operator. The largest factor is defined by the number of McDonald's stores and overall annual sales. ARCO operates franchise operations in 19-territories. Major countries include Argentina, Brazil, Chile, Mexico, and Venezuela.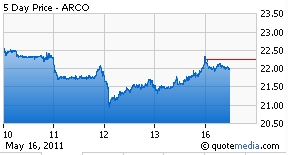 A positive short-term catalyst is that the quiet period will soon expire. ARCO began trading on April 14th and the quiet period will soon elapse. Sell-side analysts will begin to issue positive research reports to their brokerage customers. The underwriters will begin to issue convincing sell-side rationale for purchasing ARCO. This influx of new ARCO retail owners will provide a boost to the stock price and underlying support for the stock's relative strength.
The typical investor will appreciate the MCD business model, and how this can be leveraged in Latin American operations. Brokerage firms will scramble to provide positive news dissemination to the investing community in lieu of the prospects of obtaining future secondary offerings. Investment banks know McDonald's blue chip status. The Merrill Lynches recognize the revenue derived from commercial paper issuance, secondaries on ARCO stock, and a long-term banking relationship.
ARCO clearly has the wind at its back. Long-term catalysts include a wealthier and growing population base. The Latin American countries should continue to develop through an abundance of natural resources and better jobs. This wealth distribution to the citizens will provide a stable and growing middle class. ARCO and its U.S. peer, MCD, continue to shine in offering affordable products relevant to the specific country.
1st Quarter Earnings
The company's first quarter earnings year-over-year were up 23.2%. First quarter revenue increased by 59%. Earnings were impacted by operating efficiencies. The company has provided full-year guidance: 15-17% growth in revenues and EBITDA, and 35-45% increase in net income. Most U.S. citizens are acquainted with the budget-friendly meals at McDonald's. This is an every day occurrence in mainstream society. A growing region and population base will appreciate the quality and affordability of MCD's Latin America twin brother.
Dividends
ARCO, in its IPO planning, restructured the number of shares outstanding, and paid an existing dividend. An investor can expect a regular quarterly dividend to be announced in the next 2-3 quarters. This is the strategy which McDonald's uses in its business model. The companies are both savvy in capital asset allocation and treating shareholders with dividends. ​​​​
2011 and Forward: Growth Story
MCD has experienced tremendous success in the U.S. over the past few decades. The largest operator in Latin America, ARCO, now has a 3x lead over Burger King in its core markets. The lead is even greater in some markets. ARCO represents a proven franchise story. The company is focused upon providing daily meals to a growing demographic in Latin America. Consumers with an increasing amount of spendable cash will only enhance the likelihood of ARCO success in the approaching years.
ARCO has agreed, per its IPO prospectus, with MCD to build at least 250-new restaurants within the 2011-2013 timeframe. This growth will enhance the ARCO brand and accelerate future territorial growth.