Recently I was screening Barchart for stocks trading over 100K shares a day that have been hitting the most frequent new highs in the last 20 sessions. Virgin Media (NASDAQ:VMED) was near the top of the list. The stock has been up 15 days and 15.97% in the last month and has great price momentum. The position was added to the Barchart Van Meerten New High portfolio.
Click to enlarge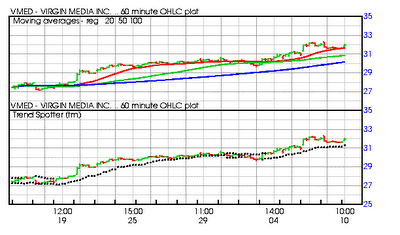 Virgin Media, through its subsidiaries, provides entertainment and communications services in the United Kingdom. The company operates through three segments: Consumer, Business and Content. The Consumer segment offers cable broadband Internet, television and fixed line phone services under the Virgin Media brand to residential customers. Mobile telephony services are provided through Virgin Mobile, a mobile virtual network operator, and broadband and telephone services are provided to residential customers through third-party telecommunications networks. The Business segment provides a portfolio of voice, data and Internet solutions to commercial customers, including analog telephony and managed data networks and applications, as well as supplying communications services to emergency services providers. The Content segment operates various television channels, including Virgin1, Living, Bravo, Challenge and Challenge Jackpot; and owns a 50% interest in the companies that comprise the UKTV Group, a series of joint ventures with BBC Worldwide. The company was formerly known as NTL Incorporated and changed its name to Virgin Media Inc. in February 2007. The company was founded in 1993 and is based in New York, New York.
Factors to Consider
Technical Factors:
96% Barchart technical buy signals
Trend spotter buy signal
Above its 20, 50 and 100 day moving averages
15 new highs and up 15.97% in the last month
Relative Strength Index 75.08% and climbing
Trades around 31.94 with a 50 day moving average of 28.21
Fundamental Factors:
Widely followed on Wall Street with over 19 brokerages following this stock.
Brokerage analysts have issued 5 strong buy, 10 buy, 5 hold and only one sell recommendation. The sell recommendation is very old and hasn't been updated recently.
Sales consensus is an increase of 11.20% this year and 4.00% next year.
Earnings projections are 178.20% this year, 223.00% next year and 6.70% annually for the next five years. These are very aggressive estimates.
General Investor Sentiment:
Investor following is fairly good for a foreign company and benefits from the Branson/Virgin aura.
On Motley Fool CAPS members vote 124 to 75 that the stock will beat the market.
The more experienced All Stars agree with a 58 to 19 vote.
Summary: This stock is in the all important media sector and has a decent U.S. following. I would invest but because of the very aggressive earnings projects I would use tight stop losses just in case these projections are not met as disappointment will settle in fast.
Disclosure: I am long VMED.