While the Dow and S&P 500 aren't down that much today (as of 3:30 PM ET), technology stocks are getting hit hard -- and it's the Internet stocks that are getting hit hardest.
Below is a six-month chart of the Internet HOLDRs ETF (HHH). As shown, the ETF has now given up all of its gains from the breakout to new highs it made a few weeks ago, and is now back below its highs from February as well.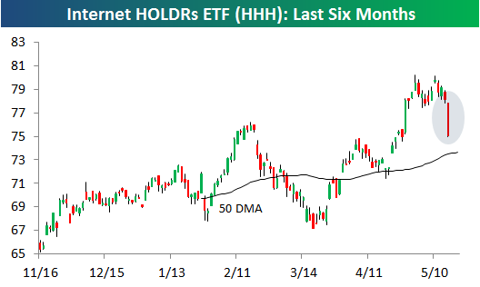 Below are the top 10 holdings that make up the HHH ETF in order from largest to smallest. As shown, the biggest names (Amazon (AMZN), eBay (EBAY), Yahoo (YHOO), and Priceline (PCLN)) are the ones that are down the most today.