Municipal bonds have had a very quiet rally since the January lows, accelerating in the past month as the bond market in general has found new life. The likely irony is that the economic weakness that the bond market seems to fear is going to ravage local and state finances at a time when many, if not most, have not yet repaired budgets decimated by the last recession. Thus, this rally is one I want to sell into.
I first bought MUB, the iShares S&P National Municipal Bond ETF, at the December lows, motivated by news that Bill Gross had used his own personal funds to dive in. While the true bottom did not come for another month, my gain on MUB now well exceeds the current 3.7% yield, making now a great time to sell based on my expected risk/reward. I was looking for even lower prices to add to the position, but those prices never came. I may come back into the market on the next swoon.
I do not think the technicals matter too much with munis, but I am posting the chart below for reference. Note that MUB is actually back in a bullish position having punched above the 200-day moving average (DMA) last week. (MUB bottomed at 85 in the middle of 2008 financial panic.)
Click to enlarge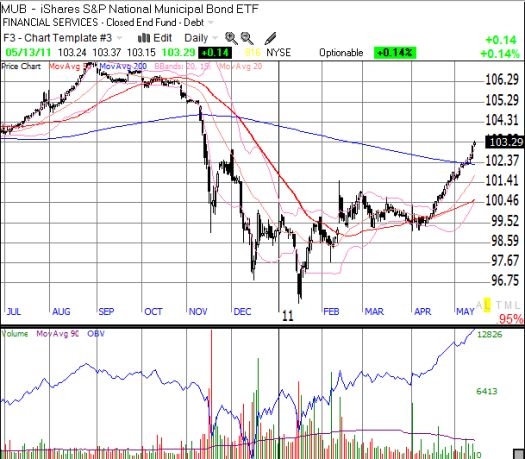 MUB has quietly rallied in impressive fashion, but I am not waiting around to find out whether MUB will challenge its 52-week highs.
*Chart created using TeleChart.
Disclosure: I am long MUB.