Below is a table highlighting the MTD and YTD performance numbers (in local currencies) for the major equity market indices of 78 countries. The majority of countries have seen their equity markets decline so far in May. The average month-to-date performance of the 78 countries shown currently stands at -1.58%. Russia has seen the biggest drop in May at a whopping -9.00%. The Ukraine (-8.86%) and Greece (-7.27%) aren't far behind. Along with Russia, two other BRIC countries -- Brazil and India -- are down more than 4% in May. China has been the best performing BRIC this month with a decline of -2.13%.
Along with the BRICs, all seven G7 countries are in the bottom half of the 78 countries listed in terms of performance as well. Canada is down the most of the G7 countries this month at -3.63%, followed by Italy (-3.27%), Japan (-2.96%), and France (-2.85%). Germany has been the best performing G7 country in May at -1.69%, while the US has been the second best at -2.07%.
On the positive side in May, Peru and Venezuela rank first and second with gains of 12.47% and 10.04%, respectively.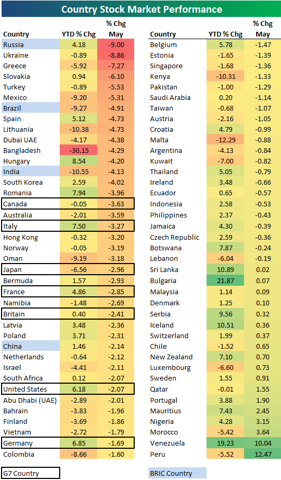 Click to enlarge
Looking at year-to-date performance numbers, Bulgaria ranks first with a gain of 21.87%, followed by Venezuela (19.23%), Sri Lanka (10.89%), and Iceland (10.51%). Italy is up the most of the G7 countries with a gain of 7.50%, while Japan is doing the worst with a decline of 6.56%. Russia had been one of the top performers year to date until it fell off a cliff this month, but it is still the best performing BRIC country in 2011 with a gain of 4.18%. India and Brazil have been two of the worst performing countries in 2011 with YTD declines of 10.55% and 9.27%, respectively.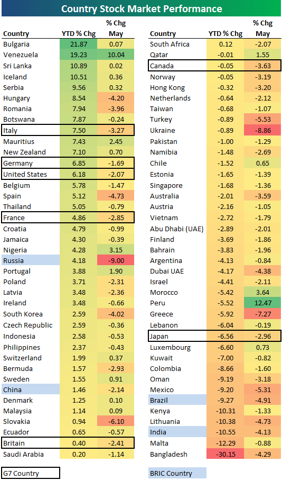 Click to enlarge