El Paso Pipeline Partners (NYSE:EPB) is a MLP formed by El Paso Corporation (EP) that owns natural gas pipelines, interest in pipelines, and an LNG storage and regasification terminal in the United States. The partnership has 12,900 miles of pipelines and storage capacity of about 97 Bcf. Even after reporting a good quarter earlier in the month, shares of EPB are flat on the year, weighed down by a recent equity offering and overall weakness in the sector. However, a closer look into EPB's performance shows investors may be overlooking a strong company with good growth prospects.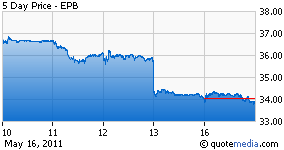 El Paso Pipeline has 5 main assets, fully owning 3 (Wyoming interstate Company, Southern LNG, and Elba Express Pipeline), while owning 85% of Southern Natural Gas and 58% of Colorado Interstate Gas. With the exception of the 190 mile Elba Express Pipeline, the pipelines are all very long, interstate pipelines that provide access to multiple producing regions. The Southern LNG regasification terminal is located near Savannah, GA, and has storage capacity of 11.5 Bcf of LNG. All the assets are under multi-year contracts, providing a predictable earnings base the EPB to expand from.
The distribution at EPB has increased every quarter since the IPO in November of 2007, helped by about $4 billion in drop-down acquisitions from the parent corporation. For Q1 of 2011, the distribution jumped up to $0.46 per unit, up $0.05 from the previous quarter and increasing 21% from the year earlier period. While that level of growth is fantastic, the overall yield on units is 5.4%, which is somewhat low, compared to other names in the space. While the distribution (and therefore the yield) looks set to continue to grow, the lower yield for EPB offers less protection than some of the more established names in the space.
In addition to a strong distribution growth record, EPB's Q1 results show an incredibly strong 1.5x coverage for the distribution. That strong coverage ratio should please investors, as the board can continue to use retained earnings to grow the partnership, while having plenty of room to greatly increase the distribution. The board could decrease the coverage ratio and increase the payout pretty substantially without a major acquisition or expansion, or use the retained earnings to help fund larger acquisitions and more expensive growth projects. Based on the 1.5x coverage of the most recent $0.46 distribution, the distribution would jump to $0.53 if that coverage ratio was dropped to 1.3x. On a full year basis that would bring the yield above 6%, more in-line with the rest of the industry.
A strong history of distribution growth based on drop-downs from the General Partner, along with a very high distribution coverage, point to more good things to come at El Paso Pipeline Partners. Distributions should be close to $2 for 2011 and well over $2 for 2012, as the partnership continues to grow via drop-downs. Units may have more volatility than other MLPs, as the lower yield offers less protection and EPB announces unit offerings to fund its growth. Any further weakness in EPB will offer a good entry point for long term investors to get into this quickly growing MLP.


Disclosure: I have no positions in any stocks mentioned, and no plans to initiate any positions within the next 72 hours.