Now I don't know who to trust and I don't know what I can believe
They say they want to help me but with the stuff they keep on sayin'
I think those guys just wanna keep on playin'

-Bruce Springsteen, Roulette
Netflix (NASDAQ:NFLX) CEO Reed Hastings and the New York Post -- neither are known for being completely straightforward with their audiences. In fact, if I were without my bearings in a strange city, I probably wouldn't ask Hastings or a being calling itself The New York Post for directions. That's what makes deciding which one of these excerpts to believe such a difficult proposition.

From the May 15/16, 2011, online editions of the New York Post: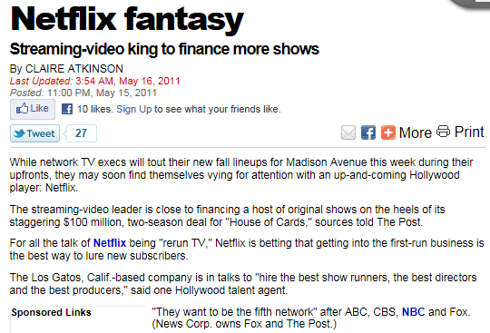 Click to enlarge

(Click all images to enlarge)

From Netflix's Q12011 Letter to Shareholders: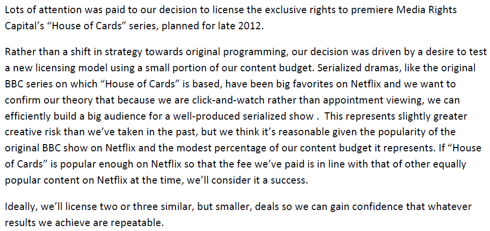 Click to enlarge

Clearly, there's a serious disconnect between those two statements. Assuming this is not typical New York Post tabloid drivel, it says a lot about Netflix going forward. Hastings' less-than-forthright approach with shareholders could merely be a means to protect them for competitive reasons. Netflix could very well be in the middle of a well thought out shift in strategy that they don't want to tip anybody off on. However, given the recent content deals they've signed that doesn't seem likely.

What's more likely is that Netflix is not quite as composed as it appears. Despite the bulls' attempts to paint Netflix as a seasoned company with an impeccable track record, the company might be closer to a man who doubts what he's sure of. Netflix's streaming efforts are in their infancy. One look at their presentation of the numbers and it's clear they have no idea what to expect. But, if they see the writing on wall -- content spend-wise and internationally -- a move toward original content makes quite a bit more sense, particularly if Netflix hires the hands to create and run the show internally.

I check Netflix's job openings' page. They have tons of positions available, but none desperately seeking a hot-shot producer and a cute intern to fetch his coffee. However, they still have several gigs open in the area of "content acquisition".

Interestingly this news comes on a day when NFLX has just imploded. In Monday's final hour of trading, as I write, NFLX flirts with its intraday low of $234.03, down nearly five percent for the day. I doubt the tabloid "is it rumor, is it fact" piece had much to do with the freefall. Lots of high fliers in tech have experienced the same fate today.

With options expiration craziness all the rage these days (whose fault is that?), these stock price declines come as little surprise. It's quite incredible how these things all just sort of come together, isn't it?

(Chart courtesy of OptionPain.com)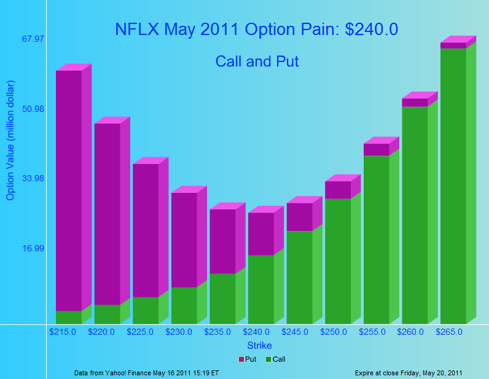 Click to enlarge

In related Netflix news, the company announced another high-dollar content acquisition deal on Monday. This time it's with Miramax. Netflix continues to make programmers giddy by padding their bottom lines. CBS was one of the first to thank Netflix for the hole that has singed the company's pocket. And now Miramax contends the Netflix deal has enough zeros in it to put the studio on the road to profitability. CEO Mike Lang told Bloomberg, "We basically see a path to paying off our investors." The best part for Miramax is that the deal is non-exclusive. Miramax has the same opportunity as CBS does to resell its programming to any of Netflix's growing list of competitors. Wow.

Irrespective of the day-to-day noise, ranging from uninformed yelps of manipulation to options expiration itself, the long-term short story on NFLX remains intact. Spending too much money on original content differs little from spending too much money on reruns. In fact, given what it would take to become "the fifth network" -- something on the level of the Sorpranos and more -- it would likely cost more money to take the still-unsustainable plan B. The corridors of Netflix Los Gatos and Beverly Hills may be full of Mad Men, but Navy Seals they certainly are not.

Disclosure: I have no positions in any stocks mentioned, and no plans to initiate any positions within the next 72 hours.