A lot has been said about in-the-cloud valuation multiples of Salesforce.com (NYSE:CRM) and how overvalued the stock is. Even using the non-GAAP earnings (which are much higher than the GAAP earnings), one can see that this is one of the most overvalued stocks in the US market. However, to see the true extent of over-valuation, one has to use the GAAP numbers. As I show in this article, non-GAAP numbers don't paint the true picture and can be misleading.
Using non-GAAP numbers is misleading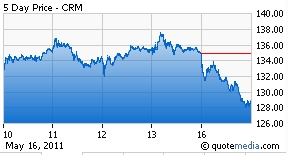 The non-GAAP income numbers of CRM exclude the effects of stock-based compensation expense, amortization of purchased intangibles related to acquisitions and noncash interest expense related to the convertible senior notes. Out of these, stock-based compensation expense is the most important factor in the difference between GAAP and non-GAAP numbers of CRM.
Expensing stock-based compensation
Expensing stock-based compensation is a well-debated topic in general. Some argue that non-cash expenses should be excluded while calculating earnings numbers. Not true. Any compensation paid to an employee, whether in the form of cash, options or restricted stock is a genuine expense. When a company issues stocks or warrants in the market, the cash proceeds received don't count towards its income or profits. Similarly, when a company issues the options or restricted stock in lieu of cash compensation, the cash savings should not count towards the income.
Some argue that the stock-based compensation is already accounted for if one uses diluted number of shares for calculating per-share numbers. Hence, expensing the stock-based compensation may lead to 'double counting'. Not true. Dilution happens because a company spends in the form of shares instead of cash (thus diluting the ownership of the shareholders), while the principle behind expensing is that all spending (whether in the form of cash, stocks, discount vouchers, anything else) must be expensed. These are two separate things.
Leaving accounting matters aside, and purely from a stock valuation perspective, it makes sense as well to use the GAAP earnings for future projections:
(a) While projecting future earnings (and expenses) of the company over say the next 10-20 years, you can simplistically assume that future expenses (including compensation) will be met fully in cash (and no further stocks or options will be issued for compensation). In this case, you will need to take GAAP EPS as your base guide to project future earnings.
(b) On the other hand, you can assume that the company will always issue stocks or options to partly meet its expenses. In this case, you can use non-GAAP income numbers as your guide to project the company's income in future years. This will lead to a much higher valuation for the entire company. But, in this case, the number of shares (used to divide the valuation of the company to arrive at the valuation of individual stock) should also be much higher. This is due to all the future potential dilution that is going to happen over the years due to the stock or option issuance.
(Measuring such future potential dilution in the case of options is more complicated than in the case of stocks. In the case of options, one has to assign risk-neutral probabilities for options expiring in-the-money which can lead to much complicated calculations). Using these higher number of shares (calculated using such probability-weighted dilution), one should ultimately arrive at a similar result as the former approach of simply using GAAP income numbers.
Non-cash interest expense related to the convertible senior notes
One other factor typically excluded while calculating the non-GAAP income numbers is the noncash interest expense related to the convertible senior notes. CRM issued 575 mio of 0.75% convertible notes due in January 2015 (Source: AR FY10 (.pdf)). The cost savings due to the difference between 0.75% and the true borrowing cost of the company can be viewed as the compensation paid by the note holders to the company for the embedded call option. Such savings are not true cost savings but a compensation for the future potential dilution due to the conversion of the notes. Hence, a company needs to expense it back via noncash interest expense. (For those who want to delve in details, CRM also entered into OTC note hedge transactions that partially reverse the effect of this potential dilution. However, the cost of these hedge transactions wasn't recorded as an expense. So there was no 'double counting' here.)
Using GAAP numbers is the correct approach
In a nutshell, GAAP income numbers incorporate such factors as stock-based compensation expense and non-cash interest expense. Hence, they paint a truer picture of the expenses (and net income) of a company. Hence, the true approach to valuing CRM should be using GAAP numbers.
Boy, it's a screaming SELL
CRM earned GAAP net income of 18.36 mio, 43.43 mio, 80.72 mio and 64.48 mio in FY 2008, 2009, 2010 and 2011, respectively (Source: Financials). For FY 2012, the company's net income is likely to be below 16 mio (using the company's projection of a GAAP EPS of 0.08-0.11 and diluted stock base of 145 mio shares as given in the press release of Q4 FY11 results). What value will you assign to this company? 18 bio? You gotta be kidding me.
In a market where AAPL and GOOG are trading at multiples of 15-20, it is an understatement to say CRM is overvalued. No matter how optimistic a growth rate you assign to the CRM application market, and no matter how well the acquisitions (costly acquisitions? See here) work out, it doesn't justify this kind of valuation.
Not to mention there are strong headwinds. Competition from the Godzillas like MSFT and ORCL and other players is going to eat into the market share and the margins. (For example, see here and here).
Such sky-high valuation is probably the key reason why insiders have been selling the stock and the company itself sold warrants on 6.7 mio of its shares in Jan-2010 (Ouch - did I hear 'dilution' again?).
It's a question of when and not if the stock will crash.
Disclosure: I have no positions in any stocks mentioned, but may initiate a short position in CRM over the next 72 hours.