Last week the shorts released another flashy tome timed to coincide with Northern Oil & Gas's (NYSEMKT:NOG) 1Q earnings report. Some of the items were fairly inane and others should be addressed.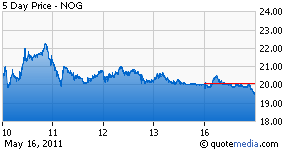 Short Claim #1 - Switch to New Big Name Accounting Firm Could Leave NOG With a Lot of Explaining to Do. First the shorts complained NOG was using a "no name accounting" firm. Now that NOG has switched to one with more name brand recognition the shorts basically cry "Ah ha! something must be amiss".
Response To Claim 1. Northern's new accountant, Deloitte & Touche, sat down with the old accountant, Mantyla McReynolds and according to NOG management they went through, "work papers from their audits, and they essentially test our internal controls and methodology. In other words, the way we account for wells". After this review, Deloitte had no comments on the process that was used in previous financial statements. According to NOG, they won't be changing the way they account for their wells. NOG went on to say they don't anticipate any issues with the change in accountants or any restatements of past financials or any change in accounting methodology. As such, they don't see any charges coming down the road from changing accounting firms. Lastly, since the shorts continue to bring up the depletion issue I'd just reiterate that they are not out of line with their peers and suspiciously low as the shorts allege ... maybe a picture will help them see that. Please see my last report for a detailed explanation of why there is nothing untoward in this non cash number.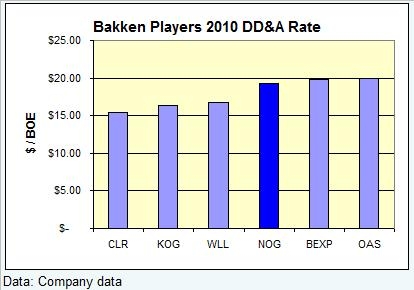 Short Claim #2 - Sales of Interests in Wells to Ashwood Resources a Sweetheart Deal, Literally. The shorts say a firm named Ashwood is getting a sweetheart deal, buying minority interests in 70 wells and that via these well sales, NOG has sold away 15% of its acreage to this entity. Furthermore, the shorts say that it's an "all in the family type deal" with CEO Reger's wife working at the firm in question.

A few things on this item.
Oil companies hone their well portfolios continuously and from time to time will sell their interests in oil wells where the interest is so small it's not worth keeping up with. In NOG's case, all of its wells, regardless of the size of the working interest the company holds, are engineered by Ryder Scott. It takes the same amount of time and expense to engineer reserves for a well in which they hold a tenth of a percent working interest as it does to engineer one in which they hold a 10% working interest.

In this instance, NOG sold minuscule interests in 91 wells where the company's working interest came out to less then 1/2 of 1% per well to a firm named Ashwood Resources. The aggregate interest in the 91 wells came out to a whopping 23% of one net well.
NOG had interests in 34 net (395 gross) wells as of May 9th, 2011 and will spud 40 net wells this year alone at roughly 10 per quarter. So 0.23 of 1 net well (the aggregate of the working interests in the 91 wells) amounts to 0.4% of their total year end 2011 net well portfolio.

Moreover, the sales are for the wellbore interests only. They do not include the acreage so the 15% claim the shorts are making is simply incorrect. If additional downspacing takes place on the sections where the wellbores were sold NOG still has the right to participate in the new drilling.
CEO Michael Reger's wife does in fact work for Ashwood. She started as a contractor at there five months after the aforementioned deal was struck.


The shorts also accused NOG of deliberating reducing a working interest in a good well to include it in the package of wells shuttled over to Ashwood. NOG said this is simply untrue and I can't comment on that other than to say that working interests can and do shift for a variety of reasons. NOG noted that a neighboring well they have an interest in increased around the same time.
Short Claim #3. Interest Assignment to Son of Board Member. This one is almost true. Loren O'Toole is on NOG's board. And his son, Mike O'Toole is a landman. Mike was partnered with a leaseholder and brought the lease deal to NOG. NOG wanted the lease and bought it directly from the land owner. Mike was assigned 1/3 of a 2% over riding royalty interest in the lease from the land owner. In summary, another short story with lots of links and bits of colorful language but no actual fire and a lot of assumptions that don't pan out.

OK, enough of that. I don't plan to address all of the short comments as again many of them have nothing to do with the financial outlook of the NOG story even if they are true like the one about the CEO apparently being pretty handy with a shotgun. Now we transition from the immaterial to the material. Is NOG performing (growing production, revenues and cash flow) while maintaining a strong balance sheet, therefore increasing shareholder value? The following are some of the things the shorts don't want you to see and / or don't talk about.

Last week, NOG reported 1Q11 results that came up short relative to Street expectations. As we've seen over the course of the first quarter reporting season, all Williston Basin players had difficulty maintaining, let alone growing production due to well site accessibility issues (both new well tie ins and existing well offtake) caused by record winter weather across North Dakota and Montana. NOG was actually one of the standouts, reporting a 7% increase in sequential production. Note that one of their bigger operators is CLR who was also less affected by the weather last quarter.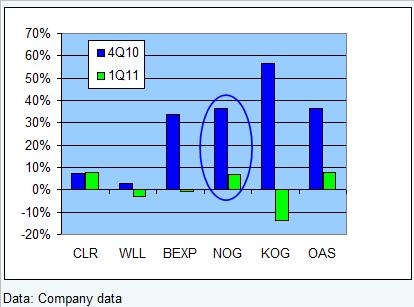 Management then went on to reaffirm prior guidance which on the mid yields growth of 180% over 2010. The exit rate from 1Q11, improved weather, and a still soaring Williston rig count bodes well for management's comment about returning to its recent historic sequential guidance rate of 25 to 35% per quarter. For modeling purposes I am holding to the low end of the range in 2Q and my sense is doing the same, with an expected acceleration occurring in 2H11.

Production growth has been strong... NOG grew its volumes by 215% in 2010 and is set to record trip digit growth again this.The shorts did call the quarter a big miss but they don't follow the Williston or the group and the production from one 1Q11 isn't lost, it's simply deferred by 20 foot snow drifts.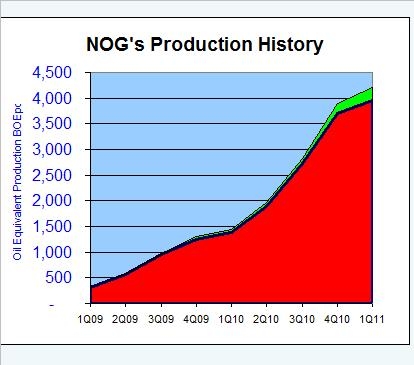 ... Resulting In Increased EBITDA. Due to growing volumes, higher oil prices, and good cost control, Earnings Before Interest Taxes Depreciation and Amortization (a common measure of cash flow) continues to grow. I'd add that 1Q EBITDA was a record $18.6 mm, nearly tripling the $6.4 mm recorded in the year ago quarter. I expect stout growth this year and next and so does the Street as can be seen below. Based on the 2012 number, NOG is trade at just under 4.0x forward EBITDA. For a company growing at this rate, in a repeatable success play, with cash and no debt on the balance sheet and plenty of running room in its leasehold, I'd call that an extremely rare bargain.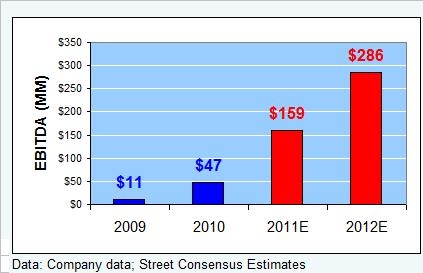 Nutshell: I still have not seen anything put forward by the shorts that, after close examination, has any materiality to it. If you see something please forward it to me. Management's plan to acquire acreage in the Williston Basin in the way of the operators as they drill across the play has yielded rapid production and cash flow growth and the company's expense ratios are in line with it's peers (for more on that see the Bakken Players Update also published today). Their reserves, engineered by Ryder Scott (and I dare the shorts to try and besmirch that name) continue to grow as well, rising from 763,000 BOE at the end of 2008 to 15.7 million BOE by the end of 2010. Ryder Scott is known for conservative reserve booking. Meanwhile, the balance sheet remains pristine with no debt, $100 mm in cash, $25 mm in marketable securities and an undrawn credit facility with $25 mm of availability that should see further expansion later this year. These are all things E&P investors look for in a story. If I had to pick one bone with recent moves by NOG it would be an announced buyback as it seems to be in direct response to the shorts and an over large fly swatter for things that are probably best left ignored.

Disclosure: I am long NOG, WLL, OAS, KOG, BEXP.