Apple shareholders have to be made of tough stuff. We've endured 4 discouraging months-- Apple's share price is right back to where it was on January 5. To add to the frustration, Apple delivered 2 strong quarters, soundly beating estimates and showing investors considerable growth in earnings and revenues. Q2 revenue and EPS were up 83% and 91% respectively. Q1 revenue and EPS were up 71% and 75% respectively. The share price didn't even beat money markets. Shareholders, I feel your pain. After all, I'm another suffering Appleholic.
Time to bail? Buy bonds? Slink into a corner and cry? No. For Apple veterans, this isn't anything new. I noted in a previous post that Apple tends to trade sideways for a frustratingly long time. To those newbies who haven't lived through a prolonged period in which Apple goes nowhere, let's go down memory lane. There have been 3 miserable periods to own the stock in the last 3 years, and each lasted 4 to 5 months.
From October 20, 2009 until February 25, 2010 Apple plateaued -- it was worth $198 on both the first and last days of this period. If you bailed, you missed a 73% climb in the stock.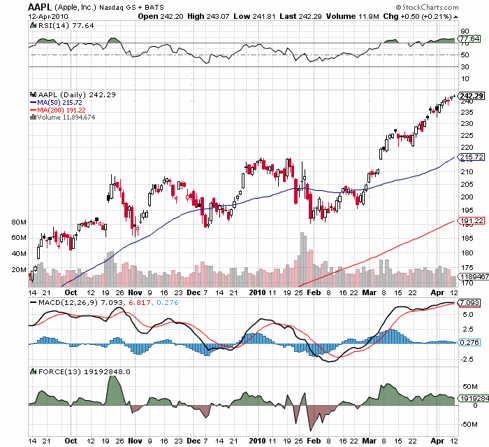 Click to enlarge
From April 21, 2010 until September 17, 2010, Apple languished 5 months -- you could have owned the stock at $258 on the first and last days of the period, as well as many days in between. Shareholders who held on were amply rewarded.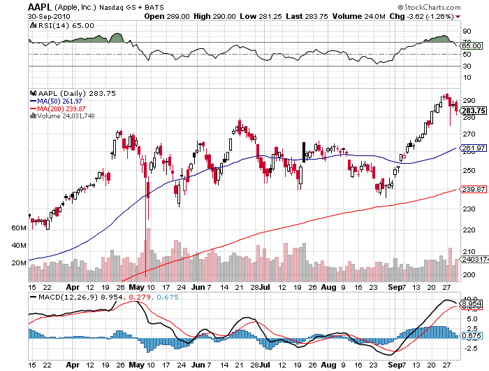 Click to enlarge
The ultimate in pain was September 29, 2008 until April 19, 2009. You could have owned the stock at $118 on the first and last days of the period. However, you had to keep your cool through some hairy moments when Apple hit $80. Those who held on since then approximately tripled their holdings.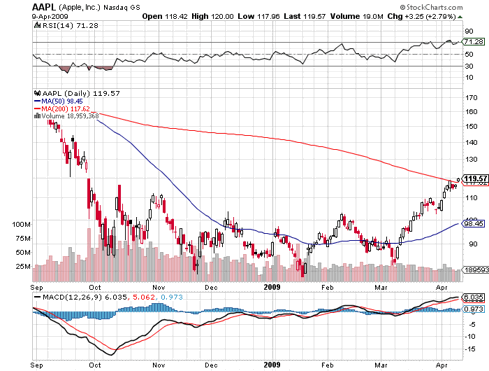 Click to enlarge
To me, this year's weakness is reminiscent of these morose periods. Apple has been trading in the doldrums for a little over 4 months, shy of the 5 month sleep walk seen in the last two cycles. If history is any guide, Apple should start to reward long suffering shareholders. Apple's agony has been experienced preceding shareholder ecstasy, and this time should be no different. Apple's remarkable earnings should win investors over again.
Disclaimer:
The opinions in this document are for informational and educational purposes only and should not be construed as a recommendation to buy or sell the stocks mentioned. Past performance of the companies discussed may not continue and the companies may not achieve the earnings growth as predicted. The information in this document is believed to be accurate, but under no circumstances should a person act upon the information contained within. We do not recommend that anyone act upon any investment information without first consulting an investment advisor as to the suitability of such investments for his specific situation.


Disclosure: I am long AAPL.