After taking a hit last month for a historically infrequent and unexpected 4% drop in its flagship product, Windows, and a more recent negative reaction to purchasing Skype with no solid forward plan, we can see Microsoft (NASDAQ:MSFT) is pretty well beaten down here, but not for lack of solid fundamentals.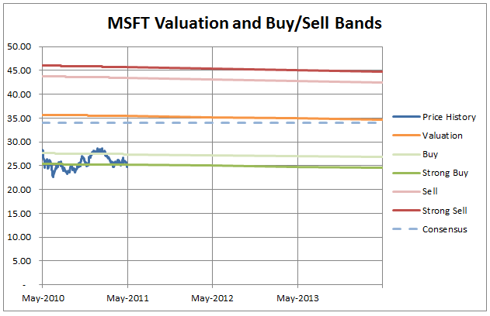 Click to enlarge
(Click charts to expand)
MSFT beat earnings expectations by about 10% for each of the last 4 quarters, albeit, last quarter would have been right in line with estimates had it not been for a $0.05/share tax benefit. Its continuing income margin went down from last quarter's 33.2% to 31.8%, which is still up from 27.6% one year ago.
With a P/E of 7.8 after backing out tangible value (cash and equivalents minus debt), the ratio hasn't looked better in the recent history of the stock, save the dip below $20/share in 2008-09. Even though MSFT's share price has oscillated around $25 for the last 10 years, the actual profit to the shareholders has tripled while 32% of the 2001 share count has been bought back. And it's all happening very methodically.
Currently, MSFT is flirting with its 6-month low around $24.50, which it has bounced from 4 times already, creating a significant technical bottom. Today's move on lower-than-average volume is an indication of trend exhaustion and fewer sellers at this price.
I'm recommending a Buy at this $25 price point. Because we're currently very close to a technical bottom, I recommend a stop-loss at $24.20 if it crosses on high volume, followed by a repurchase once volume levels off.
Disclosure: I have no positions in any stocks mentioned, and no plans to initiate any positions within the next 72 hours.