Protecting the Quarterback
Let's be honest, there is nothing sexy about utility stocks. They don't need the spotlight or the glory. But when they get called upon, they step in and do their job ... no questions asked. They are humble and reliable.
In a way, utility stocks are like offensive linemen in football. The O-linemen rarely make the headlines or box scores, yet they are arguably the most important players on the field when the game is on the line. What could be more important than protecting the quarterback?
The Unsung Heros of Your Portfolio
The S&P Select Utility SPDR (NYSEARCA:XLU) has been up 18 of the past 23 trading sessions and has outperformed the S&P 500 Index (NYSEARCA:SPY) by 6.54% over this time period (see price ratio chart below).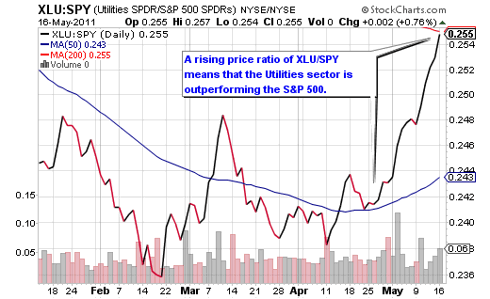 Historically, when defensive stocks lead the market higher, there is a high probability that a market (and/or economic) downturn is on the horizon (which I believe is imminent at this point). Defensive stocks typically have nice dividend yields and tend to hold up relatively well in a downturn.
It's time to start protecting your portfolio with some utility stocks!
Utility Stocks Currently Yielding Over 5%
Of the 33 utility stocks in the S&P 500, 8 currently have a dividend yield greater than 5% (see table below).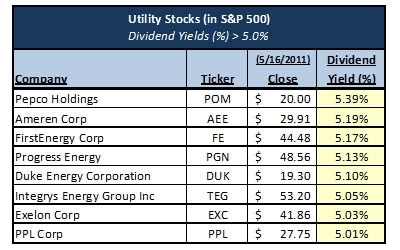 Breaking Down the List
Pepco Holdings, Inc. (NYSE:POM) engages in the transmission, distribution, and supply of electricity; and the delivery and supply of natural gas, primarily in the mid-Atlantic region.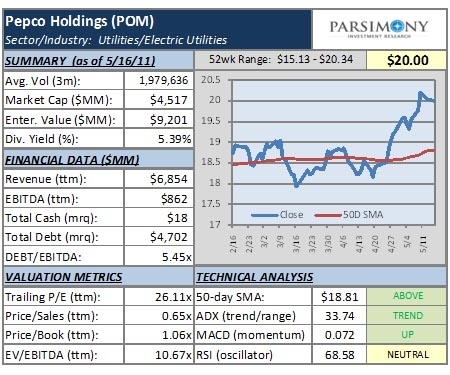 Ameren Corporation (NYSE:AEE), through its subsidiaries, operates as a public utility holding company in Missouri and Illinois. It engages in the rate-regulated electric generation, transmission, and distribution businesses; rate-regulated natural gas transmission and distribution businesses; and merchant generation businesses. The company was founded in 1881 and is headquartered in St. Louis, Missouri.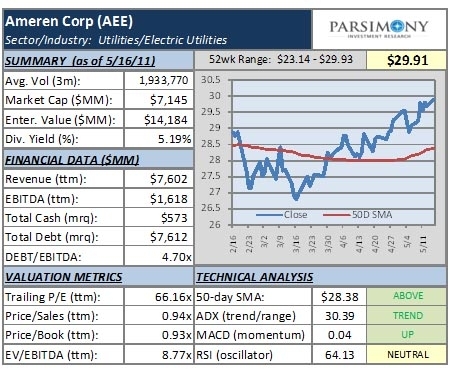 FirstEnergy Corp. (NYSE:FE) operates as a diversified energy company. The company, through its subsidiaries and affiliates, involves in the generation, transmission, and distribution of electricity, as well as energy management and other energy-related services. It serves approximately 4.5 million customers within 36,100 square miles through 8 utility operating companies in Ohio, Pennsylvania, and New Jersey. The company was founded in 1996 and is headquartered in Akron, Ohio.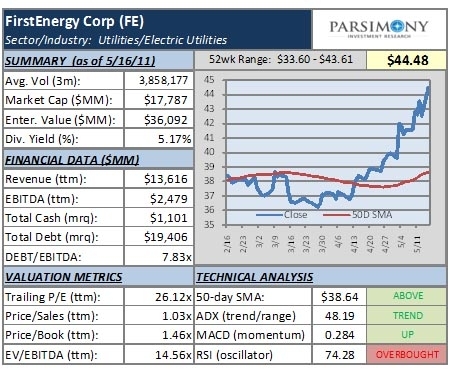 Progress Energy, Inc. (PGN), an utility holding company, together with its subsidiaries, engages in the generation, transmission, distribution, and sale of electricity in North Carolina, South Carolina, and Florida. It uses coal, oil, hydroelectric, natural gas, and nuclear power to generate electricity. The company also engages in various alternative energy projects to generate electricity from swine waste and other plant or animal sources, biomass, solar, hydrogen, and landfill-gas technologies.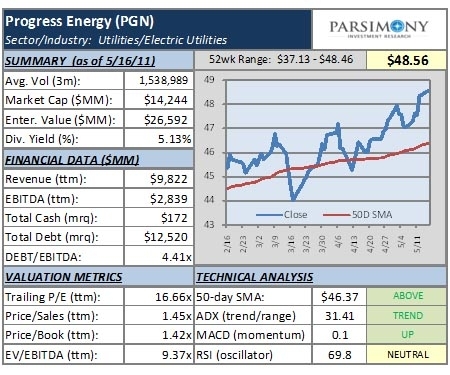 Duke Energy Corporation (NYSE:DUK) operates as an energy company in the Americas. It operates through three segments: U.S. Franchised Electric and Gas, Commercial Power, and International Energy. The U.S. Franchised Electric and Gas segment generates, transmits, distributes, and sells electricity in central and western North Carolina, western South Carolina, southwestern Ohio, Indiana, and northern Kentucky; and transports and sells natural gas in southwestern Ohio and northern Kentucky. The Commercial Power segment owns, operates, and manages power plants, as well as engages in the wholesale marketing and procurement of electric power, fuel, and emission allowances related to plants. The International Energy segment owns, operates, and manages power generation facilities; sells and markets electric power and natural gas; and produces natural gas liquids, methanol, and methyl tertiary butyl ether.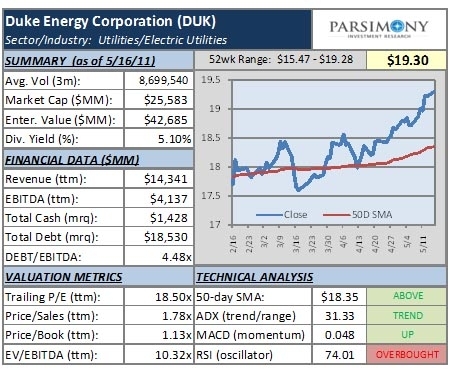 Integrys Energy Group, Inc. (NYSE:TEG), through its subsidiaries, operates as a regulated electric and natural gas utility company in the United States and Canada. It provides natural gas utility services in Chicago, Wisconsin, Michigan, and Minnesota. The company also generates and distributes electric energy form coal, natural gas, fuel oil, hydroelectric, and wind resources in Wisconsin and Michigan.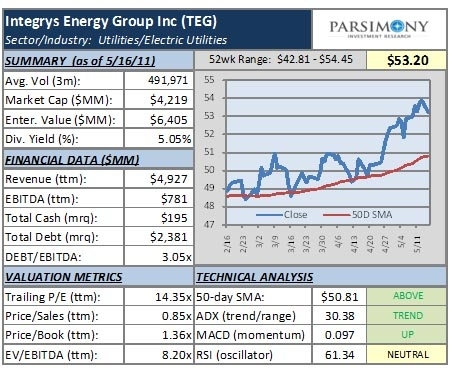 Exelon Corporation (NYSE:EXC), a utility services holding company, through its subsidiaries, engages in the generation, transmission, distribution, and sale of electricity to residential, commercial, industrial, and wholesale customers in northern Illinois. The company generates electricity from nuclear, fossil, and hydroelectric generation facilities. It sells electricity and natural gas on retail basis to customers in southeastern Pennsylvania.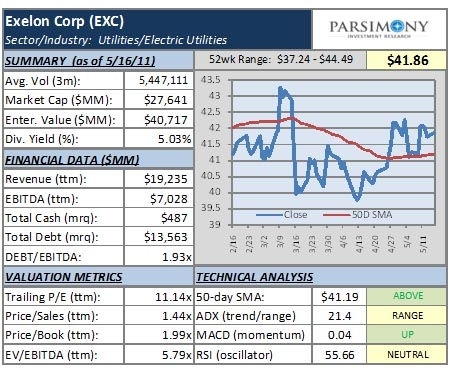 PPL Corporation (NYSE:PPL), through its subsidiaries, generates and markets electricity to approximately 4 million retail, commercial, and industrial customers in the northeastern and western United States and the United Kingdom. It generates energy from various fuel sources, including uranium, coal, natural gas, oil, and water.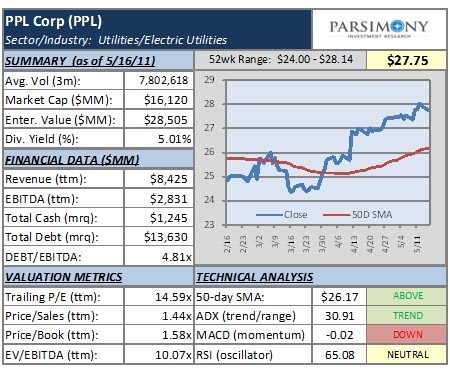 Disclosure: I have no positions in any stocks mentioned, and no plans to initiate any positions within the next 72 hours.