I often caution investors against investing by the numbers alone. Just because a stock has a low Price/Earnings Ratio or high Return-On-Equity doesn't mean it's a good buy. Those are often indicators of good buys but you need to look behind the numbers as well.
A good example of this came in February when shares of Hewlett-Packard (NYSE:HPQ) got hammered after its earnings report. A lot of people asked me if I though HPQ was a good buy. This is what I had to say in my post Hewlett-Packard Is Cheap, For Good Reason:
Hewlett-Packard reported earnings of $1.36 per share which was seven cents more than Wall Street's forecast. Wall Street responded by tossing the shares in the garbage. The shares dropped nearly 10% on Wednesday. Since the stock is a Dow component, the plunge distorted the entire index.

What freaked out Wall Street so much? Let's dig into the numbers. The hitch was that quarterly revenue rose only 4% to $32.30 billion from $32.96 billion. Wall Street had been expecting $32.96 billion. In the wider scope of things, that's really not a big miss, so what else was going on?

Hewlett-Packard also gave guidance for Q2 and the entire year. For this quarter, HPQ said it expects revenues between $31.4 billion and $31.6 billion, and earnings-per-share between $1.19 and $1.21. Wall Street didn't like that at all. The consensus was for revenues of $32.6 billion and earnings of $1.25 per share.

HPQ's full-year forecast (its fiscal year ends in October) was for total revenues between $130 billion and $131.5 billion. The consensus on Wall Street was for $132.91 billion. HPQ said it expects full-year earnings to range between $5.20 and $5.28 per share. The Street was expecting $5.23 per share, so I suppose that's inline. HPQ has traditionally issued conservative forecasts so they can raise them later. Perhaps they're doing that now to mask the poor Q2 guidance.

So this seems odd. It appears that HPQ gave lousy near-term guidance but the long-term guidance is still what the Street expects. Yet the stock's popularity is somewhere between Kim Jong-il and Diphtheria. (Did Hurd get out at the right time? Sure looks like it.)

According to the company's guidance, the stock is selling for just eight times earnings. The good sign is that its enterprise storage, servers and networking division saw revenues increase by 22%. Also, the gross margins are up 1.5% to 23.4%.

The stock is tempting, but I'm still steering clear.

HPQ has a few problems to work through. They're experiencing weakness in consumer PCs and services. I'm also not a big fan of the quality of their earnings. Always be wary when a company grows too much through acquisition. That's often a sign of trouble. A company should be focused on making earnings, not buying them.

I should add that things may change soon. On March 14th, Apotheker will unveil his business plan for Hewlett-Packard. (BTW, Leo, that shouldn't take six months to do). I'm curious to hear what he has to say, but I don't have enough confidence to buy before then. Until then, HPQ is a sell.
Sure enough, Hewlett-Packard cut that already lowered forecast today. The company now says that sales for the year will be between $129 billion to $130 billion, and earnings will be $5 per share. Wall Street was expecting earnings for the May-June-July quarter of $1.23 per share. Instead, HPQ said it will be $1.08 per share.
Investors tend to think companies are like athletes and they can shake off a bad night. Business generally doesn't work that way. One problem leads to another problem and things can escalate very quickly. You should also be very skeptical of any company that relies on the strategy of "growth through acquisition." Simply put, it rarely works.
Click to enlarge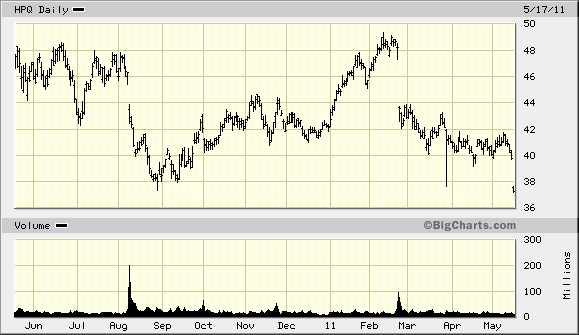 Disclosure: For author disclosure, check here.