It has been 11 months since the FDA partially lifted the clinical hold it had imposed on Oncothyreon's (ONTY) out-licensed, late-stage cancer vaccine product candidate, Stimuvax.
ONTY 1 month Chart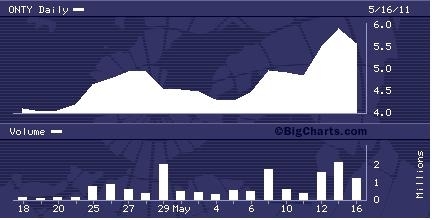 [Click to enlarge]
The stock is up nearly 55% since the phase 3 trials were allowed to resume. More impressive is its current three week 33% climb, in which several new 52 week highs were created after Rodman & Renshaw initiated coverage with an "outperform" rating and a $10.00 price target and Wedbush raised its price target on the company to $7.00.
What is Stimuvax worth?

In December of 2008, German drug maker Merck KGaA (NYSE:MRK) acquired exclusive worldwide rights to develop, manufacture and commercialize Stimuvax. Merck has confidently suggested that the product candidate has the potential to generate $1B in peak annual sales.
From a recent Oncothyreon 10-K filing:
We are also entitled to receive royalties based on net sales of Stimuvax ranging from a percentage in the mid-teens to high single digits, depending on the territory in which the net sales occur. Royalty rates were reduced relative to prior agreements by a specified amount which we believe is consistent with our estimated costs of goods, manufacturing scale-up costs and certain other expenses assumed by Merck KGaA.
After Merck's $1B projection, but before the brief FDA imposed hold on clinical trials, a European analyst covering Merck put Stimuvax's potential peak gross sales at a more conservative 350M euros ($500M USD) by 2017. Using the vague royalty data as detailed in the above 10-K excerpt, I feel comfortable assuming the average global royalty rate to be 11%. Any way you look at it from there, if approved, Stimuvax would be worth at least $7 per share to Oncothyreon.
No need for near-term dilutive financing.
The company recently raised $40M in a 10M share offering. The cash will be used to fund its pipeline, namely its PX-866 and ONT-10 cancer-fighting compounds. The company stands to make another $6M, should the underwriters fully exercise their options to purchase more shares.
Oncothyreon's Pipeline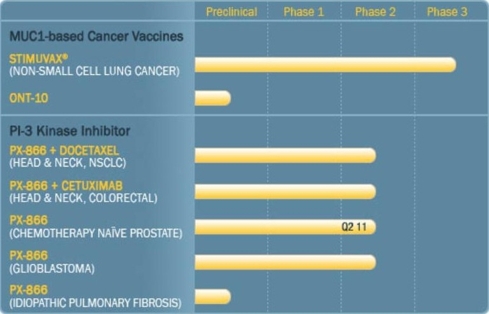 (Click to enlarge)
As I have mentioned before, chasing bios at or near their 52 week highs can be hazardous to your portfolio. Having said that, I took yesterday's 9.7% pullback from a newly forged 52 week high of $6.19 as an opportunity to enter a long ONTY position. I will be looking to add shares in the near-term, should a continuation of yesterday's sell-off occur, and will be monitoring the position closely.

Disclosure: I am long ONTY.