With a Credit Suisse downgrade in their rear-view mirror (an April Fool's joke in bad taste, I might add), Logitech (NASDAQ:LOGI) is suffering from fear-driven selling. Its longer-term valuation hasn't changed; margins have almost recovered after 2009 lows, and they're still debt free.

Looking at projected growth rates, LOGI is just shy of it's industry (14.2% vs. 15.4%), but way ahead of its nearest product-line competitor, MSFT (10.3%). Where else can you find a 30-year-old company that dominates its industry in brand-recognition and quality and has a growth rate more in line with the riskier, smaller-cap firms in its space?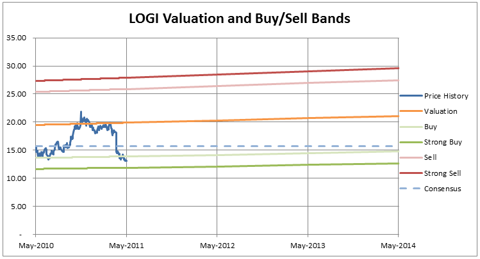 In this chart, Valuation is based on a DCF model, using approximately consensus numbers. I believe the hit to margins is only short-term, so I assumed a 4.6% margin -the bottom of the positive margins over the past 3 years. The buy/sell bands are a function of the price volatility, where significant deviation is seen as a buy/sell signal.
On the technical side, we're looking at weakening downward momentum as the market is running out of sellers at this price point as news has propagated and investors have reacted to a lot of bad news. The trend is nearing exhaustion and appears to be forming a bottom.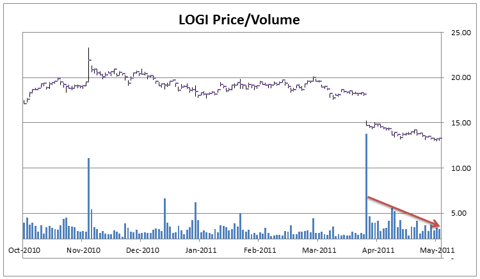 And if fundamental and technical indicators aren't enough to convince you, how about crowd wisdom? Motley Fool's CAPS gives this stock a 4-star rating, up from 3 after the CS downgrade.
If you're looking to take a long term position in LOGI, I believe that buying at the current price point is both fundamentally and technically sound.

Disclosure: I have no positions in any stocks mentioned, and no plans to initiate any positions within the next 72 hours.