For many years Ctrip.com (NASDAQ:CTRP) has been the dominant player in the Chinese travel industry. Meanwhile eLong (NASDAQ:LONG) has been its wayward competitor. I'd parallel these two to something along the lines of Intel (NASDAQ:INTC) versus Advanced Micro Devices (NYSE:AMD) - yes they are competitors but the gap between the two is more like a chasm.
Overnight, an event happened that might finally change the balance of power to some degree. Chinese powerhouse Tencent (OTCPK:TCEHY) (which we just spoke about in the past week) took a 16% stake in eLong.
Tencent

has acquired approximately 16% of the outstanding shares for a total purchase price of

$84.4 million

and became the second largest shareholder of eLong. Expedia (NASDAQ:EXPE) has acquired approximately 8% of the outstanding shares for

$41.2 million

and now holds 56% of the outstanding shares.
The strategic investment in eLong represents the first significant investment in the travel market by

Tencent

. eLong and

Tencent

plan to deepen their cooperation in future, including forming a business partnership to develop online travel products and distribute eLong's hotel supply to

Tencent

's online community with 674 million QQ user accounts in

China

.
If they can leverage their 600M+ users toward this travel business, it would be a huge win for eLong. The market loves the development - the stock is up 50% even after selling off from morning highs.
Click to enlarge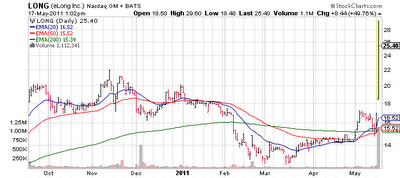 Another potential winner is Expedia, which has a near 60% stake (after buying 8% more) in eLong. Much like Yahoo (NASDAQ:YHOO) is being valued more for its Chinese holdings than its U.S. business, Expedia could be viewed the same if Tencent takes eLong to the next level.
Click to enlarge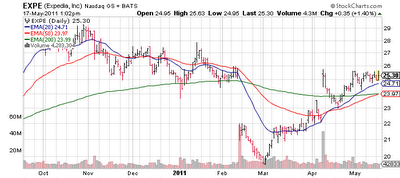 The obvious potential loser here is Ctrip. But it has been the dominant horse for such a long time, it should set up quite a battle in the space. Near term the reaction today in CTRP is probably overdone as it will take time for eLong to benefit from this new relationship.
Click to enlarge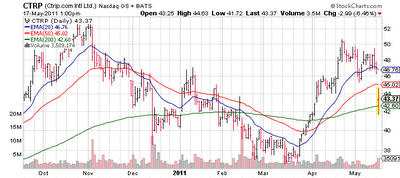 Disclosure: No positions.