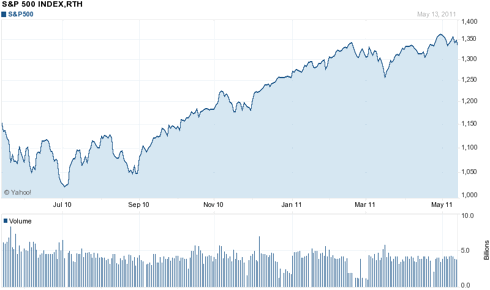 click to enlarge
Market Outlook
Indexes fell sharply last Friday on low volume. Low volume means that big investors were not selling their shares. On Friday we saw the NYSE fall under its 50-day moving average. This average is a key support level in technical analysis. Look for the NYSE to break above the 50-day in heavy volume.
For last week, the S&P 500 fell 0.18%, while the Nasdaq gained 0.03%.
As the market continues its correction, now might be the time to pick up some dividend stocks. Below I will talk about a solid dividend company and set up a strong portfolio with a high yield.
Crestwood Offers a Chance to Buy
Crestwood Midstream Partners (NYSE:CMLP) is a Master Limited Partnership (MLP) that owns and operates midstream natural gas and natural gas liquids assets strategically located to gather, process, treat and compress natural gas produced from the Barnett Shale formation of the Fort Worth basin in north Texas. They also have assets in the Fayetteville Shale and Granite Wash. To make it simpler, they own and operate pipelines and natural-gas processing plants.
What is so great about the pipeline business is that it is fee based. This fee based business can give CMLP a constant revenue stream, and increase the dividend as they get more customers. CMLP also gains additional revenue from processing natural-gas. When natural-gas comes out of the ground it must be processed to be used as fuel. CMLP's location is great for processing natural-gas. They have locations near the Barnett shale, which is the largest natural-gas producing field in America.
CMLP has been on a serious acquisition campaign, as they look to control more of the area. One acquisition they made was of a natural-gas processing and treating plant with several long term contracts from world class companies like Exxon (NYSE:XOM), Chesapeake Energy (NYSE:CHK), BHP Billiton (NYSE:BHP), and BP.
With all these great things going on, how did the company miss earnings by 2 cents on May 10th? It is amazing they didn't miss by more. Horrible winter weather in February hit the region, causing them to put a hold on operations for more than a week. The fact that the miss wasn't bigger was a sign that the company knows what they're doing. In the first quarter press release (.pdf), which I highly advise you scan over, the CEO made great comments on the acquisitions, and even pointed out that operating expenses are going down.
All the growth this company has to offer can set you up for a great gain. This is one of those rare dividend stocks that has the potential to rise in price as they raise their dividend.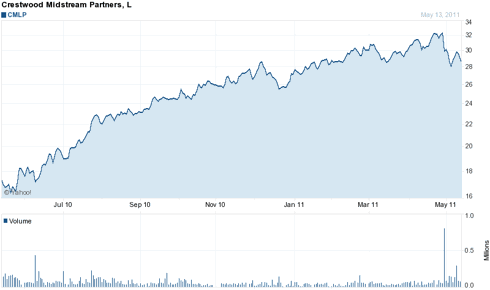 Recommendations on Crestwood Midstream Partners:
Short-Term
(<6 Months)
Strong Buy
Intermediate-Term
(>6 Months)
Strong Buy
Long-Term
(>12 Months)
Strong Buy
If you're a chartist then you probably won't like CMLP's chart. CMLP is currently under its 50-day and 10-day moving average. Still, CMLP is a strong buy as it continues to grow EPS, revenue, and boast a 6.1% yield. The stock has a very bright future ahead as it has a 5 year EPS growth rate of 40%. A growth rate that high is very rare in the dividend world. What I recommend to do is start a position now, and if it goes lower, you can buy more. I wouldn't be surprised if they raise the dividend by the end of the year.
Portfolio of the Month
The portfolio of the month is one with great dividend yield. This portfolio is high yielding, diversified, and very safe. The stocks included are NAT, FNFG, CMLP, VZ, and ABT. The total dividend yield for this portfolio is 5.06%, and a few of these stocks have a very high chance of raising their dividend too. This portfolio yields as much as some junk bonds, but is much safer.
Disclosure: I am long CMLP.