Manitowoc Co. Inc. (NYSE:MTW) has improved the strength and flexibility of its capital structure and reduced the interest rate paid on outstanding debt by refinancing its secured credit facilities. The company's revolving credit facility has increased by $100 million to $500 million and, including updated term loans, the facilities total $1.25 billion. The new credit facility will lead to cash interest savings of $10 million in 2011.
On April 13, 2011 the company had announced its intention to refinance its Senior Credit Facility. The refinancing includes a Term Loan A facility of $350 million and a Term Loan B facility of $400 million, with normal payment schedules for each.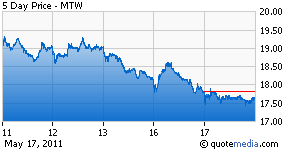 The new credit facility reduces the interest rate paid on outstanding borrowings and also extends the maturity dates of the company's revolving credit facility and term loans from 2013 and 2014 to 2016 and 2017, respectively.
The margin over the applicable LIBOR rate paid under the new facilities declined 200 basis points to 3% and the LIBOR floor under the Term Loan B facility declined 175 basis points to 1.25%.
Even though the refinancing has improved Manitowoc's financial position and flexibility, on the strength of longer-term maturities and lower interest rates, its high debt level still remains a cause of concern.
As of March 31, 2011, Manitowoc's debt-to-capitalization ratio remained high at 81.1%, deteriorating from 80.6% as of December 31, 2010. Management remains focused on improving its balance sheet and is committed to its debt reduction goal of $200 million in fiscal 2011.
Manitowoc holds a strong market position in the Cranes business. After suffering repeated revenue declines ever since the third quarter of 2008, the segment finally pulled off a turnaround in the fourth quarter and maintained the momentum in the most recent quarter.
Though we see significant long-term growth potential in this market, driven by an increase in global energy consumption and the need for infrastructure upgrade in both the developed as well as developing nations, it remains to be seen whether the segment can sustain its growth revival over the short term.
Also, benefits to margins from a lower interest burden due to the refinancing may be offset by cost headwinds. The shares of Manitowoc currently retain a Zacks #3 Rank (short-term Hold recommendation) on the stock.
Manitowoc is a multi-industry, capital goods manufacturer with over 100 manufacturing and service facilities in 26 countries. It is one of the world's largest providers of lifting equipment for the global construction industry.
It is also a leading manufacturer of commercial foodservice equipment serving the ice, beverage, refrigeration, food preparation and cooking needs of restaurants, convenience stores, hotels, health care and institutional applications. Manitowoc competes with Terex Corp. (NYSE:TEX) and privately held Altec Industries Inc. and American Panel Corporation.