If you have been following my posts the past few weeks, you'll know that I am a big believer in sector rotation strategies for domestic equity exposure. We are in the middle of a defensive shift that I believe is signaling a market top (Is Sector Rotation Signaling a Market Top?).
That said, from a domestic equity asset allocation standpoint, I recommend being overweight Health Care (NYSEARCA:XLV), Utilities (NYSEARCA:XLU), and Consumer Staples (NYSEARCA:XLP). In addition, I recommend being underweight, flat or short the other S&P sectors, especially the weakest two sectors: Energy (NYSEARCA:XLE) and Materials (NYSEARCA:XLB).
This article specifically highlights the Health Care sector as I have touched on the other sectors in previous articles (see links below).
The Doctor Is In ...
The S&P Select Health Care SPDR has been on fire since the interim low in March, outperforming the S&P 500 Index (NYSEARCA:SPY) by 8.94% (see price ratio chart below).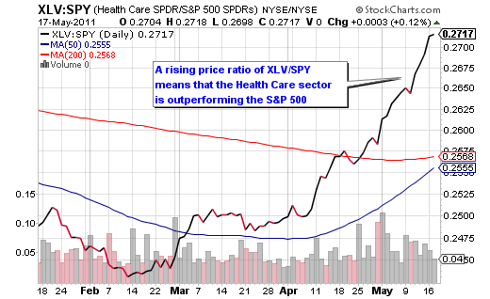 Even though XLV has had quite a run recently (and you could argue that the stock is technically "overbought" right now), I still recommend getting long the sector. We may get a couple short term pullbacks, but I would be buying the dips over the next few months ...
5 Stocks That Will Keep Your Portfolio Healthy
Fundamentally, the stocks below have strong balance sheets (good cash positions and low debt levels) and high free cash flow (EBITDA). As such, these companies should continue to perform well in an economic downturn.
From a technical perspective, these stocks have been some of the strongest stocks in the Health Care sector over the past 20 days (i.e., high relative strength vs. XLV). Also, the trend in these stocks (as measured by the Average Directional Index) is extremely strong (see stats below). I am a big believer in following the trend and I think the trend in the stocks below will continue higher in the coming months.
I would view any pullback in these stocks as a buying opportunity ...
1) Baxter International Inc. (NYSE:BAX) develops, manufactures, and markets products for people with hemophilia, immune disorders, infectious diseases, kidney disease, trauma, and other chronic and acute medical conditions. It operates in three segments: BioScience, Medication Delivery, and Renal. It markets its products to hospitals, kidney dialysis centers, nursing homes, rehabilitation centers, doctors offices, clinical and medical research laboratories, and patients at home under physician supervision. The company was founded in 1931 and is based in Deerfield, Illinois.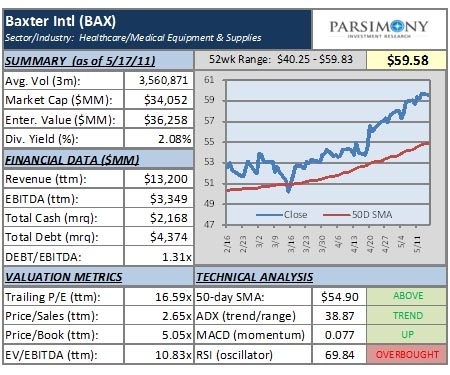 2) DENTSPLY International Inc. (XRAY) designs, develops, manufactures, and markets dental consumable products, dental laboratory products, and dental specialty products worldwide. It primarily serves dentists, dental hygienists, dental assistants, dental laboratories, and dental schools. DENTSPLY International sells its products through distributors, dealers, and importers. The company was founded in 1983 and is headquartered in York, Pennsylvania.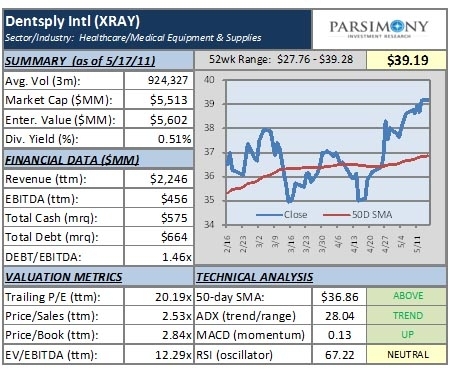 3) Patterson Companies, Inc. (NASDAQ:PDCO) operates as a distributor serving the dental, companion-pet veterinarian, and rehabilitation supply markets in North America. The company was formerly known as Patterson Dental Company and changed its name to Patterson Companies, Inc. in June 2004. Patterson Companies, Inc. was founded in 1877 and is based in St. Paul, Minnesota.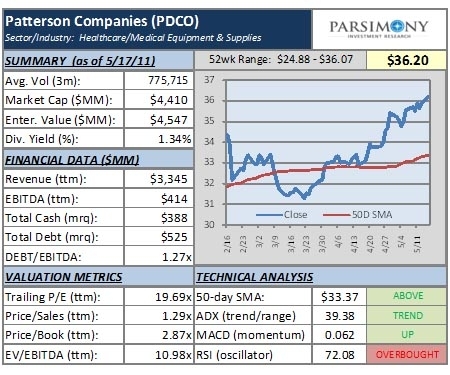 4) Thermo Fisher Scientific Inc. (NYSE:TMO) provides analytical instruments, equipment, reagents and consumables, software, and services for research, manufacture, analysis, discovery, and diagnostics. The company serves pharmaceutical and biotechnology companies, hospitals and clinical diagnostic labs, universities, research institutions, government agencies, and environmental and industrial process control settings primarily in the United States, Germany, and the United Kingdom. Thermo Fisher Scientific Inc. was founded in 1956 and is headquartered in Waltham, Massachusetts.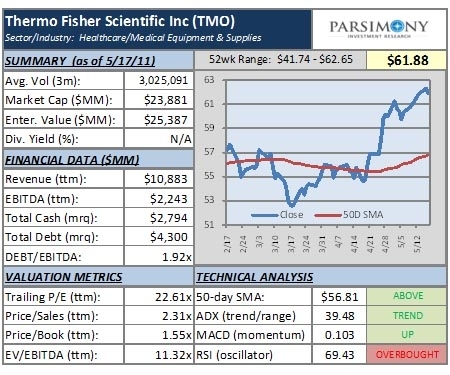 5) Zimmer Holdings, Inc. (ZMH) engages in the design, development, manufacture, and marketing of orthopaedic reconstructive implants, spinal and trauma devices, dental implants, and related surgical products. In addition, the company offers healthcare consulting services. It primarily serves orthopaedic surgeons, neurosurgeons, oral surgeons, dentists, hospitals, stocking distributors, and healthcare dealers, as well as agents, healthcare purchasing organizations, or buying groups. The company markets and sells its products to healthcare institutions, such as hospitals or direct channel accounts; stocking distributors and healthcare dealers; and directly to dental practices and dental laboratories in the Americas, Europe, and the Asia Pacific. Zimmer Holdings, Inc. was founded in 1927 and is headquartered in Warsaw, Indiana.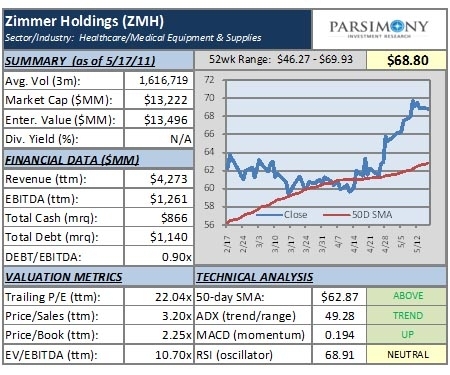 Disclosure: I have no positions in any stocks mentioned, and no plans to initiate any positions within the next 72 hours.