Vietnam briefly slipped into the headlines this week with yet another interest rate increase, bringing its refinancing rate to 15.00% (up 100bps). The move follows a series of 100 basis point increases in interest rates and is driven by a surge in prices, with annual inflation reaching 17.5% in April.
These events rightfully bring into focus the merits of investing in this emerging (or frontier?) market, at least in the short term, but also in view of the longer term prospects. Thus, this article provides a review of the macro-economic conditions in Vietnam, as well as a brief overview of Vietnam investments.
[Click all to enlarge]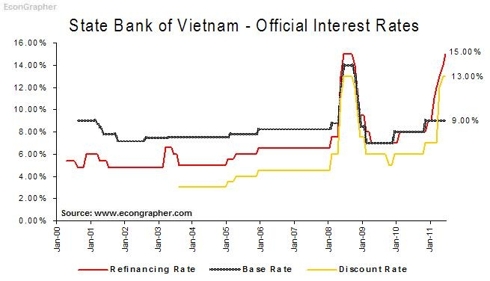 Perhaps the most important graph is this first one, with interest rates spiking as inflation threatens to spiral out of control. This is the part where you quickly come to the conclusion that investing in Vietnam in the short term may not be ideal due to the overheating risks. As inflation climbs to such high levels, there is a risk that the price spike hurts economic growth by breaking business models that are sensitive to a rise in prices; at the margin, there are geopolitical risks from consumer dissatisfaction with rising prices. Then of course there are the policy risks: When you drive up interest rates too high, you're basically operating on the premise of forcing a recession in order to pull price pressures back.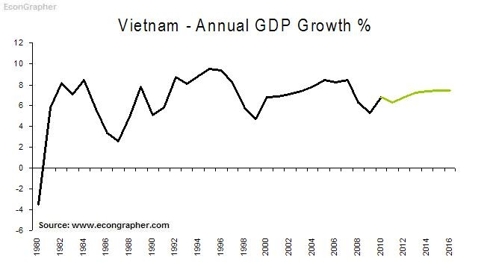 Yet GDP growth has remained relatively robust over the years. The 2008 commodity bull market spurred a similar course of events, but even with the global recession, annual GDP growth didn't take too much of a hit. The green line represents IMF forecasts; over the long term, Vietnam's economy probably will chug along at a pace of around 5-7%, which is not bad.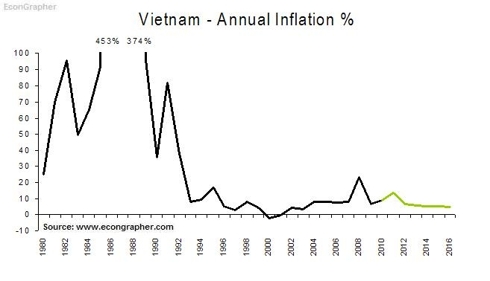 The key in the short term is for the State Bank of Vietnam to actually go ahead and make the tough calls to get inflation under control. I don't need to reiterate the damage that high rates of inflation can do, but it is worth highlighting Vietnam's history when it was hit with a nasty bout of hyperinflation during the '80s. Even during the commodities bubble in 2008, inflation got above 20%. Inflation and/or overheating is something to watch in the short-term, and will be dependent on the Bank's actions as well as the extent to which commodities prices globally begin to moderate.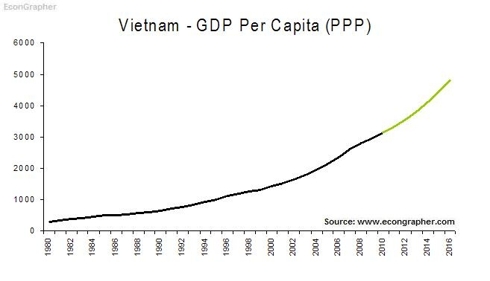 In terms of GDP per capita, Vietnam has been on a consistent upward parabolic trend. This is a good thing, as higher GDP per capita tends to make countries targets for global companies and can increase the pace of development through bringing in investment and creating jobs.
This highlights an area where Vietnam is frequently mentioned: Cheap labor. Looking at the chart below, Vietnam is consistently adding a million or so people a year to its population, which is good for cheap labor as a competitive advantage line. But the unemployment rate (as a portion of total population) has tracked down somewhat over time, which, paired with rising inflation, may erode the often short-term opportunity of being a low cost producer. That's not to say it can't be done, but you need to be aware that there are risks to that strategy.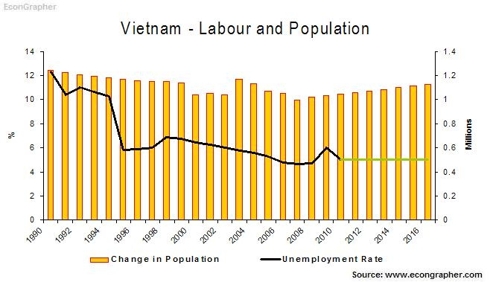 Part of the challenge to Vietnam being a low cost producer is its steadily depreciating currency (the dong). While making exports competitive in terms of price, it also has the effect of making imported inputs to production more expensive. It has also in part contributed to an almost constant current account deficit, which may be a source of risk or vulnerability for the economy.
Geographically, Vietnam is well placed to be a potential supplier of low cost production to the star of low cost production, China. Indeed, Vietnam shares many similarities with China, i.e. transitioning from a central-planning, SOE-centric model to a more growth oriented and market economy.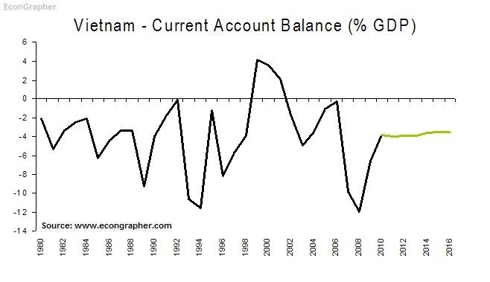 Overall, it seems that Vietnam has the conditions that give it strong long-term growth potential. But it has a long way to go in terms of "catch-up" (e.g., income and wealth levels) and with infrastructure demands. Vietnam has the opportunity to capitalize on its large population base and low-valued currency to carve out some global trade market share, much like the China model of economic expansion and transformation. But there are execution risks to this strategy, and there are also short-term risks like the current surge in inflation. So in summary, I would say that Vietnam is certainly worth a look, but it requires a decent risk premium.
In terms of gaining investment exposure to Vietnam, the primary mode is through the ETF Market Vectors Vietnam (NYSEARCA:VNM). VNM aims "to replicate as closely as possible, before fees and expenses, the price and yield performance of the Market Vectors Vietnam Index." It has a slight mid-cap value bias in terms of holdings.
Aside from that, there is a handful of companies trading on the pinksheets, but as noted, Vietnam still has a large proportion of state-owned enterprises. Other alternatives would be to look at non-listed investments such as mutual funds or even specialist private equity funds, if such vehicles are appropriate for your portfolio.
Graph Data Sources
State Bank of Vietnam
IMF Database
Disclosure: I have no positions in any stocks mentioned, and no plans to initiate any positions within the next 72 hours.