Cit­i­group is run­ning out of account­ing tricks and the stock will con­tinue its slide as investors rec­og­nize the com­pany is not as prof­itable as it leads investors to believe. Our analy­sis of the finan­cial foot­notes of more than 50,000 annual reports means we know more about which com­pa­nies have the naugh­ti­est and the nicest account­ing. And Cit­i­group is def­i­nitely on the naughty list.
As one of May's most dan­ger­ous stocks, Citi is guilty of both mis­lead­ing earn­ings and an undeservedly high stock val­u­a­tion. We think the two are related as Citi's over­stated earn­ings have helped prop up its stock.
This arti­cle aims to help investors avoid the poten­tially large losses that may be incurred by own­ing Citi (or any ETFs and mutual funds that hold it) by reveal­ing details behind Citi's manip­u­la­tion of its earn­ings over the past cou­ple of years.
The chart below plots the steady rise in the dif­fer­ence between reported GAAP earn­ings and the company's eco­nomic earn­ings from 1998 to 2010 on an aggre­gate basis as well as a per­cent­age of rev­enues. In 2010, the level of over­state­ment reached an all time high of $51.8 bil­lion and 60% of revenues.
(Click chart to expand)
Citi's Over­state­ment of True Profit Is Reach­ing Extreme Levels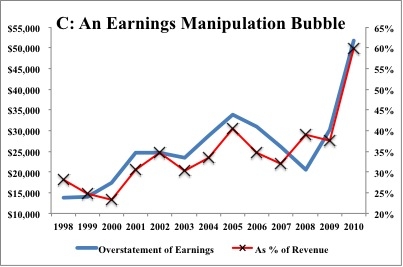 Sources: New Con­structs, LLC and com­pany filings
The rather large diver­gence between reported and eco­nomic earn­ings is made pos­si­ble by account­ing rule manip­u­la­tions, which we explain below. Note that we are not say­ing that Citi is break­ing any for­mal laws or rules. They are sim­ply play­ing the same earn­ings man­age­ment game that Wall Street has been play­ing for years. The dif­fer­ence now is that I believe the game is ending for Citi.
Late last August, we wrote about the abnor­mally high deferred tax asset (over $50 bil­lion) on Citi's 2009 books that arti­fi­cially boosted reported earn­ings and cap­i­tal. Though Citi tried to sweep the issue under the rug, CLSA ana­lyst Mike Mayo and I pointed out that in order to jus­tify car­ry­ing such a high deferred tax asset, Citi would have to gen­er­ate over $4 bil­lion in tax­able income every year for the next twenty years, which seems a lit­tle aggres­sive given the company's five-year aver­age pre-tax income was a loss of $16 bil­lion per year. Citi would have to achieve a rather epic turn­around to jus­tify car­ry­ing such a large deferred tax asset.
Unde­terred, Citi upped its deferred tax assets ("DTAs") in 2010, by another $5.3 bil­lion, or 10%, to over $56.4 bil­lion, more than one-third of the company's book value. Given the impor­tance of book val­ues to the cap­i­tal require­ments of banks, one can under­stand how much Citi has to lose if it had to write-down the DTAs.
$5.0 bil­lion of the increase in the deferred tax asset is due to FAS 166/167 require­ments to recon­sol­i­date previously-off-balance sheet assets. How­ever, that Citi's $13.2 bil­lion in pre-tax income in 2010 would not have off­set at least part of the increase in DTAs related to FAS 166/167 is suspicious.
Even more sus­pi­cious is how Citi's "tax credit and net oper­at­ing loss carry-forwards" increased to $23.3 bil­lion from $20.8 bil­lion in 2010, over 2009, despite record­ing the rather sub­stan­tial pre-tax profit of $13.2 bil­lion. Typ­i­cally, a company's tax credit and net oper­at­ing loss carry-forwards are reduced when it gen­er­ates a profit because the cumu­la­tive value of its losses is reduced by the most recent year's profit. If you don't believe me, you can see for your­self on page 180 of Citi's 2010 10-K.
We think it is pretty clear that Citi has taken license to do just about what­ever it takes to boost cap­i­tal lev­els, please reg­u­la­tors and keep the stock price propped up. In this mat­ter, hav­ing the US Trea­sury as one of your major share­hold­ers prob­a­bly does not hurt.
But wait, there is more that we find buried in the foot­notes. This time, we reveal that Citi under­states its pro­vi­sion for loan losses and boosts reported earn­ings by about $5.7 bil­lion, 7% of revenue.
Just look­ing at the loan loss reserves on the bal­ance sheet, one would assume Citi's pro­vi­sion for loan losses was greater than the company's charge-offs because the loss reserves rose from $36.0 bil­lion in 2009, to $40.7 bil­lion in 2010. Dig­ging deeper, we find that Citi's pro­vi­sion for loan losses actu­ally under­states charge-offs by about $5.7 bil­lion because the increase in the over­all reserve level comes from recon­sol­i­da­tion of pre­vi­ously off-balance sheet assets, per imple­men­ta­tion of FAS 166/167. No won­der Citi was able to record a pro­vi­sion for loan losses of only $26.0 bil­lion in 2010, ver­sus $38.8 bil­lion in 2009, even though gross charge-offs were $34.5 bil­lion in 2010.
This arti­cle pro­vides strong evi­dence that investors should not trust what they see in reported earn­ings and press releases. Any­one who thinks that the post-subprime finan­cial reg­u­la­tory reform has reformed Wall Street is sadly mis­taken. Instead, com­pa­nies are just bet­ter at hid­ing their finan­cial faults as evi­denced by the increase in the length and com­plex­ity of annual reports. Enron, Tyco, World­Com, Coun­try­wide have taught us, time and again, that reported finan­cial state­ments in their cur­rent form are sim­ply not reliable.
Stocks make our most dan­ger­ous list when ques­tion­able earn­ings are com­bined with an expen­sive val­u­a­tion. And here, Citi's stock fits the bill.
To jus­tify its cur­rent stock price of about $41, the com­pany must grow its after-tax prof­its at over 16% com­pounded annu­ally for more than 20 years. Or more sim­ply, the cur­rent stock price implies a 720% increase in after-tax cash flows. Wow.
With no future profit growth, the value of Citi's stock is closer to $5.65 per share.
C gets our "very dan­ger­ous" rat­ing because we believe the down­side risk dwarfs the upside poten­tial of the stock. We rec­om­mend sell­ing or short­ing Citigroup's stock as well as the fol­low­ing financial sector ETFs because they allo­cate a sig­nif­i­cant por­tion of their assets to Citigroup:

Disclosure: I have no positions in any stocks mentioned, and no plans to initiate any positions within the next 72 hours.