Time for a complete look at earnings performance for data center related stocks following our previous, partial update at the end of April.
Interxion (NYSE:INXN) was the last colocation provider to report Q1 earnings. The company announced several expansions in Vienna (Austria), Dublin (Ireland) and Stockholm (Sweden). All these projects are expected to be completed by year's end, as Interxion's occupancy reached 73% at Q1 end.
Interxion's earnings performance was relatively positive as the stocked closed at +0.48% recenlty. All network neutral colocation providers enjoyed a positive move after earnings, with Equinix (NASDAQ:EQIX) leading the pack with a +2.61% .
REITs posted a more mixed picture, as both CoreSite (NYSE:COR) and Dupont Fabros Technology (NYSE:DFT) were negative after their earnings reports, unlike Digital Realty (NYSE:DLR).
The best and worst performances came from Savvis (NASDAQ:SVVS), which also announced it was being acquired by CenturyLink, Inc. (NYSE:CTL) , and Akamai (NASDAQ:AKAM), whose forecast for 2011 disappointed street expectations.
On average, the picture remains mostly positive, with seven companies reporting a positive move after earnings, and only four stocks recording a negative result. As a reminder, data center related stocks enjoyed, on average, a strong YTD performance, mostly delivering double-digit returns.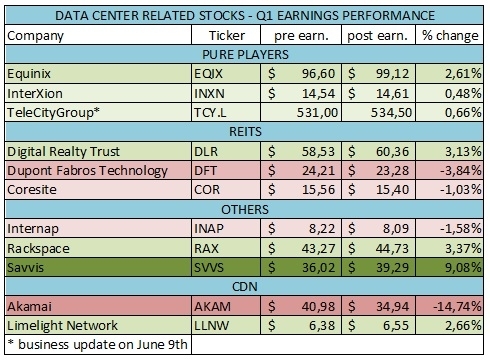 Disclosure: I am long EQIX.