After increasing its IPO price from the $32-$35 range into the $42-$45 range, LinkedIn will price its IPO at $45, or the top of the range. Investors have been interested in the company after LinkedIn has proven its ability to heavily expand its monetized strategy (i.e. Hiring and Marketing Solutions) beyond expectations. In 2010, LinkedIn's Marketing Solutions were used by more than 33,000 customers and Hiring Solutions were used by 3,900 companies. By the end of the first quarter in 2011, Hiring Solutions services were used by 4,800 companies (73 of the Fortune 100 companies), a 23% jump in one quarter!
According to the Amendment to the Form S-1, the company now boasts a 100,000,000+ (up from 90,000,000) member base in over 200 countries, which represents a 56% international coverage. LinkedIn also claims to attract approximately 1 new member every second. At the same time, the way free-solution based social networks are now counting "members" has gotten out of hand and is becoming more irrelevant as members now supposedly outnumber some of the largest countries around the world. More on that later.
The revised IPO price range values the company's outstanding shares in the $3.9 billion -$4.2 billion market capitalization range. This analysis below aims to present the LinkedIn strengths, weaknesses, risks, financial estimates, and the company's price per share projections.
Revenue Model
LinkedIn currently derives its revenue from 3 sources: hiring solutions, marketing solutions, and premium subscriptions. Hiring solutions allows corporations to identify candidates through various methods offered by LinkedIn. The monetized services include Referral Engine, LinkedIn Jobs, and Job Seeker Plus. Hiring solutions has seen the most rapid recent revenue growth for the company (182% growth since 2009) surpassing $100 million in 2010. Marketing solutions (107% growth) generates revenue from advertising, which appears to be more correlated to active membership and unique visitor growth. The Premium Subscriptions service, while continuing to grow in absolute dollar terms, has seen a slowdown in percentage growth. Overall, total revenue has experienced a 102% sales growth during the past year.
Although the company should successfully continue to increase revenues, rapid revenue growth is expected to slow. As Exhibit 1 shows, my projection is that hiring solutions will double during 2011 to $203 million, and surpass $300 million by 2012. Together with marketing solutions, these segments will be the driving forces of the company's total revenues. Through their effective monetizing strategy, LinkedIn could increase total revenues to $417 million by year-end and $621 million by end of 2012.
click to enlarge image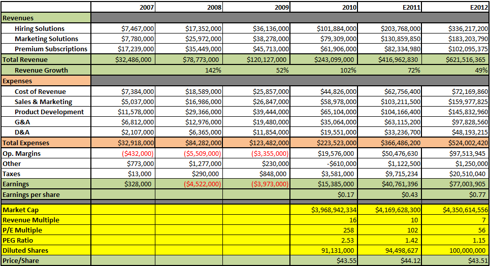 Click to enlarge
Although 56% of LinkedIn usage is overseas, only 27% of overall revenues were generated internationally in 2010. By end of Q1 2011, 31% of net revenues were generated from overseas. This will continue to change as the company has invested heavily in its overseas operations. The company now has sales and marketing offices in Australia, Canada, France, India, the Netherlands, and the UK.
Expenses Explained
As domestic and international operations expand, the LinkedIn expenses will continue to multiply as well. The company must be able to introduce and support quality products to better engage its new and active users. Sales & Marketing as well as Product Development will continue to represent more than half of overall expenses. Majority of expenses will be used to expand headcount, field sales, facilities, as well as other capital expenditures needed to develop and support a rapidly growing operation.
Membership
While monetized solutions are extremely relevant to gauging expected revenue & earnings growth, membership rates have become less relevant. While the company uses the 100 million member milestone to attract investors, it also discloses the following:
The number of registered members in our network is higher than the number of actual members because some members have multiple registrations, other members have died or become incapacitated, and others may have registered under fictitious names. Further, a substantial majority of our members do not visit our website on a monthly basis, and a substantial majority of our page views are generated by a minority of our members.
The company further warns that not engaging the active members will harm operations and could cause the stock price to decline. While I do not believe this will be the case, I do believe that social networks should cease publishing "total members" figures and should only use "active members" as a part of their marketing and investor-relations efforts.
Earnings
LinkedIn has successfully recorded positive earnings for the first time in 3 years, a good indicator that the company has figured out a way to successfully monetize its products. Hiring and Marketing Solutions are expected to grow rapidly during the next 2 years helping earnings more than double in 2011. LinkedIn's operating margin is currently 8%, however, by effectively using fixed costs to grow revenues, the company has the ability to continue boosting product development and sales, while still increasing operating margins to 12% by 2011 and to 15% by 2012.
Competitors
LinkedIn competition includes businesses that compete for members, hiring solutions, and advertising. As such, LinkedIn faces, or could face in the future, competition from companies such as Google, Facebook, Microsoft, and Twitter, as disclosed in their Form S-1. Smaller companies in international markets which would pose a local threat would be Xing in Germany or Viadeo in France. Companies competing directly for hiring solutions are Taleo, Monster, and Careerbuilder, while there are many companies competing for advertising dollars.
IPO Pricing
Though demand for the LinkedIn stock was heavy thus far, pricing the company in the $42-$45, I believe, was a mistake, as it prices the company's share value at 16-17X revenue. That is extremely high, even for hot IPO standards. At $32-$35/share valuation, the company would have been priced more appropriately at 12-14x revenue compensating investors with rapid future growth. Although I expect the price per share to penetrate its more accurate range (in the mid-high $30s), given my expectations, the stock will fluctuate in the IPO priced range during the next 2 years (low $40s).
Other Information
Reid Hoffman's share of the company will be valued at about $800 million following the IPO; The company has about $106 million of cash & cash equivalents and more than $100 million in accrued liabilities and deferred revenue.
Disclosure: I have no positions in any stocks mentioned, and no plans to initiate any positions within the next 72 hours.