By Stoyan Bojinov
U.S. equities were fairly flat on Wednesday but managed to post a respectable gain for the day after lunchtime following the FOMC meeting. Fed officials were divided on when and just how aggressively to start tightening monetary policy. Nonetheless the FOMC was unanimous in its decision to complete its $600 billion bond-buying program in June as planned and to hold rates steady. The U.S. dollar took a few steps back as equities regained their footing following their three-day losing streak. Gold surged higher to almost $1,500 an ounce, while silver managed to conquer the $35 level once again. Oil joined the broad rally in commodities as well, with futures prices climbing past $100 a barrel.
The recent correction in domestic equities and commodities has created some interesting opportunities overseas. Investors and active traders should consider the iShares MSCI South Korea Index Fund (NYSEARCA:EWY) as this ETF has encountered some short-term selling pressure, but remains in a very strong long-term uptrend.
Technical Analysis: iShares MSCI South Korea Index ETF
EWY has made its way onto our radar as the fund has shed more than 5% since the beginning of May. This price action is noteworthy when compared to the relative performance of the S&P 500, which has lost less than 2% in that same period. Over the past year EWY has returned roughly 40%, while in that same time period the S&P 500 has lagged far behind, managing to gain just under 20% . This divergence in performance may continue, however, as we believe it currently presents an interesting buying opportunity for bullish swing traders looking to capitalize on EWY's most recent correction. Consider the daily chart below, which starts with EWY's triple bottom following the 2008 financial meltdown.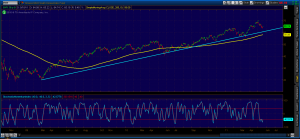 It's easy to notice that this fund has been in a stellar uptrend for the past two years, returning over 85%. The blue trend line drawn on the graph is an easy way to visualize the support underneath EWY as it has marched higher and higher. Assuming this wonderful long-term uptrend continues, EWY can easily get to over $70 a share by July if it starts to pick up steam in the coming days.
Outlook
As mentioned earlier, EWY could continue to fall as its longer-term uptrend may become less relevant if a more significant correction begins to develop. Consider the daily chart below for EWY starting in August of 2010.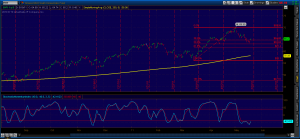 Notice how the 200-day simple moving average (yellow line) acts as a decent indicator of support whenever EWY undergoes a more serious correction. During the fund's last correction, starting in February up until March 15th, EWY lost almost 9%, and during the most recent sell-off, it has shed around 5% in less than half the time. Given the volatility of this correction, we believe the fund may be due for a bounce higher if it manages to hold support above $65 a share through this and next week.
Consider the Fibonacci Retracement drawn on the graph starting from 3/15/2011 to 5/2/2011, which captures EWY's last push higher. By drawing a retracement from the recent trend's low to its high, we get projections of likely levels that the fund may retrace down toward. As you can see the fund has corrected nicely already, dipping just below the significant 38.2% level. If the fund does not manage to pick up momentum and definitively establish support above $65 a share, the next level of support comes in around $63 followed by the psychologically significant $60 level.
As always, investors of all experience levels are advised to use stop-loss orders and practice disciplined profit taking techniques.
Disclosure: No positions at time of writing.
Disclaimer: ETF Database is not an investment advisor, and any content published by ETF Database does not constitute individual investment advice. The opinions offered herein are not personalized recommendations to buy, sell or hold securities. From time to time, issuers of exchange-traded products mentioned herein may place paid advertisements with ETF Database. All content on ETF Database is produced independently of any advertising relationships.