I stumbled upon something yesterday that cemented my belief that Netflix (NASDAQ:NFLX) is the short of the decade.
My daughter frequents the following site:
[Click all to enlarge]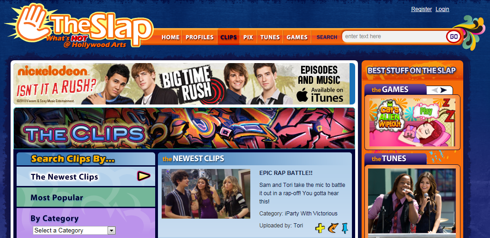 Click to enlarge
Notice that the "Big Time Rush" banner ad directs viewers to Apple's (NASDAQ:AAPL) iTunes for BTR songs and episodes. You can also pay-per-view for episodes of various Nickelodeon series at iTunes.
Now consider the "SpongeBob" website, which includes another cross-promotional piece directing viewers to iTunes.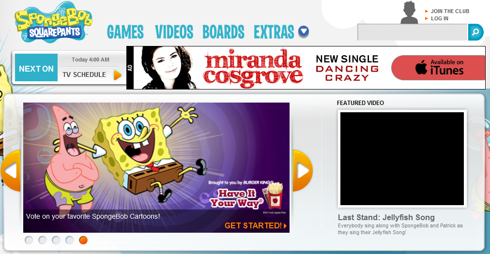 Click to enlarge
This rundown of how your kids access the entertainment that moves them is vital to an understanding of what an investment in Netflix represents going forward. It's a bet on a business model that has seen its better days, a way of doing things that will soon be wholly irrelevant. Programmers and consumers can both live without Netflix. And once they've both drained Netflix completely dry -- of cash and of reruns, respectively -- investors will have no choice but to dump NFLX. The bottom will fall out.
Netflix receives nothing other than content that people have seen a million times over and can see, for free, via other sources pretty much whenever they want. Netflix receives nothing exclusive, nothing fresh and new, and nothing of value. Why? Because it provides programmers with nothing of value in return, except for cold hard cash. And this assumes Netflix can live up to the deals no CPA in his right mind should have let NFLX chief Reed Hastings sign in the first place.
These Nickelodeon sites, and most others that do deals with Netlfix, never direct visitors to their properties' websites to Netflix. They have absolutely no incentive to do so. Netflix represents nothing but a paycheck -- an earnings pump and dump -- to programmers like Viacom (NYSE:VIA).
I have yet to see anybody bring up the fact that programmers rarely, if ever, cross-promote to Netflix. They do, however, link to Apple, certainly because there's something in it for them. But that's not the only reason. An association with Apple does well for their images. It adds value to be associated with a premium brand, as opposed to one that gives away your blood, sweat, and tears for eight bucks a month.
When I see Disney (NYSE:DIS) go out on its own and stream its ESPN properties or I look at a service like HBO Go, I realize that it's just a matter of time before Netflix and third-party streaming becomes a thing of the past. Seeing how my daugther -- a future streamer of America -- uses these sites, it would make perfect sense to charge her a few bucks a month for access to "exclusive" content as well as an archive of already-been-seen Nickelodeon progamming.
I fully realize that kids' shows will not make or break Netflix. A peek at how people -- especially young people -- interact with online content, however, adds another small piece of support to the notion that Netflix does not represent the future. In many ways, Netflix, as cutting edge as it may appear on the surface, is akin to AM radio. It makes available all of the content that people can get from other sources. And it has none of the content that people are talking about today. It's worse than rerun-TV; it's the place reruns go to die.
ChartProphet wrote an excellent summary of all that's wrong with Netflix, noting that the time to short the stock is back. Institutional investors hold NFLX up. I don't tend to think in black and white, but it's really that simple. These investors have had solid research placed in front of them, yet they refuse to even acknowledge it, let alone address it. And then they come up with gems like this one from Merriman Capital's May 18 report on NFLX:



Making a downright comical statement like that, which Merriman followed up with a flimsy downplay of Netflix's massive content acquisition costs, is irresponsible.
This is the time to short NFLX. I would never take on the risk inherent in an outright short of a pseudo-momentum stock like this, but I will likely buy NFLX puts again by the end of the week. On May 10, I suggested looking at both the in-the-money NFLX January 2013 $260 LEAPS put option and the out-of-the-money January 2013 $85 LEAPS put option. As of Wednesday's close, both trade slightly below where they were last week, thanks to NFLX's recent run. I agree with ChartProphet: NFLX's chart no longer scares me.
(Chart courtesy of FreeStockCharts.com)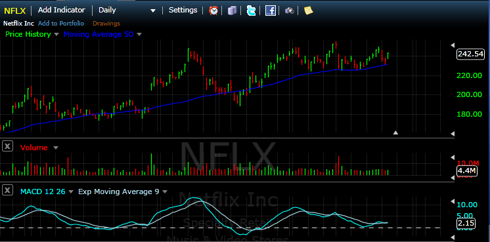 Click to enlarge
Disclosure: I have no positions in any stocks mentioned, but may initiate a short position in NFLX over the next 72 hours.
Additional disclosure: I am short 500 shares of NFLX in a simulated trading account at 235.15.