The Downside of Dividend Stocks
Don't get me wrong, I like stocks that have nice dividend yields and offer stable income potential (especially when the market looks weak and is due for pullback). As a matter of fact, I posted an article this week recommending that investors add high-yielding utility stocks to their portfolio (Playing Defense with Dividends: 8 Utility Stocks Yielding Over 5%).
Dividend stocks tend to be more stable as they are typically less volatile in nature compared to their non-dividend paying counterparts. However, downside price risk still exists if the equity market experiences a significant downturn (i.e., a falling tide lowers all boats). There is a chance that your entire dividend yield could be wiped out by a falling stock price (over the short-term).
That said, investors that are primarily looking to generate income, but are weary of near-term downside price risk can use option income strategies to mitigate this risk.
Put Selling Income Strategies
Note: I am still very much an advocate of dividend stocks. However, I believe that put selling income strategies are a very nice complement to a dividend stock portfolio focused on income generation and capital preservation.
If you sell a put, you have an obligation to purchase the stock at a predetermined price (strike price) on or before the expiration date (if the buyer of the put option wants to sell you the stock). Clearly, the risk is that the stock drops significantly below the strike and you are forced to buy the stock at a price well above market (and you can definitely experience losses if you don't know what you are doing).
That said, here are my two risk management rules of put selling:
1. Only sell put options on stocks that you want to own at the price you want to own them - With a put selling income strategy (focused on out-of-the-money puts), you get paid to wait for the price you want on a stock. If the price never drops to your strike, you get to keep the premium (income) as a consolation prize. Your downside is owning the stock at the strike price (keep that in mind as you analyze the ideas below).
2. Don't sell "naked" - Just because options offer you leverage, it doesn't mean that you have to use the leverage. I recommend securing your short put position with cash (i.e., don't sell on margin). If you aren't willing to risk the cash to back it up ... don't sell the put!
5 Option Income Ideas with High Margins of Safety
When I scan the market for put selling income ideas, I look for situations that balance a high margin of safety with a reasonable yield. In addition, I look for good companies with solid fundamentals that I would be happy owning at my break-even price. Below is the criteria that I used for the screen:
Jan 2012 expiration date
Yield until Expiration (~8 months) > 10%
Margin of Safety > 15%
Implied Volatility < 60%
Stock Avg Volume (3m) > 1,000,000
Fundamentals: positive net income and free cash flow
Excluded Biotech and Energy sectors
Here are the results ...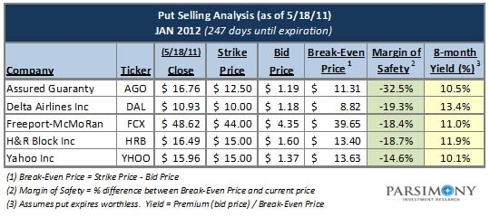 Click to enlarge
(Click to enlarge)
I think a good put selling strategy (with solid risk management rules) is a phenomenal way to generate income in any market environment and it can be a nice complement to your broader, long-term investment plan.
Company Snapshots
I like to provide quick fundamental and technical snapshots of each stock that I highlight in my posts. Use this data as a starting point for your own research.
Assured Guaranty Ltd. (NYSE:AGO) provides credit enhancement products to the public finance, structured finance, and mortgage markets in the United States and internationally. Its credit enhancement products include financial guaranties or other types of financial credit support, including credit derivatives that improve the credit of underlying debt obligations. The company markets its products directly to and through financial institutions. Assured Guaranty Ltd. was founded in 2003 and is based in Hamilton, Bermuda.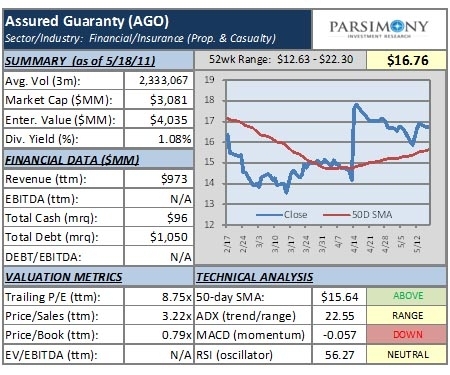 Delta Air Lines, Inc. (NYSE:DAL) provides scheduled air transportation for passengers and cargo in the United States and internationally. It operates from airports in Amsterdam, Atlanta, Cincinnati, Detroit, Memphis, Minneapolis-St. Paul, New York-JFK, Paris-Charles de Gaulle, Salt Lake City, and Tokyo-Narita. It also provides aircraft maintenance, repair, and overhaul services for other aviation and airline customers, as well as offers staffing services, professional security and training services, and aviation solutions; vacation packages; and aircraft charters. The company offers services to 357 destinations in 66 countries. As of February 9, 2011, it operated a mainline fleet of approximately 700 aircraft. The company was founded in 1924 and is based in Atlanta, Georgia.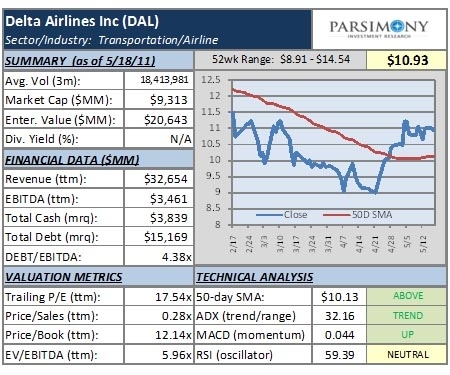 Freeport-McMoRan Copper & Gold Inc. (NYSE:FCX) engages in the exploration, mining, and production of mineral resources. It primarily explores for copper, gold, molybdenum, silver, and cobalt deposits. The company holds interests in various properties located in North and South America; Grasberg minerals district in Indonesia; and Tenke Fungurume minerals district in the Democratic Republic of Congo. As of December 31, 2009, its consolidated recoverable proven and probable reserves totaled 104.2 billion pounds of copper, 37.2 million ounces of gold, 2.59 billion pounds of molybdenum, 270.4 million ounces of silver, and 0.78 billion pounds of cobalt. Freeport-McMoRan Copper & Gold Inc. was founded in 1987 and is headquartered in Phoenix, Arizona.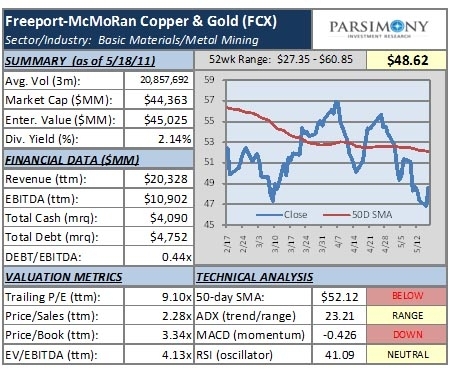 H&R Block, Inc. (NYSE:HRB) provides tax preparation, retail banking, and various business advisory and consulting services. It operates in three segments: Tax Services, Business Services, and Corporate. The Tax Services segment offers H&R Block At Home, an income tax preparation software, as well as a range of online tax services, including tax advice, professional and do-it-yourself tax return preparation, and electronic filing services through its Web site at hrblock.com primarily in the United States, Canada, and Australia. The company was founded in 1946 and is headquartered in Kansas City, Missouri.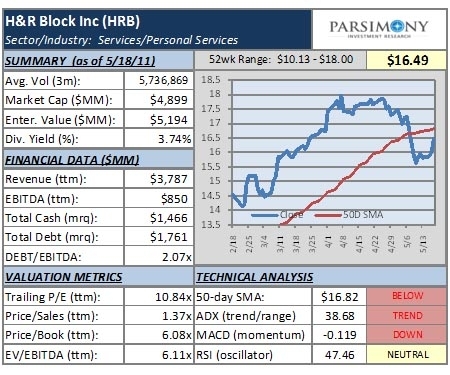 Yahoo! Inc. (NASDAQ:YHOO), together with its consolidated subsidiaries, operates as a digital media company that delivers personalized digital content and experiences, across devices and worldwide. The company's communications and communities offerings provide a range of communication and social services to users and small businesses across various devices and through its broadband Internet access partners. Its search and marketplaces offerings provide answers to users' information needs by delivering meaningful search, local, and listings experiences on the search results page and across Yahoo!. Yahoo! Inc. was founded in 1994 and is headquartered in Sunnyvale, California.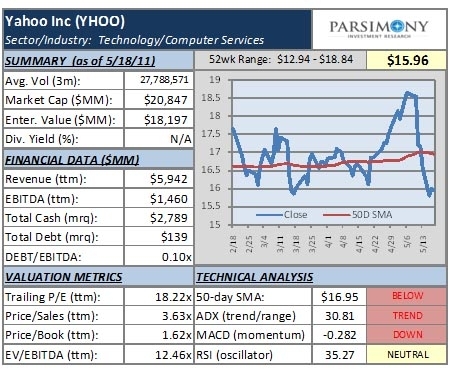 Disclosure: I have no positions in any stocks mentioned, and no plans to initiate any positions within the next 72 hours.