In these times of low yields, which could last for months or even years, many investors are searching for higher yields. I'm always looking for extra yields with a mix of a conservative bias and track records of increased dividends. Below is a list of higher yielding Dow stocks with their dividends and yields:
Investment earnings come from dividends and capital appreciation. These stocks have different records of paying dividends. PG, JNJ and MCD are Dividend Aristocrats with streaks of at least 35 consecutive years of annual dividend increases. CVX is just a couple years away from extending its steak to 25 which will make it an S&P 500 Dividend Aristocrat. However MRK, PFE and GE could not extend their dividend streaks in recent years and have been dropped.
The highest yields come from the huge, old line telephone companies. Their wireless businesses are part of the future, but the landlines are part of the past which is weighing down these stocks. The drug companies are suffering from a changing image of this business. Years ago drug companies were considered reliable stocks for long term growth, now they have increased regulation and need to replace important drugs losing patent protection. INTC is the largest supplier of computer microprocessors, but there are questions about its ability to cope with changing electronics technology. KFT and MCD are major food companies while GE is recovering from the recession that badly hurt its financial division. DD is one of the oldest companies in the U.S. and CVX, descended from the original Standard Oil Company, has a bright future supplying petroleum and other energy products to the world.
In the last 10 years capital appreciation has been difficult to earn for many stocks, including Dow stocks. The Dow is 11% higher, the S&P 500 is up only 4% while Nasdaq has risen 28%. In this group PG, MCD and CVX doubled (but the first 2 where coming off depressed periods around 2000). KFT and DD have modest gains and the rest are lower (some substantially). To achieve excellent rates of return, dividends, especially growing dividends, are of greater importance. Companies with different degrees of risk are presented to allow for a choice in what degree of risk and reward is most appropriate for a portfolio.
These companies have different outlooks and risk factors. But they share one common characteristic, they offer relatively high yields at a time when low yields are common. Long term capital appreciation has been difficult to earn in recent years but dividends that are well covered represent a excellent beginning on earning a target rate of return for a growing investment.
Dow Jones Industrials --- 10 years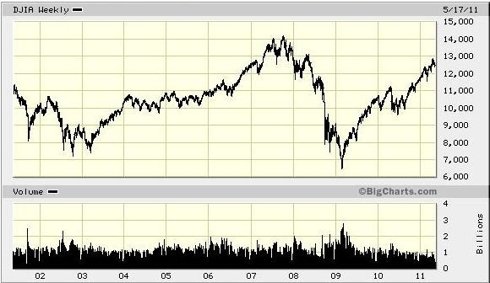 Click to enlarge
(Click to enlarge)
Disclosure: I have no positions in any stocks mentioned, and no plans to initiate any positions within the next 72 hours.