Synopsys Inc. (NASDAQ:SNPS) reported second quarter 2011 earnings per share (EPS) of 39 cents, which surpassed the Zacks Consensus Estimate of 34 cents per share.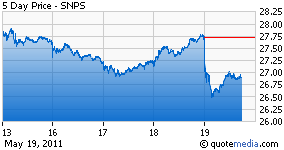 See full earnings call transcript
Revenue
Revenue in the second quarter was $393.7 million, up 16.4% from $338.1 million reported in the year-ago period. The revenue growth was driven by strong orders in the quarter and a higher business run rate. Moreover, the electronics industry witnessed healthy growth in the quarter buoyed by strong demand for new products.
License revenues (including time-based and upfront) were $343.8 million, up from $301.4 million reported in the year-ago quarter. Upfront revenue was 6.0% of the total revenue, well within the company's guidance of less than 10.0%. The average length of the renewable customer license commitments for the quarter was 2.8 years. The company continues to expect average duration over time to be approximately 3 years. Maintenance and service revenues were $49.9 million, up from $36.7 million reported in the prior-year quarter.
Synopsys is witnessing accelerated adoption of the 28/32 and even the 20/22 nanometer nodes. Synopsys is well positioned to efficiently cater to these customers based on accretive investments and partnerships.
Operating Results
Total gross profit in the second quarter was $307.6 million (78.1% of revenue), up 14.3% from $269.0 million (79.6% of revenue) in the year-ago quarter. Gross profit expanded as the company shifted toward high-margin products.
Total operating expense in the quarter was $255.9 million, up 14.2% from $224.1 million incurred in the year-ago quarter. The year-over-year increase in cost and expenses were primarily due to an increase in research and development and sales and marketing expenses. Operating margin was 13.1%, down from 13.3% reported in the year-ago period.
GAAP net income in the second quarter was $81.1 million or 53 cents per share compared with $39.5 million or 26 cents per share in the second quarter of 2010. Including special items like amortization, acquisition-related costs, facility restructuring charge and tax benefit from the IRS settlement, non-GAAP net income in the second quarter was $59.9 million or 39 cents per share compared with $52.3 million or 34 cents in the comparable quarter last year.
Balance Sheet
Synopsys has a decent cash position. On April 30, 2011, cash and short-term investments were $840.5 million compared with $867.1 million at the end of the previous quarter. The company has no long-term debt. Capital expenditures were $10.0 million in the quarter. Day's sales outstanding in the quarter were 42 days.
During the quarter, the company purchased 6.2 million shares for $170.0 million. Increased share repurchase is a part of the company's plan to keep the share count at roughly 151 million shares going forward. During the first half of the fiscal year, the company repurchased 8.6 million shares for approximately $235.0 million. The company has $80.0 million remaining under its current authorization.
Guidance
For the third quarter of 2011, Synopsys expects revenues in the range of $378.0 - $386.0 million. Non-GAAP expenses are expected in the $292.0 - $302.0 million range. GAAP earnings per share are expected between 25 cents and 31 cents and non-GAAP earnings per share in the 41 cents to 43 cents range.
For fiscal 2011, revenue is expected in the range of $1.50 billion - $1.52 billion. GAAP earnings per share are expected in the range of $1.33 - $1.46, while non-GAAP earnings per share between $1.70 and $1.77. Cash flow from operations is expected to be approximately $300.0 million.
Our Take
Synopsys delivered decent results in the second quarter, with minimal improvement in operating performance. The third quarter 2011, guidance is encouraging. Although Synopsys is gaining traction from new products and acquisitions, we believe these will take some time to impact results. This apart, the company is also facing competition from Salesforce.com (NYSE:CRM).
We believe Synopsys' time-based license model has good visibility and its cash position is decent.
The company currently has a Zacks #3 Rank (short-term Hold recommendation).