Atmel (NASDAQ:ATML) recently announced the integration of haptics capability to its QTouch capacitive touch controllers to support buttons, sliders and wheels.
As we noticed, the move highlighted the growing importance of haptics, or touch feedback, in a consumer world that is moving toward touchscreens in several key verticals, starting from mobile phones to the automotive, commercial and consumer appliances markets.
At the recent ESC Silicon Valley 2011, which took place on May 2 – 5, Patrick Hanley, Marketing Manager for Atmel's Touch Division, held a presentation, now available on YouTube, to discuss in depth his company's strategy toward haptics [thanks to jedi for the heads up on the Immersion (NASDAQ:IMMR) Investor Village MB].
Atmel has already incorporated haptics into some of its products, mainly targeted at the mobile phone vertical, a segment where Immersion, the company holding most of haptics IP, has already gained the majority of its success, through the licensing of its technology to customers like Nokia (NYSE:NOK), Samsung (OTC:SSNLF) and LG (OTC:LGCIF).
This is a quick look at Atmel's targeted markets: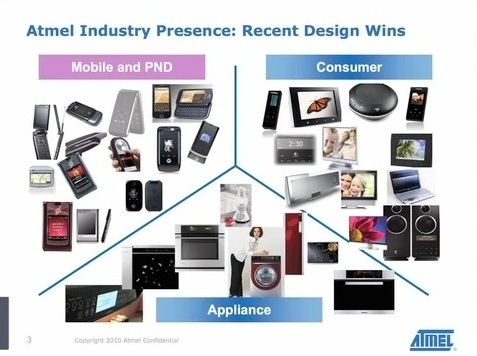 While the mobile and PND markets already see a great success for touchscreens (and haptics), the consumer and appliance markets represent the area where Atmel's implementation of haptics may give the company an edge toward competition. As these markets move toward different user interfaces than in the past, Atmel has a great opportunity to improve the user experience through a better interaction – a button becomes an opportunity, if you can supply a new, diversified product.
Today's most common complain about using a touchscreen is "how do I know my finger press has been accepted?" This may become a serious problem is some environments, where the user is required not to distract (think about driving a car or about a person working on a production line that requires little to no distraction). Haptics may be the solution to this problem, especially if you give manufacturers an easy implementation, capable of offering several feed back effects, thus differentiating the response to inputs.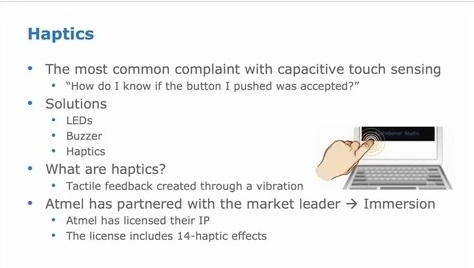 So far, haptics has gained most of its popularity in segments where the "Emotional" aspect was extremely important – that being gaming (consoles, controllers), or mobile handsets. The next step will be to bring haptics to home appliances and places where it may have a more "Functional" use.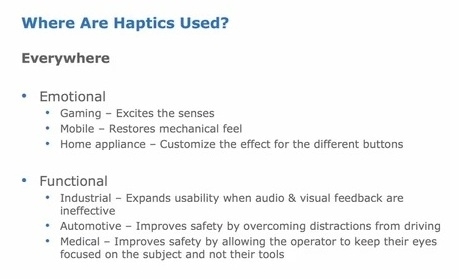 Why may this new Atmel product range represent an inflection point for haptics to reach a much larger market? The answer could lay in the fact that while haptic support is now built into most mobile phones OS (think about Androids, today's most successful platform for Immersion's haptics), it was not easily available for implementation into applications that do not rely on these operating systems. Atmel's new products give manufacturers an immediate way to get haptic effects incorporated into buttons, user interfaces, etc.
On this subject, some interesting comments are also available on Engineering Radio, which discussed haptics hardware and software in its Episode 9, including the reasons why haptics may give Android smartphones a leg up with the gaming crowd over Apple's (NASDAQ:AAPL) iPhone and iPod Touch.
Summarizing, this new product offering represents a win-win situation for both Atmel and Immersion. While Immersion gets both some royalties from Atmel and, even more important, access to several new potential customers in verticals that its limited sales force could not have reached, Atmel gets the opportunity to address additional markets with a differentiated product that might remove the prejudice toward using a "cold" touchscreen like product, the reason why several industries have been slow to embrace Atmel's offering.
Disclosure: I am long IMMR.