All you tree huggers, vegans, health nuts and wackos, take your best shot. I live in the Carolinas and want to bring an investment opportunity to your attention. This morning I was screening on Barchart for the S&P 500 stocks that were hitting the most frequent new highs in the last month, and Lorillard (NYSE:LO) floated to the top. I know cream rises to the top and something else floats and sometimes you can't tell the difference. This stock's steady and current dividend of 5.30% and 18 new highs in the last month cannot be ignored. The momentum is there.
Click to enlarge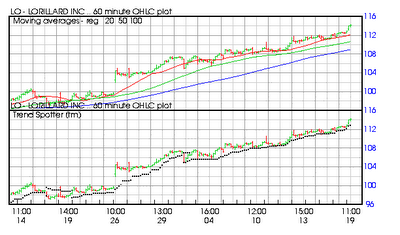 Lorillard is the third largest manufacturer of cigarettes in the United States. Lorillard is the oldest continuously operating tobacco company in the U.S. Newport, Lorillard's flagship brand, is a menthol-flavored premium cigarette brand and the top selling menthol and second largest selling cigarette in the U.S. In addition to Newport, the Lorillard product line has five additional brand families marketed under the Kent, True, Maverick, Old Gold and Max brand names. These six brands include 44 different product offerings which vary in price, taste, flavor, length and packaging. Lorillard manufactures all of its products at its Greensboro, North Carolina, facility and maintains its headquarters there.
Factors to consider
Technical Factors
96% Barchart overall technical buy signal
Trend Spotter buy signal
Above its 20, 50 and 100 day moving averages
18 new highs and up 15.14% in the last month
Relative Strength Index 88.03% and rising
Trades around 113.99 with a 50-day moving average of 98.47
Fundamental Factors
Tobacco products are cash cows and cannot be ignored by income investors.
Wall Street brokerage analysts have released one strong buy, four buy and five hold recommendations for their clients.
Sales are projected to increase by 10.30% this year and another 5.10% next year.
Earnings increase estimates of 13.30% this year, 9.60% next year and 9.50% annually for the next five years.
When I see a company paying a 5.30% dividend and sales and earnings projections above 5.00% I feel the dividend is secure.
General Investor Sentiment
On Motley Fool 454 readers venture an opinion on the issue.
CAPS members vote 310 to 17 that the stock will beat the market.
The more experienced All Stars also vote in the same direction with a 120 to 7 vote.
Summary: If you have moral issues about tobacco products, ignore this issue. But if you want both dividends and growth, I think you can look for an 18.5% annual total return over the next five years with a buy of Lorillard.
Disclosure: I have no positions in any stocks mentioned, and no plans to initiate any positions within the next 72 hours.