Limited Brands, Inc. (LTD), a specialty retailer of women's intimate and other apparel, beauty and personal care products, recently posted first-quarter 2011, results. The quarterly earnings of 40 cents a share came a penny ahead of the Zacks Consensus Estimate, but rose 60% from 25 cents earned in the prior-year quarter riding on improving sales environment.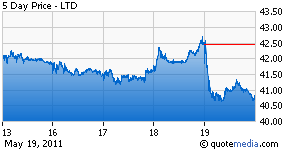 See the full earnings transcript
The quarterly earnings also came ahead of the company's guidance range of 37 cents to 39 cents a share.
Let's Dig Deep
Limited Brands, which competes with Gap Inc. (NYSE:GPS) and Hanesbrands Inc. (NYSE:HBI), posted net sales of $2,217 million that climbed 14.8% from the prior-year quarter, but fell short of the Zacks Consensus Estimate of $2,219 million.
Comparable-store sales for the quarter jumped 15% compared with 10% registered in the year-earlier quarter. Comps rose 12% in February, 14% in March and 20% in April.
The consumers, who cut back their discretionary spending during the recession, are now gradually loosening their wallets.
Sales at Victoria's Secret Stores & Victoria's Secret Beauty increased 19% to $987 million, whereas comps were also up by 19%. Victoria's Secret Direct sales jumped 5% to $369 million, and comps also rose 5%. La Senza comps tumbled 4% during the quarter.
Total Victoria Secret sales grew 14.2% to $1,443.8 million driven by a 17% rise in comps. Bath & Body Works & The White Barn Candle Co.'s total sales were up 11.5% to $479.7 million with an 11% increase in comps.
Despite an 11.2% increase in cost of goods sold, buying and occupancy, gross profit for the quarter surged 21.2% to $841.7 million, aided by an increase in the top-line, whereas gross margin expanded 210 basis points to 38%. Operating income soared 44.2% to $266.8 million, whereas operating margin expanded 240 basis points to 12%.
Let's Walk Through Guidance
Management now expects second quarter earnings in the range of 38 cents to 43 cents and fiscal 2011, earnings between $2.25 and $2.45 per share. The current Zacks Consensus Estimates for the second quarter is 43 cents and for fiscal 2011 is $2.43 per share.
Earlier, Limited Brands has projected fiscal 2011, earnings between $2.15 and $2.35 per share.
Limited Brands now expects comparable-store sales for the second quarter and fiscal 2011 to be up in the low to mid-single-digit range.
Other Financial Details
Limited Brands ended the quarter with cash and cash equivalents of $1,557.4 million, long-term debt of 3,509.5 million, reflecting debt-to-capitalization ratio of 75.7%, and shareholders' equity of $1,127.4 million.
Capital expenditures for the quarter were $76.7 million. Management anticipates capital expenditures between $400 million and $425 million for fiscal 2011, and expects to generate free cash flows of $650 million.
Our View
Limited Brands' sustained focus on cost containment, inventory management, and merchandise initiatives has kept it afloat in a sluggish retail environment, as evident from its first-quarter 2011, results. The company's Bath & Body Works segment is gaining traction, driven by a rise in store transactions, enhancement in the direct channel business and growth from new stores.
Victoria's Secret Stores has been performing well, and the company is also in a constant process of revamping its La Senza brand. Limited Brands is keen to enhance its retail footprint across the globe by expanding aggressively in Canada, and other international markets. However, stiff competition and erratic consumer behavior remain matters of concern.
Currently, we have a long-term Neutral rating on Limited Brands, which operates 2,956 stores. Moreover, the stock holds a Zacks #2 Rank, which translates into a short-term Buy recommendation.