LinkedIn (LNKD) went public Thursday, setting a frenzy on Wall Street. It was not that long ago that LinkedIn shares were expected to be priced in the mid 30's. The stock went public at $45.00, opened at $83.00, and intraday traded over $100.00. At the close, the stock settled at $94.25, up 109% for the day.
A company that had a profit of $15.4 million dollars last year is now worth $8.9 billion.
There is no doubt that the company is growing fast, as shown in the chart.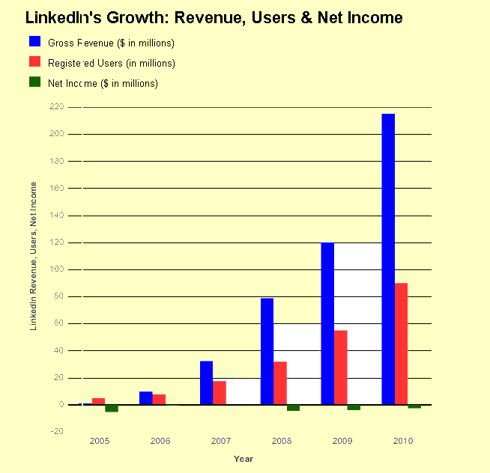 click to enlarge
Some investors looked at $243 million in revenues last year and called it a big bubble.
A lot has been written about the fundamentals and technicals of LinkedIn. My long term readers know that I do not write 'me too' articles that simply regurgitate the information available elsewhere.
The focus of this article is to make money on LinkedIn the low risk way.
Let us first understand the fundamentals. LinkedIn has over 100 million members. At the current price, the stock market is assigning a value of $89.00 to each member. Those not familiar with LinkedIn may consider registering at the sight for free. It takes only a minute. You will find that the vast majority of the members are inactive. A small number of members who are active are typically unemployed looking for jobs, recruiters, and salesmen trying to sell their wares. This is the type of data that gets plugged in the Quantitative Screen of the ZYX Change Method.
My long term readers are familiar with the uncanny accuracy of this screen. Since this article is being published on Seeking Alpha, readers can easily verify the past accuracy of this screen from my past articles on Seeking Alpha.
In my article, Silver Demand Theory Debunked, I stated that the Quantitative Screen of the ZYX Change Method showed the fair value of silver to be $34.00 – this was written when silver was trading at $50.00. Since then, silver has pulled back to $34.00 and has been hanging around that price.
Similarly, when Nvidia (NVDA) was trading at $26.00, I wrote that the Quantitative Screen of the ZYX Change Method showed the fair value of Nvidia to be $18.00. Since then, Nvidia has pulled back to $18.00 and has been hanging around that price.
Examples of the accuracy of the ZYX Change Method abound and are easily verifiable from my publicly available writings. The Quantitative Screen of the ZYX Change Method is now showing the fair value of LinkedIn to be $35.00.
Based on $35.00 fair value and the stock trading at $94.25, it may seem logical that the way to make money is to short sell this stock. However, an analysis of the historical data from similar situations in the past shows that going short in the very near future is likely to be a disaster. There will come a time when going short will be the way to make money, but that time is not in the near future.
Obviously, going long at this price is fraught with risk. LinkedIn is no Google (NASDAQ:GOOG).
There are four low risk ways to make money from LinkedIn:
Now that LinkedIn has a very valuable currency in its stock, there will be rumors of LinkedIn planning to buy other companies. Buying the potential target companies is a low risk way to make money. I have 14 such companies on my watch list.
There will be rumors of companies partnering with LinkedIn. 27 such companies are on my watch list. The key to making money will be to buy such companies at the very early stage of the rumors, and sell them when the rumors become well known.
LinkedIn is perfectly set up for a short squeeze after the shares become available for shorting in the next few days. A simple low risk way to make a lot of money in a very short time is to get in early on the short squeeze and exit at the exhaustion of the upward momentum.
There will be several opportunities to short sell the companies that run up to insane heights based on their business relationship with LinkedIn. The key will be to short sell only those stocks that have a low probability of a short squeeze or to short them only after the short squeeze has run its course.
In summary, over the coming months, LinkedIn and the activity of other stocks related to LinkedIn will provide a treasure trove of opportunities both on the long and the short side.
Disclosure: I have no positions in any stocks mentioned, and no plans to initiate any positions within the next 72 hours. I am positioning myself to take advantage of all four low risk methods of making money that are described above. This will include both long and short positions.