Here's a look at how the S&P 500 has performed along with its Financial sector component (click to enlarge). The Financials now make up 15.3% of the index which is down from over 22% before the crash (20 years ago, they were under 10%).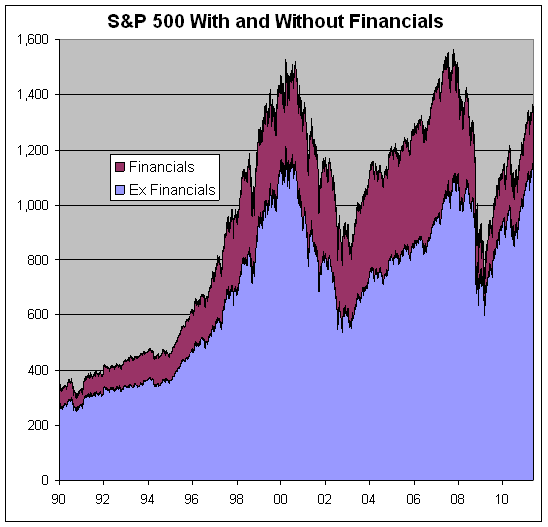 What really stands out is how much of the market's rally between 2003 and 2007 was due to Financials. Take them away and the market still did well, but it wasn't the great bull run that appeared on the surface. Naturally, much of the crash was heavily laid on the shoulders of Financials as well. (The same goes for the Tech sector during the late 90s and early Aughts.)
If an investors had avoided Financials all together, they still would have been in for a rollercoaster, but not as dramatic as it was for broad-market investors.
(Note: I don't have the historical weightings so I had to imply them from the historical daily indexes. As a result, my chart may differ slightly from S&P's data.)
Disclaimer: The information in this blog post represents my own opinions and does not contain a recommendation for any particular security or investment. I or my affiliates may hold positions or other interests in securities mentioned in the Blog, please see my Disclaimer page for my full disclaimer.