Dejour Energy (DEJ), known as Dejour Enterprises prior to March 2011, engages in acquiring, exploring, and developing energy projects with a focus on oil and gas exploration in Canada and the United States. According to the latest filing, DEJ is an independent oil and natural gas company operating multiple exploration and production projects in North America's Piceance Basin (107,000 net acres) and Peace River Arch regions (15,000 net acres). Dejour's seasoned management team has consistently been among early identifiers of premium energy assets, repeatedly timing investments and transactions to realize their value to shareholders' best advantage. Dejour maintains offices in Denver, Calgary and Vancouver.
Fundamentals/Company News
Per its latest earnings for year-end 2010, DEJ has total cash of about $4.88 million and debt at $5.18 million. DEJ has nearly zero short activity in it. Yahoo Finance shows only 700k shares short in DEJ as of April 29. 2010 revenues grew to $8.15 million with one analyst covering DEJ at the moment. Projections for 2011 are for nearly double 2010 revenues for a total of $15.81 million. Growth like that is what will attract more eyes to DEJ, even if it does not meet expectations.
Recently, DEJ completed its waterflood program in Q1 2011, which is intended to improve future oil recovery in the Halfway Oil Pool at the Woodrush Field, Northwest British Columbia. CEO Robert Hodgkinson stated the following in the latest earnings release about the future of DEJ:
We look forward to an eventful 2011 given the furtherance of several of our key U.S. and Canadian resource projects. We have branded ourselves as Dejour Energy to further identify our organization as a progressive exploration and production company. Our recently completed waterflood at Woodrush represents a significant milestone in the evolution of Dejour, and this event, along with the potential of additional resource development via our recently announced Canadian JV partnership, provides upside for resource expansion. With the trend of oil prices rising into 2011, plus more favorable natural gas pricing and the development of high profile production at Gibson Gulch in Western Colorado by major companies such as Barrett and Williams, Dejour's management is encouraged by the potential realization of significant values for our U.S. property portfolio
On May 9, Hodgkinson posted a letter to shareholders on the DEJ website. Some of the more interesting points were:
Gibson Gulch (northwest Colorado) represents one of the lowest cost North American sources for natural gas.

Currently, there are several large companies aggressively developing this highly prolific resource with extensive capital expenditures slated for 2011 and beyond.

Dejour is the only junior E&P with a sizeable stake at Gibson Gulch. With 220 well locations, its land position is surrounded by adjacent production with neighbors who are committed to furthering their investment in the region.

185Bcfe of proved and probable undeveloped reserves, PV10 of $165m+ (compared to company market cap of $50m).

Expect to begin drilling in Q4 2011, revenue in 2012.
The $165 million value that Hogkinson believes DEJ is worth would put the stock price at about $1.35 (with current outstanding shares of 121.39 million). This is an increase of 285% from the current stock price of $0.34. Will DEJ get to that price? Making predictions like that is not my style of investing, but I believe that DEJ is highly undervalued based on its potential. As long as the market/economy doesn't collapse to unforeseen levels (which I don't believe will happen, but am always on the lookout for), DEJ should conservatively start trending towards that $1.35 value the closer we move to Q1 2012 earnings, especially if commodities resume rallying. This is still a speculative position -- anything can happen -- but management has a solid history, making me more comfortable with putting my money to work here.
Since a share offering is likely when dealing with such a speculative company, that $1.35 price target is likely to change as outstanding shares continue to increase. Even if DEJ conservatively makes it to $1, that is enough significant upside potential to warrant a long-term speculative position. This is a position which I can hold for years without feeling the need to panic sell.
Those who follow me know that I do not tend to have many positions like this in my portfolio, so that should give you an idea of my beliefs in DEJ. With that being said, I always trade around a core position and lock in profits when I can, only to buy back on a pullback. As James "Rev Shark" Deporre would say, "the only good stock is the one I've already sold for profits." Stocks never move straight up without going down at some point, so trading around a core position allows me to profit throughout this long-term time frame while averaging down, if necessary, without my position tying up more precious capital than I want.
Technical Analysis/Trade Details
Technically speaking, DEJ is in a downtrend since its strong February surge up. In speculative plays like this, we must expect and embrace high-volume surges followed by seemingly never-ending downtrends. Speculative stocks tends to move up and down, seemingly without reason, creating frustration among value and fundamental investors. Fundamental/value investors will make the argument that it's undervalued, so when they don't sell any of their positions during the surge up and then the subsequent fall happens, they tend to blame the traders or say it's someone manipulating.
Yes, I agree DEJ is currently undervalued, but the market doesn't care what we think. Speculative plays receive volume for days, then go weeks without any, so we must accept that and play within those rules. When it moves up, I won't chase it to buy without being very disciplined and using stop losses. I'll trade around a core position and sell some shares for a profit, when possible. If/when it falls back down, I'll start to selectively add back in the areas I outlined.
This stock will have many days of almost nonexistent volume, so if you are one to look at your positions every minute of the day, you'll be very frustrated if this is your main stock. Understand your strategy and stick to it, but first make sure your strategy is the right one for this particular stock, let alone for your own portfolio.
DEJ should attract some more buyers above the $0.385 resistance level, as that would break DEJ from the downtrend (see chart). If it announces some type of news that immediately increases revenues or profits, we could easily see a surge towards the psychological level of $1. Currently, I continue to add between the support levels of $0.29 and $0.32-0.33. In the future, I will systematically take profits during any run up, especially because the higher the stock price goes, the more likely we will see a share offering that pushes the stock down again, many times quicker than it went up.
Do not fall into the trap where when this stock starts to show life, you start to believe it will never fall down. Also, don't fall into the trap where you start to think DEJ is the only stock that will ever go up. When we lose focus and forget that we have a vast amount of bullish stocks to choose from, we start to recklessly gamble. Understand your strategy for DEJ before you take a position. This is unlikely to be a stock that will make you rich overnight, yet I have much belief in this stock over the next few years. If you're still interested after reading all my disclaimers, DEJ might be the right pick to add to the speculative long-term section of your portfolio.
[Click to enlarge]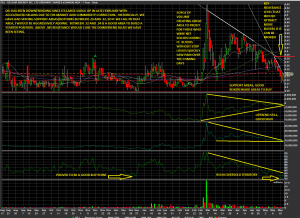 Disclosure: I am long DEJ.