Even in this weak market Winn-Dixie (NASDAQ:WINN) continues to rise. I must give a disclosure that I did work for Winn-Dixie while in high school. I was a stock clerk at the Cordova Road location in Fort Lauderdale. That was over 45 years ago so I guess I'm no longer an insider. That disclosure is part of why WINN is a turnaround story (and it's not because I'm no longer an employee): They are located in some of the wealthier locations in the Southeast U.S. and as such haven't been as sensitive to rising food prices. Their more affluent customers are able to continue their brand loyalty. The stock price continues to rise.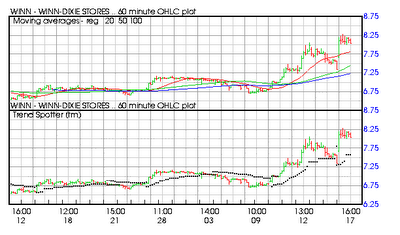 Winn-Dixie Stores
currently operates 520 stores in 22 DMAs throughout Florida, Alabama, Louisiana, Georgia, and Mississippi.They are one of the largest food retailers in the nation and ranks 347 on the Fortune 500 list.They have a competitive market share with prime convenient locations in some of the most attractive and fastest growing regions of the southeastern United States with high population density.Their vision is to be a leading neighborhood grocer in every market they serve.
Here are some of the turnaround factors you might want to consider:
Technical Factors:
100% Barchart technical buy signals
Trend Spotter buy signal
Trading above its 20, 50 and 100 day moving average
7 new highs and up 17.72% in the last month
Relative Strength Index 66.80% and rising
Priced around 8.04 with a 50 day moving average of 6.93
Fundamental Factors:
Wall Street brokerage analysts have released 1 strong buy, 1 buy and 4 hold recommendations to their clients
Although sales are expected to decrease by 5.50% this year they are projected to increase by 2.40% next year
Grim earnings decreases of 176.90% this year are forecasted to turnaround and increase by 37.50% next year and 7.00% annually for the next 5 years.
General Investor Sentiment:
Since this is a regional stock only 332 Motley Fool readers expressed an opinion on this stock
Of those that did CAPS members voted 211 to 37 that the stock will beat the market
The All Stars with more experience vote 71 to 13 for the same result.
Summary: Since emerging from bankruptcy in 2006 the company has struggled. It is located in the wealthy South East and continues to increase both basket size and transaction count. If this trend continues you can make some money here. Better put Winn-Dixie on your watch lists
Disclosure:
I have no positions in any stocks mentioned, and no plans to initiate any positions within the next 72 hours.