National average gasoline prices this week are at $3.96. Perhaps you have noticed the recent drop of a few cents. Yet the June Nymex futures contract for RBOB unleaded has fallen 50 cents from $3.40 to $2.90 a gallon. Because the Nymex contract is physically deliverable, there is typically a very close correlation between the price at the pump and the Nymex closing price.
The difference between average monthly pump prices to the Nymex wholesale month close forms a bell shaped curve. In most months the retail pump price is between 65 and 80 cents above the Nymex close.
[Click to enlarge]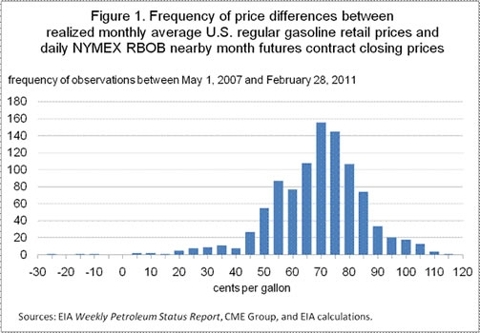 Click to enlarge

With June unleaded trading around $2.90, that would put summer prices at the pump at a sigh-inducing $3.62 a gallon. Pump prices any higher than 85 cents above the Nymex contract or $3.75 a gallon has a probability of roughly 1 in 20. This would, based on the normal distribution, most likely be at around $3.80 or $3.85.
Obviously, one of three things is almost certainly going to happen in the next month. Either pump prices are going to come down, most likely by around 34 cents a gallon to $3.62, or the Nymex contract is going to rally significantly, or the two will meet somewhere in the middle
The current $1.06 premium of retail to Nymex contract, if sustained to the close of the Nymex contract and through the average June retail price, is at the far end of the distribution curve, a 1 in 100 event. Not impossible, of course; just not very likely.
The commodities sell-off does seem a bit overdone at this point. Commentators talk about the slow down in China as if that would reduce demand for commodities. Okay, so the Chinese only bought 1.55 million cars and trucks in April as opposed to March's 1.54 million. Those vehicles don't run on air. Now, if the OECD destroyed 1.6 million 10 mpg clunkers and replaced them with Chevy Volts, that would be something to consider.
Increased global oil supply is not available for reasons OPEC ministers cannot explain. My explanation is here. Judge for yourself. We are not yet back in a global recession which would reduce demand for refined products. The case for continued increases in oil prices remains strong.
This would thus seem to be a very good time to load up on oil equities ETFs like XOP, OIH and XLE and commodity ETFs like UGA, BNO and USO.
If I am wrong and oil goes nowhere, you won't have lost any money, and you can go ahead and take that trip to Grandma's like you wanted to.