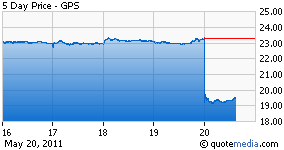 By Brian Sozzi
The attributes of a horrific quarter from a retailer tend to start with poor sales due to product that falls on deaf ears, which in turn causes gross margin compression, and then leads to the exposure of operating expenses that are too fat around the edges. Welcome to the 1Q11 earnings report from Gap (NYSE:GPS) after the market closed on May 19, where the company can only hang its hat on the fact it generated a profit and will likely be in business for the foreseeable future. Gap's report, from commentary on sales trends right on down to the cost outlook, underscores why I maintained a Sell rating on the stock last week. As background, I downgraded my rating to Sell on April 8 of this year.
Ultimately, to play the contrarian card on Gap, I would have had to hear something, anything, that indicated a stabilization in the fundamentals of the business was forthcoming. While Gap did hint that its sharply revised FY11 EPS guidance was a worst-case scenario as the 35% pullback in cotton prices from their peak this year leaves opportunities to save money on holiday buys, it's not enough to warrant an upgrade of my rating. I think Gap shares are dead money medium-term as management re-works the design team and operational structure, which are efforts coming at a time of significant cost headwinds and zero pricing power.
For FY11, I have reduced my EPS estimate to $1.43 from $1.76, and am not ruling out risk to that figure given excess inventories and how the product is being accepted, which may require more aggressive markdowns than those planned. My estimate for FY12 is now $1.75 p/s from $2.20 p/s, as there is a distinct possibility that sales trends at Gap remain soft until mid-2012. Gap shares trade on a P/E multiple of 11.1x of my new FY12 estimate, rich in light of the direction of operating margins for the foreseeable future.
Items That Left an Impression on Yours Truly
"We were more dormant than we should have been in March as a business."
Assortment is being skewed to better and best price points in each brand, yet the consumer is voting no on the higher prices.
Core of Gap brand's issues is women's, specifically tops.
The Rundown
Product cost inflation: I had a feeling right off the bat that as Gap pronounced the business was being "heavily" impacted by raw material inflation in paragraph two of the 8-K that the remainder of the color on the topic would be dour. Gap has called out a 20% product cost inflation guideline for 2H11, establishing some new-found honesty amongst apparel retailers, which led to guidance being slashed to $1.40-$1.50 p/s from $1.88-$1.93 p/s previously. In addition to raw material inflation, baked inside of that guidance is margin risk from elevated inventories needing to be worked down (planned to be up double-digit percentage at 2Q11 end) and Japan. The inflation will hit hard the company's Old Navy unit as it sells basics in a competitive industry (see the earnings warning from Aeropostale (NYSE:ARO)).
Tidbits: Gross margin came in at 39.57% vs. 40.12% consensus; operating income $385.0 million vs. $395.0 million consensus. Basically, without aggressive share repurchases (share count lowered by 13% y/y), Gap would have fallen short of consensus forecasts badly.
Sidebar: The results make it easy to understand why Gap tapped the debt markets in early April. If it didn't, it would have been much higher rates after numbers such as these. Insiders are always in the know!