Just over a month ago, I wrote an article which asked the following question about Amarin's (NASDAQ:AMRN) hypertriglyceridemia and mixed dyslipidemia product candidate, AMR101:
Are positive phase 3 results already baked into the company's share price?
On April 18, the market seemed to answer that question with conviction when Amarin's shares nearly doubled in price on the release of better-than-expected ANCHOR trial data.
AMRN 1 Month Chart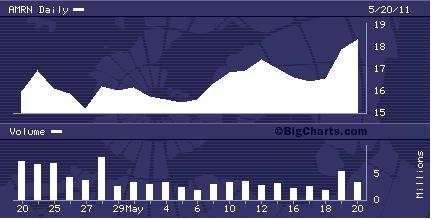 Yesterday the company announced in a press release that it would be presenting at a National Lipid Association event the same day, covering the following topics:
MARINE Phase 3 pivotal trial results in patients with very high triglyceride levels (>500 mg/dL)
A critical review of the comparative effects of EPA and DHA on low-density lipoprotein cholesterol (LDL-C)
The antioxidant effects of omega-3 fatty acids in combination with HMG-CoA reductase inhibitors (atorvastatin)
From the Press Release:
While top-line data for MARINE was reported by the Company in November 2010, the NLA-presented poster provides additional data on efficacy endpoints, patient demographics and safety and tolerability of AMR101. In a separate release, the Company discloses additional details from this poster. The MARINE study results, as summarized in this poster, will be presented by its principal investigator, Harold Bays, M.D., Medical Director of Louisville Metabolic and Atherosclerosis Research Center. This is the first time these MARINE results will be presented at a medical and scientific forum.
At approximately 2:40 PM ESD yesterday, presumably after Amarin's presentation, the company's shares saw an astronomical increase in trading volume as the stock soared into the close, finishing up 7.85% on the day.
Today the stock demonstrated some serious follow-through strength, as it set a new 52 week high at $18.58 on above average volume and is showing almost no signs of weakness as the trading day wears on.
I must admit that, until yesterday, I believed the stock would drift lower in the absence of any material news. After seeing the strong reaction to Amarin's first MARINE data presentation at an industry event, is has become clear to me that Wall Street has decided that Amarin is more than deserving of its current market cap, and though short-term volatility should remain high, the company's share price is likely to continue its rise as investors come to fully appreciate AMR101's long term prospects.
I have given up on any hope of a substantial near-term pullback and after having taken profit on the spike from the initial ANCHOR release, I am now looking to rebuild a full position and plan to add shares on dips going forward.

Disclosure: I am long AMRN.