Japan's economy continues to be hard hit by the disruption to the supply-chain of circulating capital goods due to the tsunami. Evidently, essential processes in the complex latticework of the economy's production structure remain off-line, or are only very slowly coming back. The supply of electricity to factories was for some time haphazard, additionally complicating the resurrection of manufacturing activities.
As a result, yet another steep quarterly decline in economic output has been recorded, vastly exceeding expectations. As Bloomberg reports:
Japan's economy shrank more than estimated in the first quarter after the March 11 earthquake and tsunami disrupted production and prompted consumers to cut back spending, sending the nation to its third recession in a decade.

Gross domestic product contracted an annualized 3.7 percent in the three months through March, following a revised 3 percent drop in the previous quarter, the Cabinet Office said today in Tokyo. The median forecast of 23 economists surveyed by Bloomberg News was for a 1.9 percent drop.
Japan is poor in natural resources and its manufacturing industry is the lynchpin of the country's wealth. In spite of the – once again – strong yen, Japan remains one of the world's export powerhouses. It is a leading manufacturer of many highly specialized products. While best known for its array of consumer product offerings in the electronic gadget arena, the most important contribution of Japan to the global economy is its manufacturing of higher order producer goods. This is also why the supply chain disruption caused by the tsunami does not only pose a problem for Japan – it has likely been a causal factor in the slowdown in economic growth recently observed elsewhere as well.
Macroeconomic data releases in the US have lately shown a considerable softening – the first downturn in industrial production in many months serves as a warning that the effects of the disruption to economic activity caused by the tsunami may be more severe than is generally assumed. The conference board's leading US economic indicators have also just recorded their first downturn in 10 months.
Meanwhile, the Japanese stock market – while strongly underperforming the S&P 500 – seems to be in a holding pattern. For the moment, investors are still clinging to the notion that the economic disruption will soon be resolved. It is of course true that Japan will restore its lost manufacturing capacity again, but this may be more difficult and time consuming than was initially expected. The main saving grace of the Japanese stock market is that it is objectively quite cheap.
The Nikkei still trades roughly 75% below the high it reached in late 1989, almost 21 years ago. In the meantime, corporations have repaired their balance sheets and the intervening earnings growth has brought market multiples to a very low level. In spite of all the well-known problems Japan is facing in terms of demographics and its vast fiscal indebtedness, this is a market we like for the long term – for the simple reason that it has become so incredibly cheap and the considerable margin of safety this fact provides. Alas, investors in Japanese shares need a great deal of patience and it is necessary to carefully pick out the companies that are doing best.
Although consumer demand inside Japan is set to continue to contract along with the country's population, Japan has become an important producer for the rest of fast-growing Asia. As long as the Bank of Japan retains its conservative policy stance one can rest reasonable assured that not too much scarce capital will be squandered. On the other hand, should the BoJ be eventually politically commandeered and engage in a more inflationary policy, investors in Japanese shares should find themselves reasonably hedged against the effects of said inflation.
[Click all to enlarge]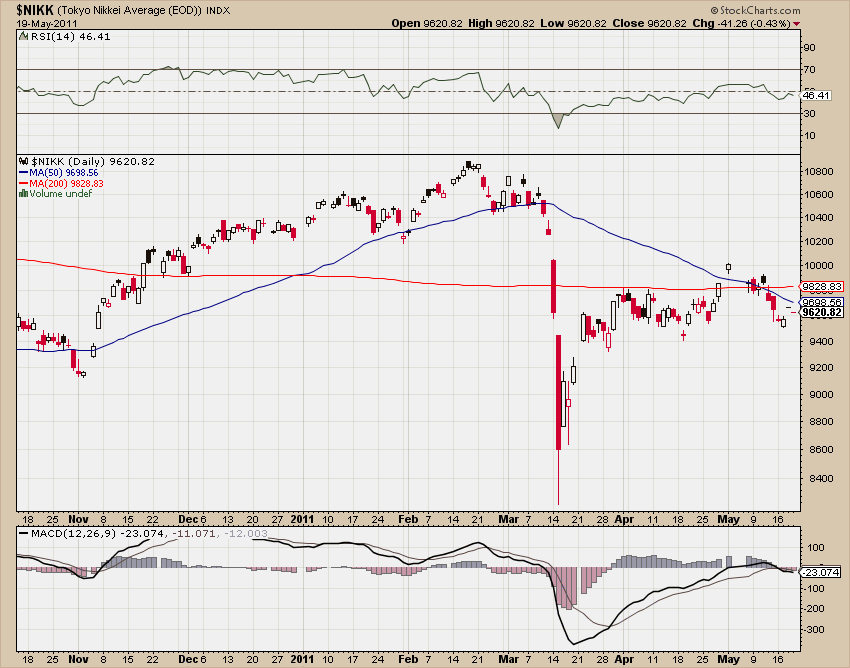 Since regaining about half of the losses produced by the post tsunami crash, the Nikkei has entered a trading range. Japan's current bout of economic weakness is likely discounted in share prices already.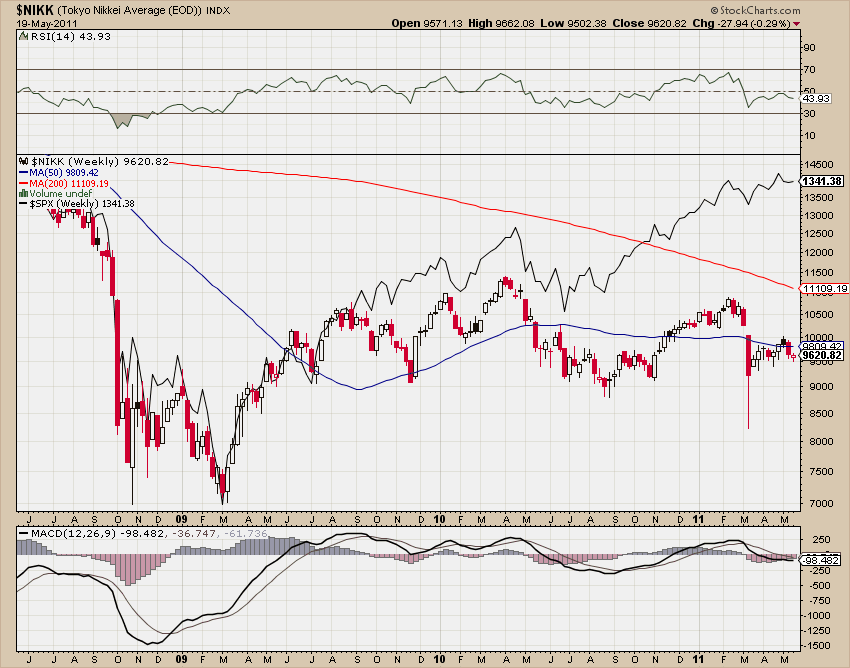 A weekly chart of the Nikkei vs, the SPX (solid line) shows that Japan's market has been underperforming since mid 2009. While this is not exactly comforting from a technical point of view, it also means that Japanese shares remain cheap.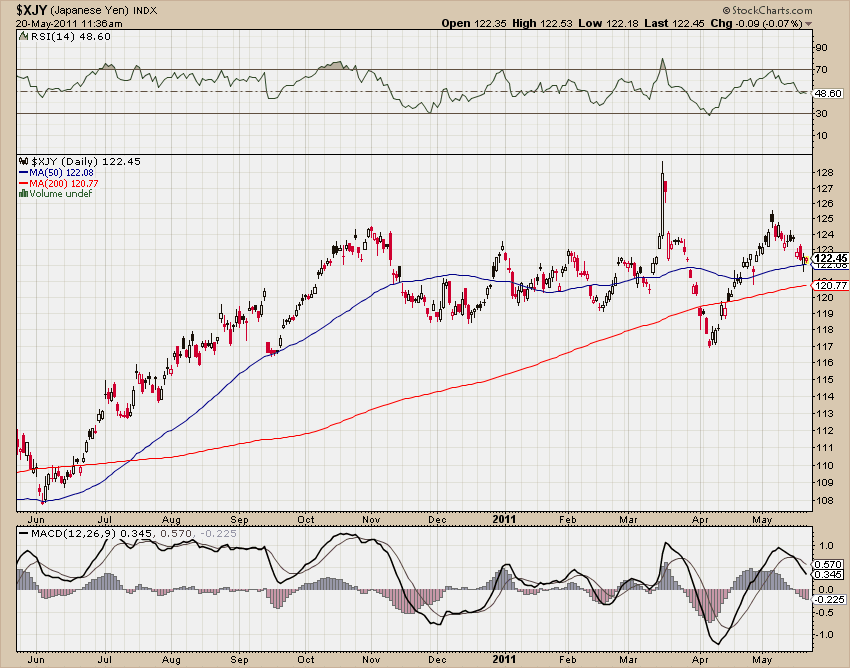 The yen remains very strong – it has regained the bulk of the losses it suffered after the concerted central bank intervention in March.
ECB Issues Threats Over Greek Debt
Today, Fitch has downgraded Greece's government debt further – it has now been moved even deeper into 'junk' territory than before. As the AP reports:
The Fitch ratings agency has downgraded Greece's long-term credit rating further into junk status, in yet another blow to the debt-ridden country.

Fitch downgraded Greece on Friday to B+ from BB+, citing problems with the country's implementation of essential reforms to its economy.

It said the move "reflects the scale of the challenge facing Greece in implementing a radical fiscal and structural reform program necessary to secure solvency of the state and the foundations for sustained economic recovery.
As the rumors about an imminent Greek debt restructuring (or debt reprofiling, as the latest buzzword has it) continue to percolate, the ECB lately appears to have been sidelined a bit in the ongoing debate. Yesterday it attempted to reintroduce itself into said debate, by engaging in brinkmanship. As we have previously noted, the ECB is most stubbornly set against debt restructurings in the euro area among European institutions, likely because it knows how rickety the European banking system really is. Not only that, but the ECB provides massive amounts of financing to the banks in the debt-ridden periphery, much of which is collateralized by government bonds. It also happens to hold roughly € 80 billion in Greek, Portuguese and Irish government bonds which it bought in a vain attempt to manipulate these bond markets. Thus the ECB itself stands to be a big loser in any forthcoming debt default.
Yesterday the ECB "went all in," as the FT's Alphaville blog put it, by threatening to no longer accept Greek government bonds as collateral should a debt reprofiling be attempted. As it turns out, the ECB has more or less unlimited discretion regarding the collateral it accepts in repos, so this threat is a serious one. Alas, there are some legal fine points that are blunting it somewhat – for instance, the ECB has the duty to 'maintain financial stability' in the euro-zone, and if it were no longer accepting Greek bonds as collateral, there would most assuredly no longer be any semblance of stability. Greece's banks would suffer cascading cross-defaults overnight. The ECB once again used the stern Jürgen Stark as its attack dog:
If Greece were to restructure its sovereign debt, its bonds would cease to be accepted as collateral by the European Central Bank, Executive Board member Juergen Stark said Wednesday, according to an ECB spokesman on Thursday.
Apparently Jean Claude Trichet is soon expected to add his 2 cents as well – as Alphaville further notes:
In all, the ECB seems to have been increasingly sidelined from the political debate surrounding the debt crisis over the last few months. It started in March with the so-called "Comprehensive response" which fell far short of the ECB recommendation, including its wish to have the EFSF taking over the secondary market bond purchase programme. With FTD and FT reporting this morning that Pdt Trichet walked out of a eurogroup meeting on Monday night, it looks as though it is also sidelined in the restructuring debate. It will be interesting to see if Trichet makes any comment on this when he delivers his welcome address at the Colloquium for outgoing Executive Board Member Tumpel-Gugerell (2pm London time), in addition to any comments on the policy outlook.
As to the ECB's discretion, here is a link to its rulebook on implementation of monetary policy in the euro area (pdf). Conclusion: Yes, it can.
Given all this to and fro and the increasingly strident tone of all concerned, it is no surprise that stock markets in Europe and the euro remained under pressure today. Meanwhile, gold appears to have profited from the growing uncertainty, just as it did last year at the same time and for the same reason.
Meanwhile, in another clear sign that the social mood in Europe is getting much darker, there are now protests in Spain that have continued in spite of government threatening to end them by force:
Spaniards have marched and pitched tents in central Madrid for a fourth night to protest budget cuts, bank bailouts and the country's electoral system before regional voting on Sunday.

Thousands of people filled Puerta del Sol, where demonstrators have used Twitter to attract supporters to a makeshift camp in the central Madrid plaza, mirroring the use of social media that fuelled the recent protests in Tunisia and Egypt. People held banners declaring the plaza ''Tahrir Square'' in reference to the Egyptian revolution.

Spain's Socialist government, which faces regional and local elections on Sunday, turned against its traditional base to push through the deepest budget cuts in at least three decades and overhaul labour and pension laws. The collapse of Spain's debt-fuelled property boom left the country with an unemployment rate of 21 per cent, and 45 per cent of young people out of work.

''The rich are getting richer and the poor are getting poorer,'' Pepa Garcia, a 34-year-old unemployed actress, said yesterday at the Puerta del Sol.

''People should be indignant; some banks are getting rescued with our money while we're almost drowning.''

The protest movement wants changes to the voting system to make it more representative and less dominated by the two main parties.
Political incumbents all over Europe are now an endangered species. This is a typical feature of the deterioration of social mood in the course of a secular downturn. Who can blame Spain's youth for defying the government's edicts? With youth unemployment at a depression-like 45%, young people no longer see a future for themselves. One problem is of course that this increasing social instability will likely result in more and more support for political radicals promising a quick fix.
Alas, the European elites can only blame themselves. Their welfare state paradise was always an illusion. By following and implementing dangerously false economic doctrines, they have brought the economy to its knees – and now they are presented with the bill. Unfortunately, the statist propaganda meme that the 'free market' is somehow to blame for the contraction has become deeply ingrained.
Watching economic and political debates aired by European TV stations and reading the newspapers and comments by readers, one could easily despair. And yet, the internet has helped to break the monopoly the elites once enjoyed over social debate. As faint as the hope that this provides may be, there is at least some hope, whereas in the pre-internet age, defenders of the free market would likely not have been able to get their arguments heard at all.
Comrade Blinder In A Huff Over Debt Ceiling Debate
Alan Blinder, ex-vice chair of the Fed, former admirer of the Soviet Union's GOSPLAN and currently poisoning young minds at Princeton, has graced us with another editorial in the WSJ where he complains over the debate over the expiring US debt ceiling. Similar to the apocalyptic visions peddled by treasury secretary Geithner, Blinder seems to think that cutting spending would bring about a catastrophe. According to his editorial:
What happens if we crash into the debt ceiling? Nobody really knows, but it's not likely to be pretty. Inflows and outflows of cash to and from the Treasury jump around from day to day as bills are paid and revenues arrive. But at average fiscal 2011 rates, receipts cover only about 60% of expenditures. So if we hit the borrowing wall traveling at full speed, the U.S. government's total outlays — a complex amalgam that includes everything from Social Security benefits to soldiers' pay to interest on the national debt — will have to drop by about 40% immediately.

How in the world do you do that? No one really knows. If and when the time comes, Mr. Geithner and his boss will have to decide. But here's one prediction: Defaulting on the national debt will not be their first choice. After all, the statue of Alexander Hamilton at the Treasury entrance reminds Mr. Geithner every day of the importance of maintaining the nation's creditworthiness. Even if we hit the debt ceiling, maturing obligations still can be rolled over. And I'll bet he will bend every effort to make the interest payments, too. Unfortunately, however, when you're 40% short, not much can be ruled out.
Government spending would have to be cut by 40%? How can that possibly be bad? The fact that the government's tax receipts only cover 60% of its spending is what should really be the concern here, not whether the arbitrary debt ceiling is raised (as it surely will be, in the end). The prospect that this spending might have to be cut should be regarded as great news. Alas, as Blinder informs us, "outright default is not his main concern":
That said, outright default is not my main concern. Several other things are:

For openers, suppose the federal government actually does reduce its expenditures by 40% overnight. That translates to roughly $1.5 trillion at annual rates, or about 10% of GDP. That's an enormous fiscal contraction for any economy to withstand, never mind one in a sluggish recovery with 9% unemployment. Even contemplating such a possibility is evidence of a dark, self-destructive impulse.

Second, markets now assign essentially zero probability to the U.S. losing its fiscal mind. They'd be caught flat-footed if the threat of default suddenly started to look real, possibly triggering a world-wide financial panic. Remember how markets reacted to the Lehman Brothers surprise? As Mr. Geithner pointed out in New York on Tuesday, "As we saw in the fall of 2008, when confidence turns, it can turn with brutal force and with a momentum that is very difficult and costly to arrest."

And finally, as mentioned, should the view take hold that threats to default are now a permissible weapon of political combat in the world's greatest democracy, U.S. government debt will lose its exalted status as the safest asset money can buy — with unpleasant consequences for the dollar and interest rates.

Fights over the budget are normal and proper in a democracy, especially when the two parties hold dramatically different views. But threatening to default should not be a partisan issue. In view of all the hazards it entails, one wonders why any responsible person would even flirt with the idea.
Blinder erroneously thinks that government spending is good for the economy. It is not, although it does, as it were, increase GDP due to the vagaries of GDP accounting. As we have mentioned previously, the government can only spend what it takes – either by borrowing or taxation – cent for cent and dollar for dollar from the private sector. The extent to which the government spends is precisely the extent to which the private sector must curtail its investment and spending. Nothing can in reality be gained by government spending. On the contrary, given the corruption and inefficiency associated with government spending, the more the government spends, the more scarce resources will go to waste.
As to the prospect of treasury bonds "losing their exalted status as the safest asset that money can buy," this would ultimately be a salutary event. Investors who buy government bonds rely on a source of income that is garnered by political instead of by economic means, i.e. by force and coercion instead of voluntary exchange. It would be far better if these monies were invested in businesses serving consumers.