As the 7th person hired by Openwave (OPWV), the company that pioneered the Mobile Internet over a decade ago, I visited wireless telcos all over the world, training their engineers and helping them architect and launch their Mobile Internet services. Openwave has floundered abjectly since then, but the market it spawned has exploded.
The growth has not gone unnoticed by analysts. Cramer, for example, regularly raves about the "Mobile Internet Tsunami." But the focus has been mistakenly placed on U.S. companies. That's not where the big growth is coming. Visiting carriers from Kansas to Kuala Lumpur, one fact became very clear to me years ago: wireless data growth in the developing world will utterly dwarf that in the U.S.
It comes down to this: the average American can order and get landline phone and fast Internet service in a few days. In many developing countries, even if you can afford a PC, it can take months to get even mediocre wireline Internet for it. In many areas, it doesn't exist at all. But mobile phones are everywhere; even very poor people can get prepaid mobiles. The upshot is that for much of the developing world, the mobile Internet is the ONLY Internet. For example, Mubarak had no trouble shutting down Internet access in Egypt. 90% of it was going through three mobile carriers.
When I visited carriers in developing countries like Egypt, Mexico, and Malaysia, I was amazed how they often generate more data revenue than carriers in the U.S., where per-capita income is many times higher. People in these countries will spend vast proportions of their income to get the Internet on their phones—because it's the only way many of them can get the Internet. Americans won't pay that much for it, because a PC with a nice big screen and broadband connectivity is seldom far away.
Where's the Growth?
Here's how we get the really explosive growth: much of the developing world that has access to wireless data still uses primitive phones like the ones OPWV first rolled out 13 years ago. And it's slow, because many of the networks are still 2G. Just with that alone, there's plenty of growth potential. While the U.S. mobile market is largely saturated, some developing world carriers are still achieving double-digit subscriber growth just in basic voice service. And as more 3G and 4G networks roll out and large-display smartphones drop in price, mobile data demand will really take off in the developing world.
Korea is a good indicator of what's coming in the developing world. Just in the last year, Korean carrier KT saw new 3G subscriber growth over 13% and data demand growth of 400%. That's continuing a trend that's been in place for years. Developing world growth is roughly where Korea was 5 years ago (see the circle in the chart below).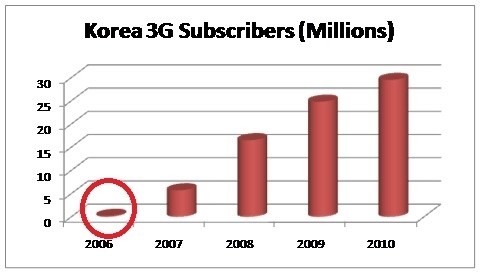 No "Dumb Pipes" in the Developing World
U.S.-based analysts tend to project the declining ARPU and "dumb pipes" problems of American carriers on to the developing world. Like the Internet Service Providers of the '90s, U.S. carriers have to carry more and more data for subscribers who are paying the same fixed price. Their margins get squeezed as they're compelled to continually upgrade network hardware. Some, like AT&T (NYSE:
T
), are attempting to shift to tiered data-charge plans, but this is a tough sell for customers who have long been used to "all-you-can-eat." But this is not a problem for the developing world where nearly everyone is accustomed to "pay-as-you-go." In Thailand, for example, 90% of all cell-phones are pre-paid. Paying by the byte is the custom in most of developing world.
What to Do
My newsletter recommended several developing world wireless carriers months ago. These have all run up a lot, but there are still some reasonable deals left. Here are a few that I might consider buying if they pull back.
| Name | Symbol | EV/EBIDTA | Yield |
| --- | --- | --- | --- |
| AIS | OTCPK:AVIFY | 5.7 | 9% |
| P.T. Telkom | TLK | 4.3 | 6% |
| SingTel | OTCPK:SGAPY | 10.2 | 8% |
| S.K. Telecom | SKM | 3.6 | 6% |
| KT Corp. | KT | 3.6 | 7% |
| Phillipines Long Distance Telephone | PHI | 6.2 | 8% |

Note that SGAPY.PK and AVIFY.PK are very thinly traded ADRs.

AIS is not the bargain it was a few months ago, but it still pays a healthy yield and features double-digit Free Cash Flow. The Thai government has repeatedly delayed 3G rollouts. Once it gets finally get under way, expect AIS revenues to explode. I'm waiting for the next political crisis in Thailand to buy more AIS.

SingTel is a developing world carrier in the sense that it owns major stakes in a dozen "associates" like AIS, Bharti Airtel, and TLK. It's almost like a mutual fund of developing world carriers, with some Singapore and Australia (Optus) thrown in. Singtel just declared a special dividend bringing its yield to 8%. Its associates have actually been a drag on its growth, with the Singapore and Australia divisions outperforming. That will change as wireless data ramps up for the associates.

The numbers for the Korean Telcos, SKM and KT, are based on their prices in Korea. Unfortunately, the U.S. ADRs for these two companies trade at enormous premiums (12-14%) to the underlying Korean shares. I will only buy these on the Korean exchange, which isn't currently possible because of foreign ownership caps.

I expect PHI to post mediocre earnings for a few more quarters, until smartphone use really starts to take off. Look to buy each time earnings disappoint.


Disclosure: I am long OTCPK:AVIFY, OTCPK:SGAPY, PHI, TLK.