In addition to my own scans and watch lists, I use two main sources to follow options-related news: Daily Seeking Alpha columns by Frederic Ruffy and Andrew Wilkinson. While I get great use out of these sources and have even made money thanks to them, you have to be careful not to chase the stocks or options they mention. Often, by the time you receive an alert or summary, contracts have already had too much volatility and upside priced into the premium. Nevertheless, occasionally, you can find examples to capitalize on. Below I detail options brought to my attention by these sources and how investors might consider playing them - or the underlying security - if at all, during the trading week.

This week's recap and analysis includes contributions from two other sources of options information: Frequent Seeking Alpha contributor optionMONSTER and Briefing.com's InPlay service. Both provide alerts on notable options activity throughout the day.

Because my coverage spans most of Friday's trading day, including early in the session, some information may change. As with all of my articles, use my suggestions and analysis as the impetus for future research.

Ann Taylor (NYSE:ANN): optionMONSTER's report on the sale of 20,000 ANN June $28 call options piqued my interest. As optionMONSTER notes:
The activity reflects a belief that Ann is unlikely to rebound in the next four weeks, and essentially locks in an exit price for $29.45 on the shares.
If memory serves me correctly, the options market and traders in general were pretty bullish on ANN ahead of the most recent earnings report. To many, this move from bullish to somewhat bearish represents a lack of conviction or a flip-flop. In reality, it reflects not only the difference between trading and investing, but it illustrates a lesson I have learned over the last year. You must be willing to change your sentiment on a stock at a moments' notice.

I made a comment in a recent article of mine that several people told me was appreciated, so I made it part of my Seeking Alpha profile because it sums up my philosophy on both trading and investing quite well:
I don't believe in the standard philosophy of being positive or negative on a stock. It's about capturing a moment in time or a particular way I view a stock, a story, the fundamentals, the technicals, whatever, during a particular period. What's so fun and interesting about doing this is that the market is so dynamic. It does not allow for adherence to hard and fast beliefs on individual stocks in isolation.

You can be John Kerry. You can go long a stock like ANN (and even stay long) before you go short. An ideal real-life scenario could involve an ANN long going short on Monday morning. The investor, in this case, might believe firmly that the long-term case on ANN remains intact despite the bearishness of the day. But, to take advantage of the fleeting negative segment, the trader in the investor might decide to buy some ANN puts or write calls as a way to generate income and possibly take some profits on his long position.
Click to enlarge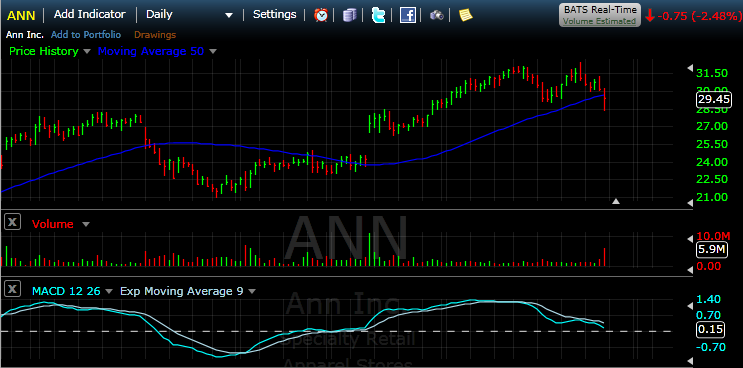 Click to enlarge

(Chart courtesy of FreeStockCharts.com)

Clearly, that's a bearish chart. While I would never guarantee downside, I would not bet against it, short-term, in the case of ANN. If you feel comfortable doing so - and nothing other than available resources, risk aversion, and comfort level with options should make you feel uncomfortable - trading around your long position with long puts and short calls makes perfect sense.

Salesforce.com (NYSE:CRM): Frederic Ruffy notes increased volume in CRM options on Friday. This, of course, is in response to the comany's earnings report, which sent CRM shares considerably higher. CRM closed Friday's session up roughly 8% at $146.61.

Traders made bets in both directions on CRM. For instance, more than 11,000 CRM June $140 calls changed hands on Friday. Out-of-the-money June CRM puts saw considerable volume on strikes between $145 and $115. Of course, bullish put writing likely accounts for some of this volume. If CRM holds above the strikes, put writers keep the entire premium they collected when the options they sold end up expiring worthless.

Prior to earnings, one of my two favorite options plays would have likely proved successful. When you execute a straddle or strangle, it does not matter which direction the stock moves in; it just has to move. I prefer not to step in front of a momentum stock like CRM. At the same time, chasing it scares me. I would hold tight until the week of CRM's next earnings report. At the time, a straddle or strangle probably remains the wisest play from a risk standpoint.

Kraft (KFT): It's interesting to evaluate the idea of using options on old stalwarts like Kraft. In his Friday column, Andrew Wilkinson highlighted the following options activity in the issue:
Shares in Kraft Foods increased as much as 1.3% this afternoon to touch an intraday and new 52-week high of $35.44. It appears the investor purchased June $34 strike calls five weeks ago for an average premium of $0.40 per contract when shares in the name were hovering around $33.29. Kraft's shares rallied 6.45% in the past five weeks to touch today's new 52-week high, but the value of the June $34 strike calls has increased more than three-fold during the same time period.

Some 7,000 call options at the June $34 strike were sold today for an average premium of $1.46 each. If we assume the call seller and buyer are one and the same, net profits on the position amount to $1.06 per contract.

Next, it looks like a fresh batch of roughly 7,000 call options were purchased up at the higher June $36 strike for an average premium of $0.25 per contract. Profits on the fresh bullish stance kick in at expiration next month as long as Kraft's shares rally another 2.3% to exceed $36.25 within the next six weeks. Other bullish players purchased some 1,400 in-the-money calls at the June $33 strike for an average premium of $2.44 each. Another strategist appears to be ditching a bearish position on Kraft Foods by unraveling a ratio put spread in the September contract. Options implied volatility on Kraft trimmed 3.5% to stand at 31.33% this afternoon.
The beauty of following what Wilkinson says, word-for-word, is that, unlike many investors, he has the ability (and resources) to make educated guesses about "who" made the trades he calls out for his readers.

The thing about owning KFT calls in the absence of the underlying stock is that call owners do not receive any dividends the stock pays. Let's take a rough crack at the numbers using the 7,000 calls Wilkinson assumes were bought five weeks ago and sold on Friday.

Because each call contract gives the owner the right, but not the obligation, to purchase 100 shares of KFT on or before expiration at the contract's strike price, 7,000 contracts represents 700,000 shares of KFT. The purchase of 7,000 KFT June $34 calls cost the trader $280,000, excluding commissions. It would have took more than $23.3 million to purchase that number of shares. Clearly, you put out much less capital buying the calls.

If you bought the stock and sold out at Friday's closing price for KFT, you have would made $1,358,000, excluding commissions. Not bad. By closing out the calls, the trader Wilkinson referenced took profits of $742,000, excluding commissions. The option holder did not miss out on KFT's $0.29 dividend, paid out on March 29, 2011. Of course, most of us would need to slightly adjust the numbers down to see how we would have fared materially in the trade.

Disclosure: I have no positions in any stocks mentioned, and no plans to initiate any positions within the next 72 hours.