Another article and interview video has been published recently about the Berlin Patient. The Berlin Patient is the only individual who has been cured of HIV. The process for affecting that cure is described here.
Since Sangamo (NASDAQ:SGMO) is the only company that can replicate that process in a manner that does not require an onerous and life threatening procedure, there will be new and increased interest in the company, its scientists, their drugs and technologies.
In a previous article I laid out the rationale for why Sangamo BioScience was a must-have acquisition for all of the large pharmaceuticals. With this eventuality all but certain, I went looking for companies that had previously been acquired at the same stage in their development efforts, and offered similar platform technologies for comparison to Sangamo. Sirtris Pharmaceuticals was almost an exact match.
In April of 2008 Glaxo Smith Kline (NYSE:GSK) bought out Sirtris Pharmaceuticals. Sirtris was pursuing research in a class of enzymes that copied the effects of resveratrol, a compound naturally found in red wine and discovered to increase the life span of mice. Sirtuins mimicked the calorie-restrictive diets that had proven to increase longevity in a variety of animal experiments. Sirtri's first drug in clinical trials was a treatment for diabetes. Initial pre-clinical research was focused directly and indirectly on longevity. If you remove or delay the major causes of death, i.e. diabetes, muscle wasting, neurodegeneration, cancer, cardiovascular and inflammation, then you delay the symptoms of aging and by extension morbidity and mortality. Sirtuins hold this promise.
According to reports at the time of the acquisition, Sirtris had wanted GSK to be a major collaborator without buying the company outright. But when other pharmaceutical companies started expressing interest in Sirtris, Glaxo made and then raised its offer. Sirtris was trading at $12 a share at this point in time, and the final offer from Glaxo was for $22.50 a share - representing a nearly 85% premium to Sirtris' stock price at the time the deal was announced. That put the total purchase price at $720 million for a company with negative cash flow, only early stage clinical results and no marketable products.
Obviously Glaxo was purchasing a lot more than a couple of drugs currently in clinical trials. The real goal of the acquisition was multifactorial, and included obtaining the company's intellectual property (they had over 120 patents pending), the sirtuins platform technology and retaining the scientific thought leaders with the insight to developed the technology and who represented the leading expertise in this field. Indeed Sirtris seemed to be marketing the "Platform Opportunity" to potential suitors themselves as this 2007 slide indicates: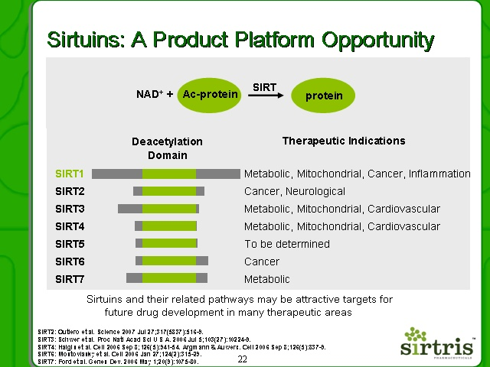 So what are the parallels between Sangamo and Sirtris? The three major reasons cited by Glaxo for obtaining Sirtris, were: A large and growing intellectual property portfolio; a group of thought-leaders who spearheaded this breakthrough platform; and positive clinical conformation of safety and efficacy.
Sangamo is in the same development stage as Sirtris was at the time of its takeover. Edward Lanphier, Sangamo's founder and CEO, set as his initial goal obtaining all available licensing surrounding the zinc finger protein (ZFP) technology. The following paragraph is taken directly from its website, and gives the best insight into the fervor they undertook protecting their science and future business ventures.
Sangamo has licensed intellectual property directed to the design, selection and use of ZFPs and ZFP TFs for gene regulation from the Massachusetts Institute of Technology, Johnson & Johnson, The Scripps Research Institute, Harvard University and Johns Hopkins University. These licenses grant us rights to make, use and sell ZFPs, ZFNs and ZFP TFs under fifteen families of patent filings. All of these patent families have been filed in the United States and many have been filed internationally in selected countries. As of February 1, 2011 these patent filings have resulted in twenty issued U.S. patents. We believe these licensed patents and patent applications include all of the early and important patent filings directed to design, selection and use of ZFPs, ZFNs and ZFP TFs. As of February 1, 2011 we have eighty-nine families of internally generated U.S. patent filings, including sixty-two U.S. and one hundred and seventy-two foreign issued patents, based on Sangamo's internal research. These patent filings are directed to improvements in the design and use of ZFPs, ZFNs and ZFP TFs.
It is something of an understatement to say they have produced a deep and wide moat around the entire zinc finger protein technology platform. They certainty have a group of very talented scientist that represents the best and brightest in genetic engineering. A strong and decisive management team with long- and short-term strategic goals and effective plans to achieve them backs up this brilliant scientific team. Currently Sangamo has two lucrative therapeutic targets in Phase I and II clinical studies, which represents just the tip of the iceberg for the clinical possibilities. Add to this mix the fact that Sangamo is generating significant income from its licensing and co-development programs, bringing in $97 million to-date. This last figure is exciting for two reasons. The licensing agreements have been extended by most who have entered into them, providing another level of validation of this technology. Companies like Sigma would not extend contracts on products that were not performing. Most of these contracts also provide a royalty on products that emerge into the market place based on Sangamo's technology. This produces another income stream that will grow over time and is as yet unrealized.
So the comparisons between where Sirtris was when they were acquired, and where Sangamo currently is in the bio-pharmaceutical development world, are striking. The one caveat being, Sangamo represents a much stronger acquisition candidate today than Sirtris did when Glaxo took it over..
The only thing that would argue against this acquisition is the stated desire by the company's management that they would like to stay independent. Sangamo represents a serious and significant risk to the long-term health of every major pharmaceutical, so at some point the pressure to be acquired will become torturous. They have several options if they really want to stay independent: They have a 5 million-share poison pill in their articles of incorporation with preferred voting rights that could assist them in going along or fighting a hostile takeover; they can engage in multiple strategic alliances, and indeed they have done exactly this although no human therapeutics have been included in these deals as yet.
I believe they have good alternative opportunities that would circumvent the hostile takeover risk and make themselves and their new partner much stronger at the same time. If they merged their company with Human Genome Sciences (HGSI) they would immediately become a mature and dominate force in the pharmaceutical development world. Human Genome currently utilizes the human DNA sequence to develop protein and antibody-based drugs, and who also possesses extensive intellectual property holdings in this area. This merger would also clear additional intellectual property obstructions as HGSI has a very strong position in this area: "Any company that wants to be in the business of using genes, proteins, or antibodies as drugs has a very high probability of running afoul of our patents. From a commercial point of view, they are severely constrained - and far more than they realize." Dr. William A. Haseltine.
With a drug for lupus erythematosus, BENLYSTA® (belimumab) recently approved for the market by the FDA, and most importantly a complete and proprietary human genome map, the combined resources of these two companies would immediately constitute a world class pharmaceutical tour de force. HGS's market cap is currently $5.1 billion and Sangamos is $364 million. Not exactly a marriage of equals, but still a royal marriage based on the complementary technologies of each company.
At a meeting a few years ago I was introduced to William A. Haseltine, a noted Harvard professor and AIDS researcher and at the time the Chairman of Human Genome Sciences. The conversation was quick and uneventful like so many conversations at such conferences, but he said something to me that did stick in my mind. When I asked what they were going to develop next his response was "I don't know, we currently have 18,000 drug development targets and we are working through them." That had to be 10 years ago and the number of genetic targets today must be much smaller, but much more specific, refined and rich with potential.
Human Genome Sciences possesses the correct nucleotide combinations to address all genetic therapeutic targets. Sangamo has a modular system allowing them to take HGS's combinations and almost immediately turn them into effective keys allowing them to target, silence, express or alter everything or anything they have in their libraries. HGS has a cash position of close to $900 million and a growing income stream allowing them to fund their own clinical programs. Sangamo currently has $110 million in cash on their books.
The combined net worth of these two Biotechs' would allow them to maintain their independence indefinitely. The scientific synergies of combining a company possessing a copy of the human genome map with the most lucrative targets already identified, and the owners of the keys to that map, are obvious. The marriage is made more probable by the fact that the core of each company's scientific teams are speaking in the exact same language, deoxyribonucleic acid (DNA).
Disclosure: I am long SGMO. I have no position in HGSI or GSK and do not intend to initiate any positions within the next 72 hours.