Although LinkedIn (NYSE:LNKD) appears to have carved out a nice niche in the professional-networking arena, the firm has quite a bit of work to do to effectively maximize its revenue platform, and competition from a plethora of potential rivals (including Facebook and Google) may inevitably cause long-term head winds. Still, the firm's revenue trajectory will be stellar during the next few years, and translating this growth to the bottom line will largely hinge on its ability to leverage infrastructure and marketing costs. I am initiating coverage of LinkedIn with a $45 per share fair value estimate; revenue estimates at $496 million in 2011, $831 million in 2012, and $1.2 billion in 2013; and diluted EPS estimates at $0.13 in 2011, $0.53 in 2012, and $1.08 in 2013.

Business Profile: LinkedIn is the world's largest Internet-based professional network claiming to have more than 100 million members across 200 countries. On its website, members create, manage and share their professional identity (expanded resumes) and build out their professional networks in order to facilitate a more productive and successful career. The majority of the firm's offerings are free, which has helped LinkedIn build critical mass and attain certain network effects. LinkedIn generates revenue via three sources: hiring solutions, marketing solutions, and premium subscriptions. The firm had revenue of $243 million in 2010 and employed over 1,250 people at the end of the first quarter of 2011.

Strategy: LinkedIn is focused on growing the number of members in its network--both domestically and internationally--via optimization endeavors (registration, search engine, etc.), while seeking ways to further monetize its business. The firm seems comfortable guiding to a GAAP loss and a lower adjusted EBITDA this year, with its philosophy centered on investing for future growth (product development, its sales organization, and website infrastructure). LinkedIn plans to use the proceeds from its IPO for general corporate purposes (working capital, sales and marketing activities, etc.) and potential acquisitions that complement its business.

Revenue Model: The firm's revenue comes from selling its hiring solutions and marketing solutions offline (via its sales staff) or online through its web presence. LinkedIn also generates revenue from online sales of its premium subscriptions. Revenue growth from its hiring-solutions segment has outpaced other business lines in recent years and has increased significantly as a portion of total revenue.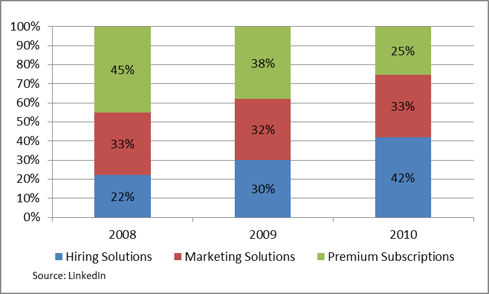 Click to enlarge

Hiring Solutions: "Revenue from our hiring solutions is derived primarily from the sale of our LinkedIn Corporate Solutions and LinkedIn Jobs products. LinkedIn Corporate Solutions allow enterprises and professional organizations to identify job candidates based on industry, job function, geography, experience, education, and other specifications. Our customers can also purchase job slots to utilize job postings on our website throughout the contract term. We recognize the net revenue from sales of LinkedIn Corporate Solutions ratably over the subscription period, which is typically 12 months and billed annually, quarterly or monthly. We also sell LinkedIn Jobs on our website to enterprises and professional organizations of all sizes. These jobs are generally posted for 30 days, and revenue from individual job postings is recognized over the same period (Form 424B4, 5/19/11)."

Marketing Solutions: "Revenue from our marketing solutions is derived primarily from fees we receive from marketers, principally advertising agencies and direct advertisers, for display and text ads on our website. We also provide a self-service advertising solution that allows marketers to directly create and place ads on prominent pages on our website. Revenue from display or text ads is generally recognized when the advertisement is displayed on our website (Form 424B4, 5/19/11)."

Premium Subscriptions: "Revenue from our premium subscriptions is derived primarily from online sales of our Business, Business Plus and Executive subscription products. These products provide our members, acting as individuals or on behalf of their enterprises or professional organizations, with access to more tools and features than our free membership, including enhanced search results, enhanced communication capability, improved organizational functionality and priority customer support...We offer our members monthly or annual subscriptions. Revenue from our premium subscriptions is recognized ratably over the contract period, which is generally one to 12 months (Form 424B4, 5/19/11)."

Competitive Assessment: The size of LinkedIn's existing member base is perhaps its greatest competitive advantage: "A large(r) member base provides more opportunities to form professional connections for members, as well as increased opportunities to identify and attract talent for enterprises and professional organizations. At the same time, an increasing number of enterprises and professional organizations accessing our network enhances the relevance for members who stand to benefit from professional insights and opportunities (Form 424B4, 5/19/11)."

In other words, LinkedIn benefits from a network effect -- the more members that sign up, the more valuable the site is to enterprises and vice-versa. Though such a business model is undoubtedly attractive, significant competition does exist in all of its markets and includes social networking sites (Facebook, Twitter, etc.), Internet-search firms (Google) and online recruiting companies (Monster and CareerBuilder). Still, LinkedIn's return on invested capital should be north of 40% in coming years, signaling hefty economic-profit creation for shareholders.

Valuation: Based on a discounted cash-flow process, my fair value for LinkedIn is $45 per share, which is roughly 42x 2013 EPS. Revenue estimates are initiated at $496 million in 2011, $831 million in 2012, and $1.2 billion in 2013. Diluted EPS estimates are initiated at $0.13 in 2011, $0.53 in 2012, and $1.08 in 2013.

The firm's hiring-solutions segment should advance over 150% in 2011 and represents the biggest driver for firmwide top-line expansion in the years ahead. Marketing solutions and premium subscriptions should expand 90% and about 50%, respectively, in 2011. In aggregate, total revenue should compound at about a 30% annual rate during the next 10 years as LinkedIn continues to monetize its business model.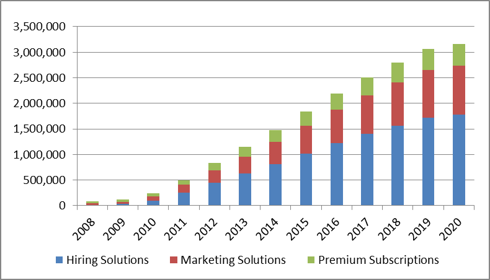 Click to enlarge

LinkedIn's profitability should steadily increase over time as it scales marketing and infrastructure costs. Its operating margins should be in the mid-single-digits this year, hit nearly 10% next year, and expand to the mid-double-digits in 2013. Cash flow will be bolstered significantly by deferred revenue as growth ensues (embedded in 'Changes in Other Net W/C'), with free cash flow targeted at $35 million this year, about $90 million in 2012, and about 160 million in 2013. The firm's initiatives with its capital investment program could have large implications on these estimates, however. Between years 2020-2025, I assign an annual enterprise free cash flow growth rate of 5%, and beyond 2025, a long-term growth rate of 2%. Future enterprise free cash flows are discounted at a 10% rate in arriving at my $45 fair value estimate.

Notably, there could be considerable upside to my fair value should the firm leverage expenses (SG&A, product development) more effectively than forecast. For example, if LinkedIn achieves long-term operating margins of 30%, the firm's shares could be worth $65 each.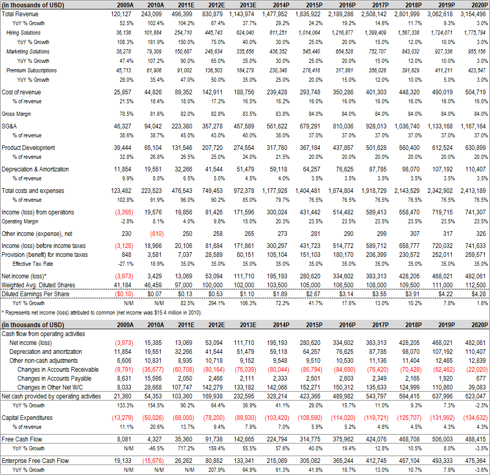 Click to enlarge

Risk: LinkedIn's business model is relatively unproven, and historical growth has masked all cyclicality, which may be severe. Competition from a variety of fronts could overwhelm the firm's network effect, inevitably disrupting its business model. Interruptions to its website, macroeconomic variables (labor markets), uncertain customer renewal rates, the dependence on Internet search engines to drive traffic to its site, and the trajectory of future growth and profitability are other key risks.

Disclaimer: This article is for information purposes only and should not be considered a solicitation to buy or sell LinkedIn. Assumptions, opinions, and estimates are based on judgment as of the date of the article and are subject to change without notice.

Disclosure: I have no positions in any stocks mentioned, and no plans to initiate any positions within the next 72 hours.