In one of the first public interviews this year, Trina Solar's (NYSE: TSL) CEO, Mr. Jifan Gao, offered quite detail opinions regarding the photovoltaic ("PV") industry for the next few years. Mr. Gao was one of the first industry heads to state the PV industry was heading into an oversupplied situation in 2011. However, he also believes larger and more branded suppliers would gain market share as capacity from higher cost and/or lower value added providers would slowly be taken off the market. In other words, Mr. Gao believes consolidation would start to occur this year leaving only a few dozen industry participants left standing in the next few years.
During Trina Solar's first quarter 2011 conference call following their earnings report released earlier this week, Mr. Ben Hill, Trina Solar's Vice President of Sales and Marketing, officially reiterated Mr. Gao's position.
We believe consolidation in the PV industry has now started. Compared to three months ago, customers now have choices. Where only a few months ago, providing only a module was enough to support newer brands, it is no longer sufficient. Likewise, whereas a few months ago purchasing a module at a significant premium to China tier one brands was accepted, we now see clear evidence this is no longer true. With supply constraints removed, today's solar customers want and are in increasing position to receive increasing value as they choose their PV brand.

We believe brands that cannot consistently deliver these varied requirements with customer value in focus will soon fall out of the race or be in markets limited to lower value demand segments. To this view we are already seeing changes in our operating environment which include production suspension by lower tier module brands, and increasing evidence of full module outsourcing by western brands in reaction to loss of asp premiums. Trina Solar has been anticipating and preparing for such market transformations for some time now in which we ultimately view as an opportunity to secure and maintain our position as an industry leading brand.
In the company's corresponding supplemental earnings presentation, TSL also defined disadvantages at both the low and high value added segments of peer competition.
Lower Valued Added Peer Group Challenges: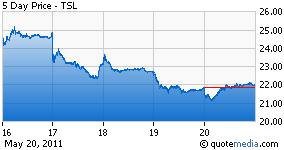 Limited bankability
Limited manufacturing scale
Limited long term supply contracts
Limited brand recognition
More competitive end segments
Balance sheet and financing capabilities
Higher Value Added Peer Group Challenges:
Highest traditional cost structure
Diminishing average selling price ("ASP") premium
Outsourced/OEM module pressures
Increasing Chinese tier-1 customer orientation
Increasing Chinese tier-1 brand recognition
Balance sheet and financing capabilities
The final outcome of what could be an extremely bi-polar and destructive year for the PV industry has yet to be determined. However part of Trina Solar's argument has already taken place as witnessed by the news flow from peer companies. Once a solar darling, Energy Conversion Devices (NASDAQ: ENER) continued to report large corporate losses on declining shipment volume. US-based Evergreen Solar (ESLR) also continued to report losses as shipments declined over 60% in Q1 2011 over Q4 2010 levels, further sparking fears if the company could survive in its present form. More recently, leading Taiwanese solar cell producers have reported large sequential drops in revenues. Motech, Gintech (OTC:GNCHF) and Neo Solar reported April revenues dropped on a monthly by 47.5%, 24.3%, and 32.5%, respectively.

In contrast, many US listed Chinese solar companies that have already reported first quarter earnings have guided second quarter shipments to growth significantly on a quarter on quarter basis. Jinko Solar (NYSE: JKS) expects its second quarter module shipments to grow from 167mw to 190-200mw on a sequential basis. Canadian Solar (NASDAQ: CSIQ) expects even higher magnitudes of growth as it predicts quarterly volume shipped to grow from 244mw to 345-355mw (including volumes shipped on delayed revenue recognition terms). Although off lowered first quarter shipment expectations, Yingli Green Energy (NYSE: YGE) expects second quarter shipments to grow 'at least' 30% from first quarter levels. Trina Sola expects its own shipment volume to grow from 320mw reported in the first quarter to grow to 430-450mw in the second quarter. If these growth patterns are realized among peer Chinese solar companies, then TSL's view on the PV industry may in fact be accurate.

However, 'consolidation' periods, as Trina Solar describes, have historically affected both winners and losers. The PV industry appears to be no exception as operating and profit metrics for those companies gaining market share are becoming pressured. Much of TSL's first quarter shortfall was linked to delays in shipment volumes due mostly to Italian policy uncertainties which caused customers to delay order until the situation clarified. In the company's conference call, Trina Solar described the delay as 'a last hour' decision between its affected customers. With Italian feed in tariff ("FIT") policy finalized in early May, TSL expects shipment delays in the first quarter to be completed in the current quarter as evidence in its over 35% sequential shipment growth guidance.

Rapid declines in average selling prices ("ASP") for not only modules but across upstream verticals are also another consequence of market consolidation. Trina Solar reported Q1 2011 module ASP of $1.71/watt, down from $1.82/watt recorded in the prior quarter. While significant, TSL's ASP decline was far lower than ASP declines seen in the spot market. According to data accumulated by PVInsights, spot market module ASP averaged 1.60/watt or less during the first quarter, down roughly 10% sequentially. The pricing premium witnessed by Trina Solar as well as direct peers also reinforce some of the company's arguments. Even in an oversupplied environment, brands that can offer additional value on top of the stand alone module can attract demand and even command price premiums.

Nevertheless, declines in module ASP did affect Trina Solar's profitability in the first quarter of 2011. Lower module ASP combined with shipment delays caused TSL to report Q1 revenues of $550.9m, down 14.2% sequentially but still up 63.5% year over year. Blended gross margin fell to 27.5% but were within the company's original guidance of mid to high 20s in percentage terms. US GAAP net income fell to $47.7m from the prior quarter's $143.3m, but were still up from $44.5m reported a year ago. On an earnings per share ("EPS") basis, TSL reported Q1 2011 EPS of $.63 which missed Wall Street analyst consensus of 1.00 in EPS.

On an operational basis which excludes a net foreign exchange loss of $24.1m or .30 in EPS, Trina Solar's adjusted EPS would have been $.93 per share. It's uncertain whether Wall Street consensus estimates factored any foreign exchange impact. In my original TSL Q1 2011 earnings estimate, I warned of a potential foreign exchange loss up to $60m, or $.75 in EPS impact. As a result, US GAAP net income would have easily missed Wall Street estimates if analysts had not factored any foreign exchange losses. Trina Solar did manage their currency hedging better than worse case scenarios given the company had over $1.3 billion in derivative euro exposure, as reported in its annual report, during a quarter the euro appreciated almost 6% vs. the usd.

However TSL's operational $.93 EPS still fell short of my revised estimate of $.99 in EPS. Operational expenses rose by slightly over $10m sequentially on new management hiring as wells more intensified efforts in research and development. In addition, one of Trina Solar's operating subsidiaries was under review for preferential high technology tax status which would lower its tax rate from 25% to 15%. This tax renewal process can take months but until finalized, TSL must assume a normal tax rate. Once renewed, the company stated the lower tax rate would be retroactively applied for the first quarter. The EPS impact for this unexpected tax consideration was .04 per share. Metrics I used to derive gross profit, or in other words corresponding unit cost metrics, were similar to those reported by the company. I estimated TSL's in house module unit cost at 1.16/watt with blended unit costs of $1.245/watt vs. $1.16/watt and 1.247/watt ($399.6m / 320.4mw) respectively as reported by the company.

For the current second quarter, Trina Solar expects shipments to increase sequentially from 320mw to 430-450mw. Gross margin however is expected to drop to the low 20s in percentage terms due to the lag in material cost reductions relative to at the moment ASP declines. The increased percentage of external wafer and cell procurement is also indicated as a factor in lower blended gross margin.

It is important to remember TSL's lower gross margin is in large part by choice. The company chooses to procure higher ratios of wafer and even much lower margin cells to fulfill demand above its fully integrated capacity. As a result, the blended gross margin is reduced but at the benefit of incremental gross profits. Over emphasizing gross margin when changes in product mix produces higher levels of net income is a flawed argument.

Based on this guidance as well as cost metrics implied by the company, the following estimate has been compiled for Trina Solar's second quarter earnings.

Trina Solar Q2 2011 Earnings Estimate:

Revenues: $682m
Shipments: 440mw
ASPs: $1.55/watt
Unit Costs: 210 x 1.12 = $235.2m, 190 x 1.22 = $231.8m, 20 x 1.40 = $28m, 50 x 1.247 = $62.3m
Blended Unit Costs: $557.3m / 470mw = 1.185/watt
Gross Profit: $682m - (440mw x 1.185/watt = $521.5m) = $160.5m
Gross Margin: $160.5m / $682 = 23.5%
Operating Costs: $71m
Net Interest Expense: $6.5m
Tax: $16.5m
Net Income: $66.5m
Diluted Share Count: 79m
EPS: $.84

EPS if preferential tax rate is renewed and retroactively applied to Q1 2011: $.94

The estimates above are operational earnings only and exclude unannounced gains or losses from one time items. Net foreign exchange translations have also been excluded since there is still over 5 weeks of currency trading left in the quarter. As of today's date, the main currencies in question would result in a small net foreign exchange loss for TSL given the euro is only up marginally vs. the usd. In general, euro appreciation vs. the usd would result in net foreign exchange losses and vice versa assuming the company does not alter their currency exposure and/or hedging strategies.

For 2011, Trina Solar reiterated their shipment guidance of $1.75-1.80gw. Despite a general oversupplied market, the company believes the cumulative value added factors make its products among the most competitively priced within the industry. In addition, Trina Solar stated the majority of their shipments are targeted directly at project developers and not through wholesale channels where ultimate consumption and pricing are more uncertain.

If this annual guidance holds as the year progresses, it would be unlikely that TSL's 2011 EPS would drop from 2010 levels based on the pricing trends indicated in its earnings conference call. While flat earnings relative to 2010's boom growth may appear dismal, it would be a small price to pay if the industry consolidates as Trina Solar envisions. Many uncompetitive producers may slowly disappear while TSL along with similar low cost high value added peers could still operate at levels where gross margin would still be high enough to maintain or grow profitability. Ironically, Wall Street may be misinterpreting the winners out of this industry consolidation since companies still maintaining or growing high net income levels are priced at low historical multiples. As of today's date, Trina Solar trades at roughly 5x trailing EPS.



Disclosure: I am long TSL, JKS, YGE. No Position in CSIQ, ENER, ESLR, Motech (Taiwan), Gintech (Taiwan), Neo Solar (Taiwan).