Generally speaking, I don't believe there's much a place for technical analysis when it comes to long-term investments. Yet, given the current unfortunate circumstance in which Apple (NASDAQ:AAPL) investors find themselves, I think it is extraordinarily important in this instance that investors be aware of a raging battle taking place on Wall Street regarding the pricing of Apple.
As most investor already know, Apple has been struggling to move higher since we've entered the new year. The stock is trading near levels it reached back in October of 2010, and has been significantly underperforming the NASDAQ-100, NASDAQ, S&P 500 and DJIA since that time. Apple's P/E ratio has fallen to levels unseen since the days of the financial crisis and despite posting explosive 92% earnings growth, the stock has more or less been the biggest bust of 2011.
A lot of investors want to know what is going on, and why Apple is struggling despite its extraordinary fundamentals. On a daily basis, I get e-mails asking me if Apple is headed lower and when the stock might bottom. I believe having a clear understanding of both the fundamental and technical side of the equation can help set parameters on where the stock is probably headed in the short, intermediate and long-term.
Let's begin with the fundamental picture in order to set the pricing parameters -- the upper and lower price boundaries within a particular time period -- and then determine where Apple is more likely to fall within that boundary. The first place to start is trying to determine what the lowest and highest P/E ratio Wall Street is likely to give Apple over the course of the next several months and years.
I think the days of Apple trading above a 20 P/E ratio for any extended period of time is now over. Despite what even the most intelligent analysts might think, Wall Street as a whole firmly believes Apple's growth is now sitting on its last legs. That the years of Apple growing at 90% a year are coming to end.
Maybe not this year, maybe not next year, but they all pretty much believe we're sitting at that horizon. Are most of these fund managers basing their conclusions on a measure of gross imbecility? Of course they are. Do they have all of the power when it comes to Apple's stock price? Without any shred of a doubt, they certainly do.
So the question now becomes, what exactly is the new P/E ratio parameter for Apple? In 2010, Apple tended to trade between an 18 and 22 P/E ratio. Yet, now that we're in 2011, I think that parameter has fallen to between 13 and 18. Here's why.
Apple is currently trading in the dreaded age of P/E compression. Every large company eventually goes through P/E compression until a point that the stock trades between an 9 and 12 P/E ratio. Apple is headed firmly in that direction. But this is not a bad thing. It's a good thing and here's why. Once Apple trades down into the 10 - 12 P/E ratio range, that is pretty much the low in terms of valuation for Apple. Future outperformance will then be based on knowing what Apple is likely to report in earnings. Those who have a stronger understanding of the earnings picture will outperform those who do not. I'll dedicate more to this analysis in the future.
But suffice it to say that Apple will probably trade between a 13 and 18 P/E ratio for the rest of 2011. On the outer extremes, I think Apple could get down as low as a 10 P/E ratio and as high as a 20 P/E ratio. But both of those scenarios are highly unlikely at this point.
Now for the second part of the fundamental pricing parameter is determining what Apple is likely to earn in 2011 and 2012. Apple's fiscal year ends October 1 and Apple tends to report its results near the end of October. Those who know me know that I have a consistently good track record at predicting Apple's revenue and earnings. Over 22 quarters straight, I've had a cumulative error of about 5%+/- in predicting Apple's revenue and earnings. Last quarter I had a mere 1.46% cumulative error in predicting revenue and earnings, which was the second best guess out of 48 analysts polled.
I expect Apple to report $28.45 in EPS on $111.4 billion for the rest of fiscal 2011, which ends this October, and expect Apple to earn about $39.15 on $149.5 billion in fiscal 2012. As of the close on Friday, Apple trades at a 15.97 P/E ratio based on $20.99 trailing 12-months of earnings. For Apple's fiscal Q3, I expect that number to rise to $24.56, and at the end of October, Apple's TTM of EPS should rise to $28.45.
Now that we have the two key variables of EPS and expect P/E ratio, we have our pricing parameters for the next few quarter and for 2012. The numbers below outline the extreme low end, low end, mid-range, high end and extreme high end pricing:
Current Earnings (Q2 2011): TTM EPS $20.99
10 P/E Ratio: $209.90
13 P/E Ratio: $272.87
15 P/E Ratio: $314.85
18 P/E Ratio: $377.82
20 P/E Ratio: $419.80
July Earnings (Q3 2011): TTM EPS $24.56
10 P/E Ratio: $245.69
13 P/E Ratio: $319.28
15 P/E Ratio: $368.40
18 P/E Ratio: $442.08
20 P/E Ratio: $491.20
October Earnings (Q4 2011): TTM EPS $28.45
10 P/E Ratio: $284.50
13 P/E Ratio: $369.85
15 P/E Ratio: $426.75
18 P/E Ratio: $512.10
20 P/E Ratio: $568.00
January Earnings (Q1 2012): TTM EPS $31.58
10 P/E Ratio: $315.80
13 P/E Ratio: $410.54
15 P/E Ratio: $473.70
18 P/E Ratio: $568.44
20 P/E Ratio: $631.60
FYE 2012 Earnings October (Q4 2012): TTM EPS $39.15
10 P/E Ratio: $391.50
13 P/E Ratio: $508.95
15 P/E Ratio: $587.25
17 P/E Ratio: $665.55
So this data above should be very revealing. What do we know? That for the immediate short-term, if Wall Street wanted to give Apple the same P/E ratio it gives to Microsoft (NASDAQ:MSFT), Apple could trade down as low as $209.90 or a little less than 3x what it has in cash per share. We also know that if Apple traded at the same P/E ratio it traded at for pretty much most of 2010 and much of 2009, it could trade as high as $419 this quarter.
We also know that once Apple reports earnings in October, if it's still sitting here trading at a 16 P/E ratio, the stock would be at $455.20 a share. Come this February, a 15 P/E ratio (lower than today) would put the stock near $475 a share. Alternatively, if Apple is still trading here at $335 when Apple reports earnings in January, it would trade at a mere 10.6 P/E ratio. If Apple is trading at $335 a share come October 2012 -- 16 months from now -- it would trade at an 8.55 P/E ratio and trade at less than two times its total cash.
This should offer some comfort to long-term investors in knowing that the company would have to trade at some extremely low valuation if it doesn't move significantly higher from here. Yet, a drop down into the $200 range is a long drop and I think technicals tell the rest of the story.
Right now Apple is forming what is known as an inverted head & shoulders pattern. It's a bullish pattern in most cases -- an inverted head & shoulder set the lows during the 2001-2003 recession, the March 2009 bottom to the financial crisis and the August 2010 bottom to the April - May 2010 correction -- but has been known to lead to significant selling pressure whenever it breaks to the downside. See the charts below:
Chart 1: Apple currently forming an inverted head & shoulders pattern. Left shoulder reached $330, head sits at a low of $320 and right shoulder looks pinned to a low of $330. A breakout above the $355 neck-line would be huge for investors.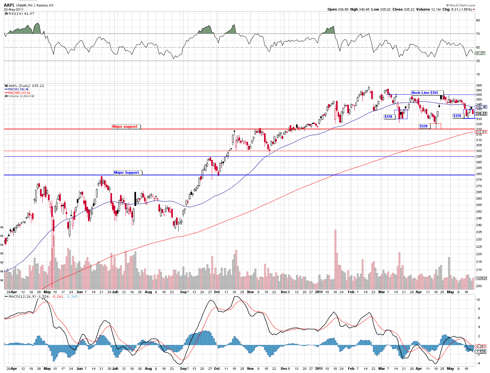 Chart 2: As you can see from the chart below as an example of an inverted head & shoulders bottom and break-out, the S&P 500 bottomed in the 2001-2003 recession with an inverted & head and shoulders. The S&P then formed another inverted & shoulders in 2004 and charged higher.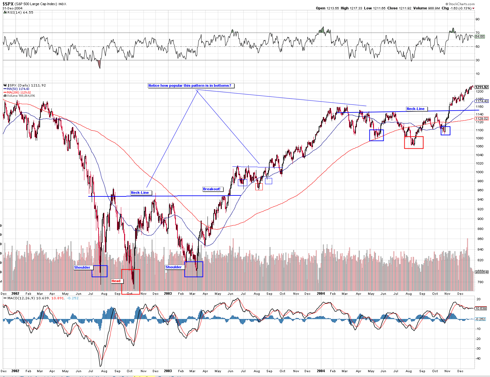 Chart 3: The chart below shows Apple bottoming in the 2008 financial crisis with a picture-pefect inverted head & shoulders. During the period I called Apple a buy anywhere in the $90 a share range and a strong buy anywhere in the $80 a share range and that this was indeed the bottom for the stock.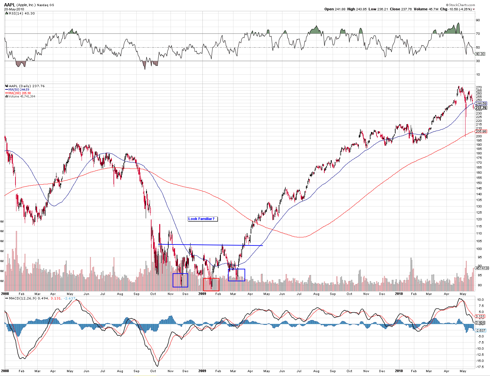 Finally, as you can see the S&P 500 bottomed in the April 2010 to August 2010 summer correction with an inverted head & shoulders. The QQQ, NASDAQ, DJIA and SPY all displayed exact chart patterns.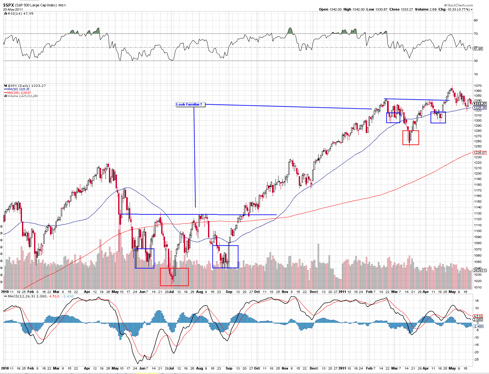 As history has shown, Apple is sitting at a critical juncture from a technical perspective. According to the measured move, if Apple is able to rally to $355 and breaks that neck-line, it should suggest an immediate short-term move to $389 a share.
Yet, on the other side of the coin, if Apple loses support at $320 a share -- which happens to be very major support -- the next line of major support stands at $278 a share which was the high set during the April - August correction of last year. This is very likely the logic behind CNBC's Fast Money Guy Adami's $278 price target for Apple. It's probably based on the idea that Apple will not only lose support at $320, but will likely lose support of $300 a share.
Well lets take a look at Apple's P/E ratio and see whether this is at all plausible. If Apple trades down to $278 a share this quarter -- that is before Apple reports earnings in July -- it would trade at a 13.29 P/E ratio. While this might seem low to many Apple watchers, it's not that low from Wall Street's perspective.
Fund mangers wouldn't even bat an eye at a 13.29 P/E ratio because -- as I mentioned above -- most think that Apple should trade down the average mega-cap P/E ratio. Even if it is entirely irrational and unjustified from an earnings and cash growth perspective, to Wall Street, Apple should trade at a P/E ratio that is commensurate with the average P/E ratio for other mega-cap stocks -- 9 -12 P/E ratio.
Yet, as we head closer to the fall, I think this scenario becomes increasingly unlikely. As one can see from the variables I posted above, if Apple traded down to $278 after reporting earnings in October, it would trade under a 10 P/E ratio -- something I find to be very highly unlikely. Even after Apple reports earnings in July, I think there would be a lot of buyers well ahead of a $278 price target. The stock would trade just a little under an 11 P/E ratio in that scenario.
That being said, based on Apple's current trailing 12-months of earnings, I could see the stock trade at a 13.3 P/E ratio or $278 a share. It's a distinct possibility and could very well happen if Apple were to lose support at $320 a share. Yet, I still believe that this scenario is overall unlikely and here's why:
First, the market would have to get absolutely hammered between now and July to see Apple take a $57 hit over the next 45 trading sessions. Secondly, Apple has already been struggling for over 7 months now, and I think this consolidation period is nearing an end. Thirdly, this is now the market's fourth attempt to take Apple under $320. The previous three attempts failed including when Steve Jobs noted that he would be taking a leave of absence back in January.
If the market starts to rally over the next few weeks and Apple gets closer to $355 a share, I think that portends a move to significant new highs. This next leg up is very much for real if Apple breaks above $355. Given the vast amount of bearishness going around on Wall Street right now, I think Apple has already bottomed at $320 and is more likely than not to break-out of this inverted head & shoulders to the upside.
Disclosure: I am long AAPL.