In my article from April 18 entitled S&P 'Negative Outlook' May Be a Buy Signal for Treasuries, I provided a variety of reasons why it might make sense to begin initiating positions in U.S. Treasuries. Roughly a month after this article, I thought it was worthwhile to revisit the topic, as now may be an even better time to buy.
The reasons against buying U.S. Treasuries are well known. These include massive fiscal deficits, declining demand from foreign lenders, ongoing political wrangling over raising the debt ceiling and the loss of a key buyer in the Fed once QE2 ends on June 30.
The fact that these negatives are so well known and so widely talked about actually sets up one of the key bullish themes for U.S. Treasuries. This theme is that virtually all of the selling pressure in Treasuries appears largely exhausted at this point. After all, when the world's largest bond fund in PIMCO has lowered their allocation to Treasuries to zero and is effectively short the Treasury market, a good deal of selling has likely already worked its way through the market at this point.
Instead, what we have seen is a recent pick up in demand for Treasuries. In my previous article, I discussed how the Treasury market had been working its way through a bottoming phase and was set for an upside breakout. Using the iShares Barclays +20 Year Treasury Bond Fund (NYSEARCA:TLT), I showed how the Treasury market was nearing the completion of a head and shoulders bottom formation. All that was left was a decisive move above $94 on the TLT and an upside breakout would be on. In the month since, we have not only seen TLT move above resistance at $94, but it has also sustainably broken out above its 200-day moving average.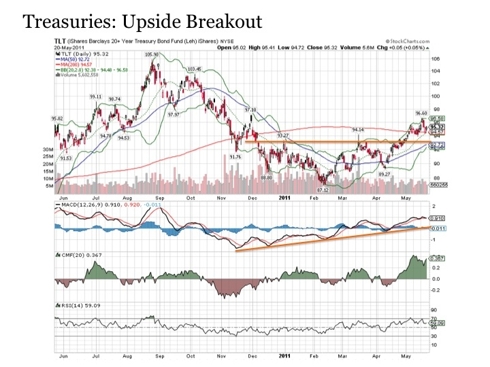 Recent days have provided further support for the technical strength building behind the Treasury market. After peaking on Tuesday, the TLT turned lower and made a hard charge toward its new support at the 200-day moving average on Wednesday and Thursday. The TLT responded extremely well to this challenge, as it bounced decisively off of the 200-day on Thursday and ended the day nearly unchanged. And it managed to fight off another intraday challenge on Friday to end the day higher. Overall for the TLT, momentum is still in a positive trend, money flow is strong and the RSI remains bullish but far from overbought. All of these factors are bullish for TLT going forward, although some continued volatility swings should be expected along the way.
Of course, a huge overhang for the market is the fact that the Fed will no longer be purchasing U.S. Treasuries once QE2 ends in June. But it is important to remember that while the Fed will no longer be buying Treasuries, they're not going to be selling either.
So the question then becomes where will the buying demand come from to replace the Fed once QE2 comes to an end? The answer is that it is likely to come from the stock and commodities markets. As we approach the end of QE2, the pace of the recovery remains sluggish and some recent economic readings have been particularly disappointing. If economic conditions were to deteriorate after the end of QE2 and stock and commodities markets were to enter into correction, capital would likely move to the safe haven of the U.S. Treasury market.
One has to look no further than the aftermath of QE1 for a confirmation of a positive potential outcome for Treasuries post QE2. The Treasury market bottomed literally on the day that QE1 ended last year and began to rally throughout the entire QE Pause period. During this time, the TLT rallied by over +22%. And it was not until QE2 started that Treasuries began selling off decisively. Thus, having QE 'on' has been bearish for Treasuries and having QE 'off' has been bullish. This relationship appears to not be lost on the market as we approach the end of QE2, as it seems investors are buying up Treasuries in advance this time around in anticipation of a potential Treasury rally once QE2 is finished.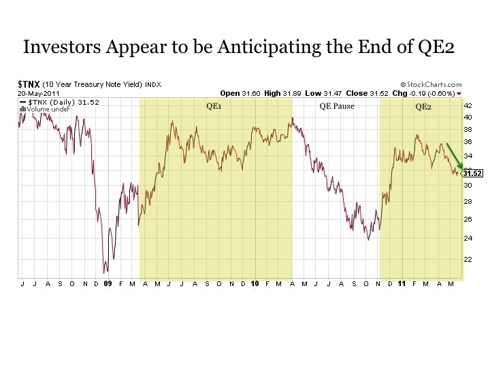 As a result of these factors, now may be the ideal time to be buying U.S. Treasuries. With this being said, some important considerations should accompany any such positions. First, any Treasury positions should be viewed as short-term holdings for the next several months. Many of the long-term challenges facing the Treasury market are far from being resolved, and it is highly probable that the ultimate direction for Treasuries down the road is lower. As a result, any Treasury positions undertaken for this strategy should be marked for likely sale within the coming months.
Second, it is more than likely at some point later in the summer after the end of QE2 that we begin to hear rumblings about QE3. This would provide a signal to begin working toward an exit strategy in Treasury positions.
Lastly, it is possible that the economy and the stock market could enter into decline but the Fed does not intervene with QE3. Such an occurrence, although unlikely, would be bullish for Treasuries and would justify extending positions into the medium-term.
As mentioned in my previous article, an effective way to establish a short-term position in U.S. Treasuries is through ETFs. The TLT discussed in this article provides a more aggressive approach with higher risk but the potential for higher returns. Alternatives include the iShares Barclays 7-10 Year Treasury Bond Fund (NYSEARCA:IEF) or the iShares Barclays 3-7 Year Treasury Bond Fund (NYSEARCA:IEI), which also offer exposure to this upside potential in Treasuries but with less volatility.